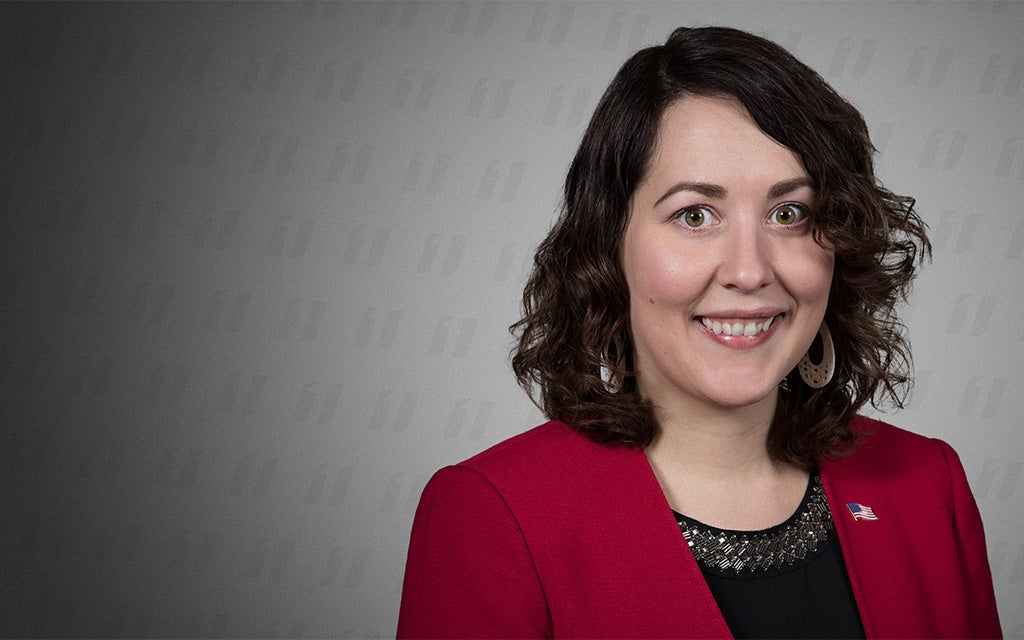 Advocating for the Things That Matter
Mar 29, 2019 | 8 min. read
Military Spouse of the Year nominee and First Command Financial Advisor Heather McKinstry is blazing trails.
Heather McKinstry is an advocate. When she had to navigate the ups and downs of being married to a service member, she became an advocate for military spouses. When she and her husband faced financial hardship, she became an advocate for financial literacy. When her health insurance company turned down a procedure that could solve her hereditary blood disease, she became an advocate for better healthcare. McKinstry has been blazing trails and forging the way so that others can travel down these difficult paths more easily. This work has made McKinstry a valuable member of the military community and most recently led to her nomination for the Military Spouse of the Year award.
Did you ever think you would be a military spouse? 
I had a lot of friends who were military spouses and I saw what they went through. I always said that life was just not for me. With the deployments and moving all the time, I thought there is no way I want to do that. I said I wasn't going to date anyone in the military because it just seemed really, really hard — and then I met my husband. 
You've been a Financial Advisor for First Command for two years. What drew you to the job? 
When I first met my husband, he did all the typical young sailor things. He did not make the best financial decisions and he was in debt, but I was the complete opposite. I liked to save money, but I didn't know how to help him — I didn't know where to start. So I went to a First Command seminar about finances and I was like, wow, this company is amazing. 
After that, we sat down with an Advisor and he told us how to pay off our debt, where to start, and what we needed to be doing with our savings and TSP. I had someone tell me that I should consider becoming an Advisor, but I didn't think it was for me. I like helping people, and I like talking about budgeting, but in my mind it seemed more like an accountant-type job and I thought it sounded terrible. But the more I learned about it, the more I began to consider it. I sat down with our District Advisor and said, "Okay, let's give it a shot." My biggest concern was that I needed a finance degree or something, but he said, "Nope! We'll give you all the training you need."
What do you hope to accomplish as a First Command Financial Advisor? 
When my husband and I were thinking about getting married, we started discussing finances and he just didn't want to talk about it. That led to the biggest fight we ever had. For a while I questioned whether we should still get married, because I thought there's no way we could move forward. So as an Advisor, I really want to help people understand that there's a middle ground between what you both feel and we can work together and plan for whatever your goals are.
Could you tell me a bit about why you've advocated for better healthcare?
I was diagnosed with a hereditary blood disease when I was 16. I spent many, many years getting weekly infusions. I couldn't work or travel, so I knew I needed to do something about it. I started seeing different specialists all over the world. I went to Utah, France, Vermont — everywhere. The specialist in France said he did an experimental transplant on a patient who was my age with the same symptoms, and it was successful. About ten years after that initial conversation with him, more research came out concluding the process was viable. 
But because I have a rare disease, getting a transplant was very difficult. I can't even tell you how many doctors I had to see to try to convince them to take a chance. Finally, a liver specialist in North Carolina said they would consider the transplant. I got an appointment, but then my insurance said they weren't in network, so they wouldn't support me going there. I jumped through hoops for about two years. Finally, I got the approval to go see the liver specialists and they said that I would be a good candidate. Then my healthcare provider refused to cover it. It was one thing after another. From the initial "yes" to actually having the surgery, it was roughly a five-year process. Thankfully, Tricare changed the law so that no one ever has to go through that again. 
Could you tell me a bit about your volunteer work?
I'm super passionate about the military, so I try to do anything I can to support service members. I help a lot with my husband's command. I also help with Dogs on Deployment — a not for profit company that assigns foster homes for military members' pets when they have any type of service commitment, so they don't have to board them or worry about them. I'm also a mentor with the Military Spouse Advocacy Network. When new military spouses come in, they have an option to sign up to get a mentor. I answer any questions they have and just try to help them navigate this lifestyle.
What would you do if you won the Military Spouse of the Year award?
I would continue to educate people, because not enough people know about First Command and how to pursue financial security. I was actually just talking to somebody the other day and they said, "You know I hate that we have to basically work all of our lives to live, and then when we retire, we may be too old to do the things we've put off." And I thought – no, it doesn't have to be like that. You can live today and work. You can do both. It's all about planning and putting the money aside to do the things you want to do.
Get Squared Away®
Let's start with your financial plan.
Answer just a few simple questions and — If we determine that you can benefit from working with us — we'll put you in touch with a First Command Advisor to create your personalized financial plan. There's no obligation, and no cost for active duty military service members and their immediate families.