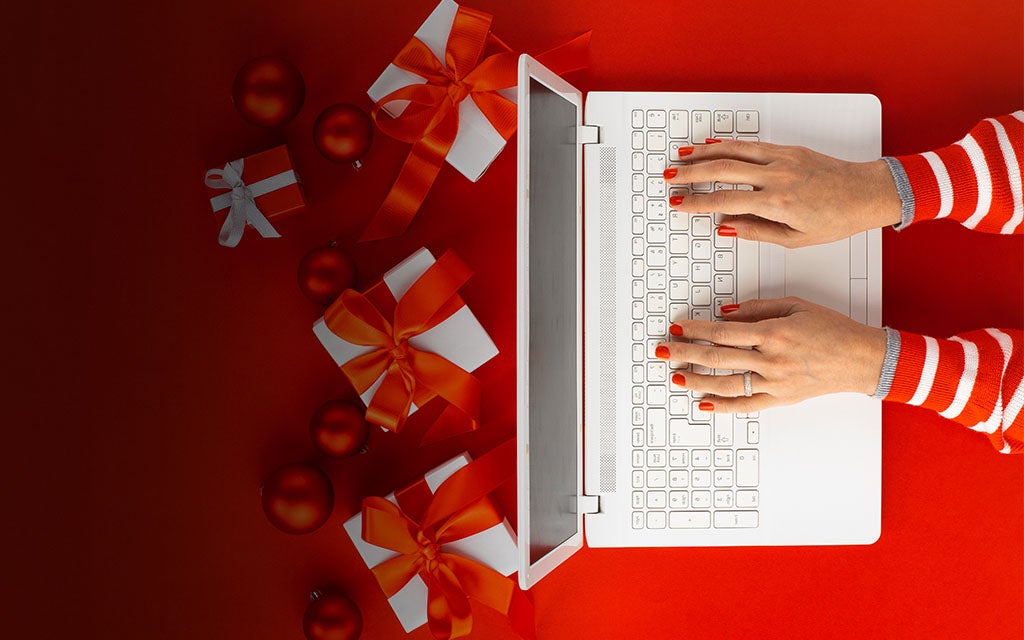 How to do Christmas on a Budget
Dec 1, 2022 | 8 min. read
Twelve tips to cut back on spending during the most wonderful (and financially strenuous) time of the year.
On the first day of Christmas, my true love gave to me…a large credit card bill and a load of holiday debt? Americans are feeling the strain this holiday season as inflation hovered around eight percent throughout 2022. And many inflation woes directly affect your holiday budget. Gas prices and airline tickets are up, grocery bills are higher than ever, and mortgage rates have jumped from around three percent in January to seven percent by late October.
With inflation soaring higher than Rudolph, it's more important than ever to budget appropriately for the holiday season.
However, you don't have to sacrifice a great holiday experience just because you're saving money this year. Here's 12 tips for how to do Christmas on a budget and cut back on holiday spending in 2022.
Set a budget.
You can't save money if you don't know how much you need to save. Create a plan just for the holiday season by grouping your budget into categories, such as gifts, decorations, food and charity. Figure out how much you would like to spend in each category in percentages. For example, you could plan to spend 50 percent of your budget on gifts, 30 percent on charity, 20 percent on decorations and 10 percent on food. Giving a certain weight to each category will make it easier to divide up your spending limit and will help you understand how much to allocate.
Plan gifts early.
While the holidays are quickly approaching, planning as early in advance as possible will put less strain on your pocketbook during this time of year. If you're used to last-minute Christmas shopping, it might sound crazy, but starting sometime in the summer will stretch your spending out over time so it's not hitting you all at once. There are big sales all throughout summer and Black Friday sales are now all month long in November. By taking advantage of sales throughout the year and setting aside gifts for loved ones, you'll save money, and you might even get to sit back and enjoy your December knowing everything has already been bought.
Think outside the (gift) box.
Gifts don't have to come packaged and wrapped in paper with a bow. Some of the best gifts are experiences and favors. If you have a spouse who enjoys spending time outdoors, gift them with a round of golf or plan for a trip to the nearest state park and make reservations in advance. If you have a family member who is a history buff, buy tickets to a historical museum or local tour. Movie tickets, zoo tickets and restaurant gift cards are also fun, inexpensive ways to spend more on experiences and less on material items.
Scout out sales in advance.
Black Friday sales are just a kickoff to month-long savings opportunities offered by stores hoping to attract holiday shoppers. Make a list of the gifts you need to buy so it's easier to narrow down the stores that sell those items and determine which sales will help you rack up the most savings.
Choose alternative décor.
When decorating this year, use what you have. Although it can be tempting to buy new Christmas décor, this category of holiday spending can eat up your budget quickly. See if any friends or family members are looking to get rid of old decorations, or try scouting out resale shops for secondhand items. You're likely to not only find more unique items, but save more as well. Another option is to craft your own décor items. A few trimmings from the back of the Christmas tree paired with some dried orange slices and a few pinecones from the yard can make beautiful table decorations, so get creative!
Get crafty.
Homemade gifts are usually less expensive than store-bought presents and are often more cherished. Taking the time to create something can show your love and appreciation for another, and personalizing the gift can make it even more meaningful, especially when gifting to grandparents or getting young children involved in the DIYing. Candles, soap, picture frames and baked goods are all easy to make and personalize. Browse Pinterest for more ideas and get started!
Plan a gift exchange.
One easy way to save money, especially between friends or co-workers, is to do a Secret Santa gift exchange. Set a spending limit and draw names. It's cheaper than buying for the whole group, and it's fun.
Offer what you have.
Instead of a traditional present, consider using your skills as a gift or service. This might include baking, graphic design or photography. If you're a photographer, offer a free photo session. If you're an electrician, offer to install some new light fixtures or help with a remodeling project. Acts of service show an appreciation that other gifts sometimes can't convey.
Make the most of recipes.
The holidays generally mean more time in the kitchen. Unfortunately, groceries are one of the commodities that have increased the most due to inflation. Food purchases from the grocery store in September 2022 rose 13 percent from September 2021. To save on groceries this year, shop store brand items instead of name brand. You could also try cutting back on meat which tends to be more expensive than plant-based items. If you choose to provide less meat at your holiday meals and gatherings this year, make up for it by offering more side options or serving vegetarian casseroles. Another idea is to host a potluck-style dinner, so the burden of food doesn't fall directly on you, plus it gives everyone the chance to show off their favorite recipes.
Beware of "shrinkflation" where you could be paying more for less food in the same size or smaller containers. To combat shrinkflation, look for the price per ounce and compare that to similar items.
Donate time instead of money.
If you usually send a check to charity during this time of the year, consider saving more by donating your time instead. Whether it's ringing a bell, ladling soup or distributing toys, charities are always in need of extra hands. If you have young kids, this can be a great way to instill the value of giving back. You might even decide to make volunteering a new tradition!
Buy used.
If you still have some last-minute shopping to do, consider browsing resale shops for gifts. Books, clothing and other items can all be purchased secondhand. This strategy is environmentally friendly, affordable and allows for more unique options. When buying used, be sure to give these items to family members or close friends who will appreciate the thought behind the gift and not the newness of it.
Spend time with family.
The cheapest and best option to do Christmas right this year? Spending quality time with your loved ones. Be sure to take the time to relax with family and friends. Focus on building holiday traditions or look for free, local activities to enjoy such as a Christmas tree lighting in the town square, a Hanukkah celebration at the temple, or even just a night at home watching Christmas movies and baking cookies. These activities cost little to nothing and bring the focus back to where it needs to be — spending another year celebrating the holidays with loved ones.
For more tips on saving this holiday season (and all year round), speak to one of our helpful Financial Advisors.
Get Squared Away®
Let's start with your financial plan.
Answer just a few simple questions and — If we determine that you can benefit from working with us — we'll put you in touch with a First Command Advisor to create your personalized financial plan. There's no obligation, and no cost for active duty military service members and their immediate families.