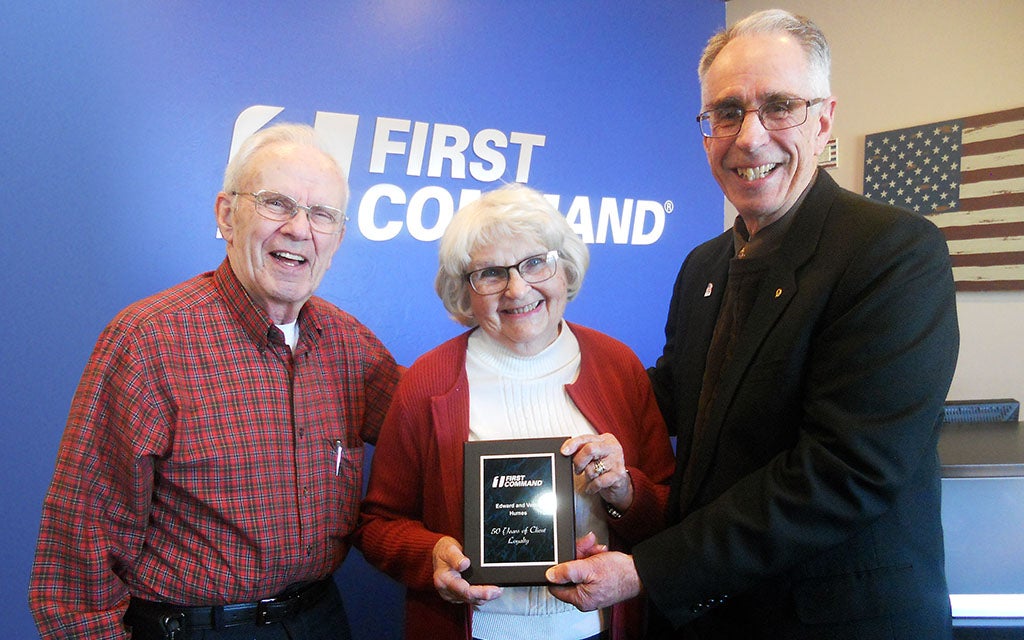 Couple Marks 50 Years with First Command
Jan 22, 2019 | 7 min. read
A relationship that has lasted almost as long as this couple's marriage deserves a moment.
When LtCol Ed Humes (Ret) was an AFROTC student at Ohio State University, he witnessed a tragedy that would shape his decision-making for life. A group of students—including Ed—attended an orientation session at Lockbourne Air Force Base, now known as Rickenbacker International Airport. During the tour, the students watched in horror as a B-47 took off, rolled over and crashed on the runway. All of the crew were lost.
Ed went on to pursue a career in the U.S. Air Force as a navigator, building a life with his wife, Verna. The two had both grown up on farms in Ohio, and they had known each other since elementary school. Ed loved to fly, and his career took the couple and their three children from Texas to California, Missouri, Illinois, and finally, Oklahoma. He retired from Tinker Air Force Base in 1989. "I was fortunate, because I got to fly right up until two weeks before retirement," Ed says.
Ed and Verna clearly recall their first meeting with their USPA financial advisor. "Early in Ed's military career, our advisor came out to the house and visited with us," Verna remembers. "He explained that he and his brother were retired Air Force and they were aware that a lot of men had been killed and their families were left with nothing." 
The Advisor's name was Hugh Payne, and his brother, Carroll Payne, had founded USPA—later renamed First Command—with the mission of providing lifelong financial coaching to those who protect our nation. In fact, Carroll Payne was driven by his experience as a B-29 aircraft commander stationed in Guam during World War II. Of the 44 crewmembers in his flight of four aircraft, 24 were killed in action. Acting as summary court officer corresponding with the families, Carroll found that in addition to the grief of losing a loved one, many survivors were also left in dire financial straits. 
The eerie similarity of Carroll's experiences to Ed's recollection of the B-47 crash he witnessed in his youth resonated with him and Verna, and they worked with Hugh to develop a long-term financial plan, which they methodically followed over the years.
While on active duty, Ed did part-time locksmith work, leading him to start his own locksmith business after retiring from the military. When he and Verna were assigned to work with their current First Command Advisor, Bruce Jennings, he was a familiar face—Bruce had also been a navigator in the U.S. Air Force, and he and Ed had flown together in the Airborne Warning and Control System (AWACS) program in the 1980s. 
"We have known each other now for close to 30 years," says Ed. "We get together several times a year, review the family finances and talk about old times."
Ed's locksmith business experienced growth beyond the family's expectations. "It got out of hand," he laughs. Ed eventually sold the business to his son, but he still helps out when needed. 
Ed and Verna now have five grandchildren, one of whom is continuing the family legacy of military service. In fact, Ed had the rare honor of swearing in his grandson to the U.S. Air Force earlier this year. 
Retirement hasn't been without its challenges, though. Not long ago, Verna was diagnosed with ovarian cancer, and she has faced multiple surgeries and invasive treatments. Now cancer-free, Verna says they are looking toward the future. "We've been married for 57 years," she says. "We love this time in our lives, when we can pick up and go whenever and wherever we want to."
Bruce is delighted to see them enjoying their golden years. "They are kind, genuine people with a strong work ethic. We've bonded over the years, and I consider them my friends. They trust me to look out for their best interests, which is an enormous privilege."
Get Squared Away®
Let's start with your financial plan.
Answer just a few simple questions and — If we determine that you can benefit from working with us — we'll put you in touch with a First Command Advisor to create your personalized financial plan. There's no obligation, and no cost for active duty military service members and their immediate families.