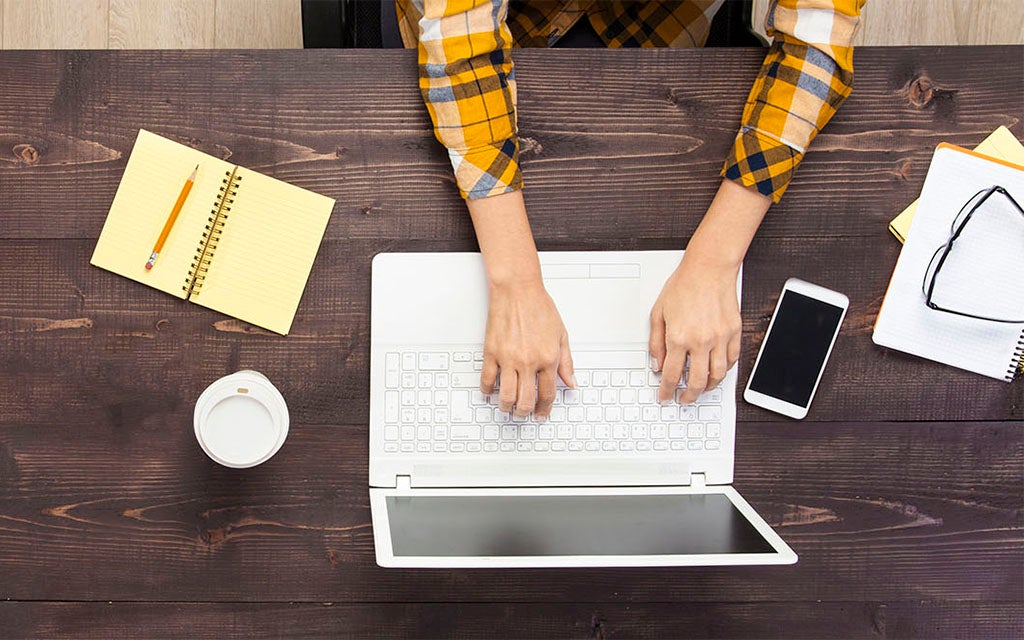 The Gig Economy and Military Spouses
Jan 31, 2019 | 3 min. read
In today's economy, there are more options than ever for a side hustle, but it is important to weigh the pros and cons before diving in.
Being a military spouse is an important job in itself, but it doesn't have to be your only title. If you are interested in a long-term career, it can be incredibly challenging when you are constantly moving around to support your spouse's profession. Because of PCS moves, it is often hard to find work — and as soon as you do, it seems like your spouse gets orders. This makes advancing in a career nearly impossible and causes hiring managers to be wary of hiring you in the first place. However, as more and more companies outsource talent and hire freelancers, the gig economy might just be a perfect fit for military spouses. But that doesn't mean it doesn't come with drawbacks. 
The benefits of freelancing include flexible schedules, working from home, and being able to take work with you no matter where in the world you may be. In today's gig economy, there are several options for military spouses, especially in the fields of customer service, administrative work, and information technology. However, even if you don't have a specific skill set, you can still find work through gig companies such as:
· Task Rabbit (https://www.taskrabbit.com/) – Task Rabbit allows locals to hire you for an assortment of jobs they either need help performing or don't have time to do. This could encompass hanging fixtures, assembling furniture, painting, doing yard work, grocery shopping and more.
· Rover (https://www.rover.com/) – This job is perfect for animal lovers! Rover connects you to people who need help watching their dog. This might involve having the dog stay at your home while the owners are away, checking in on the dog at their place, or walking dogs. 
· Uber (https://www.uber.com/) or Lyft (https://www.lyft.com/) – If you enjoy people and traveling, then being a driver for Uber or Lyft might be a great fit for you. This is a good source of income in bigger cities, but even if you are in a small town, there may be an influx of riders during festivals, events and weekends. 
· VIPKID (https://www.vipkidteachers.com/) – VIPKID enables you to teach children all around the world from the comfort of your own home. You follow lesson plans based on those the curriculum team provides, and parents book times with you to teach their child one-on-one. To become a teacher, however, you must have at least a bachelor's degree.
· Multi-Level Marketing – Chances are, you have seen an MLM business on your social media feed lately. Sometimes multi-level marketers can get a bad reputation, but if you enjoy being social and are good at selling products or services, this could be right up your alley. Make sure to research the company thoroughly though to avoid any hidden or recurring fees. 
Although freelancing or taking gigs might be a flexible way to earn money while your spouse is in the military, there are quite a few drawbacks to non-traditional employment, including: 
· As a freelancer, you cannot rely on a human resources department to protect you from workplace harassment or discrimination. 
· Instead of having taxes taken out of your checks and potentially receiving a refund at the end of the year, you will have to save a portion of your earnings to pay taxes together in one large lump sum. 
· You might have to forgo traditional employer benefits such as health care and paid time off.
· Work is temporary. This can be one of the worst parts of the gig economy — not knowing where your paycheck will come from next month, or even next week. 
If you are exploring options that allow you to pursue a full-time, fulfilling career as a military spouse, we hope you'll consider First Command. We think our advisors have the best of both worlds, because they are able to make their own schedules, stay connected to the military community and can move their job to one of our 179 offices worldwide any time their spouse gets orders. To learn more about how you can get started.
Get Squared Away®
Let's start with your financial plan.
Answer just a few simple questions and — If we determine that you can benefit from working with us — we'll put you in touch with a First Command Advisor to create your personalized financial plan. There's no obligation, and no cost for active duty military service members and their immediate families.