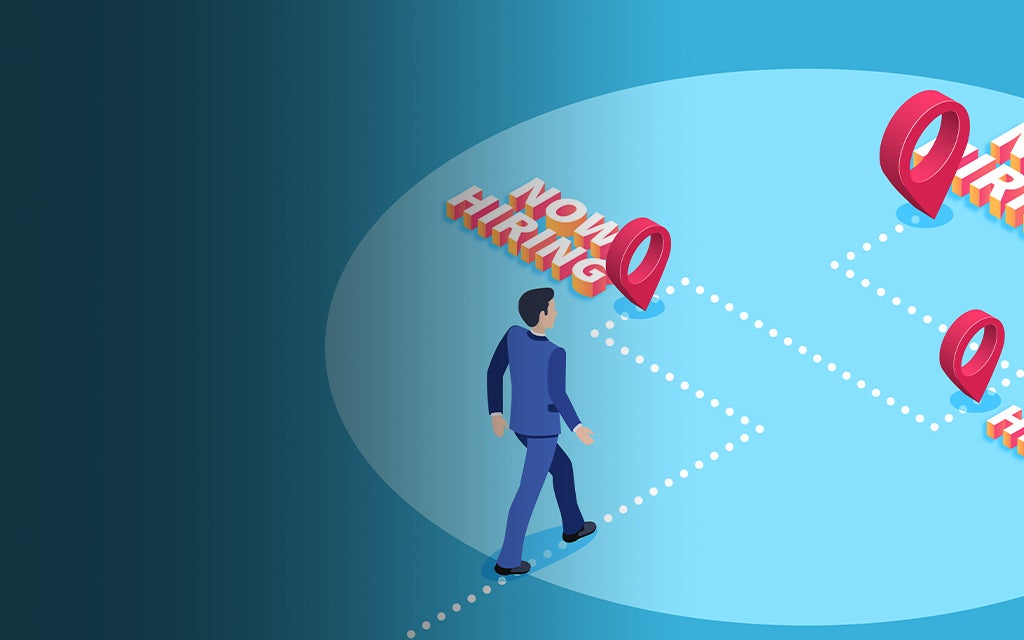 How to Navigate Virtual Career Fairs
Aug 20, 2021 | 5 min. read
Transitioning from the military? Here's how to make the most of virtual job fairs during the COVID-19 pandemic.
The COVID pandemic forced many in-person events to move online, but now that the vaccine is readily available, some career fairs are opening back up. However, many remain virtual amid renewed uncertainty. If you're transitioning from the military, here's what to expect from a virtual career fair and how to prepare.
What to Expect
A virtual job fair is just like the traditional, in-person career fair, only it takes place online. When you sign up to attend a virtual fair, you'll be given a unique link to join the event. Once logged in, you'll be able to view videos from hiring managers and chat in real-time with recruiters.
Virtual career fairs can benefit you because access is easier. You'll spend less money on travel, and less time navigating the fair overall.
If the job fair you'd like to attend is in-person, be sure to check the COVID regulations before you go, like whether face covering is required.
How to Prepare
Even though the career fair takes place from the comfort of your own home, now is not the time to stay in your pajamas. Prepare for the fair like you would any job interview. Start by researching the companies you know you want to talk to. Come up with a list of questions to ask recruiters, and a few points you would like to make about how you could be a good fit for their company or the role they are looking to fill.
You can make the most out of your time attending a virtual career fair by preparing your resume in advance and making sure your computer is updated and ready to go to avoid last minute glitches. Also, practice your pitch and answers to common questions such as "Tell me about yourself" and "Why are you interested in working for us?"
When it is time to log in, make sure you are in a distraction-free room, wearing professional attire with your resume on hand. Just as you would in a face-to-face interaction, maintain eye contact during video chats. When communicating in chat rooms, be aware of your grammar. Take the time to make sure everything is spelled correctly, and avoid using text lingo or slang. Remember that your first interaction with a company, whether on video or in a chat room, is their very first impression of you. Make it a good one.
Finding a Career Fair
To search for career fairs and events geared toward transitioning military members, be sure to check out some of these websites:
Virtual job fairs can be a great way to find your new career as you transition out of the military. Practice in advance, research the companies that interest you, and make a lasting impression to snag the job.
First Command is currently hiring veterans like you. If running your own business under the guidance of others, helping the military community pursue their financial goals and having the freedom to work when and how you want appeals to you, consider becoming a First Command Financial Advisor. Our advisors receive all the training they need to start their second career. For more information, visit https://www.firstcommand.com/careers/ or reach out to our recruiters at any of the career fairs listed above.
Get Squared Away®
Let's start with your financial plan.
Answer just a few simple questions and — If we determine that you can benefit from working with us — we'll put you in touch with a First Command Advisor to create your personalized financial plan. There's no obligation, and no cost for active duty military service members and their immediate families.