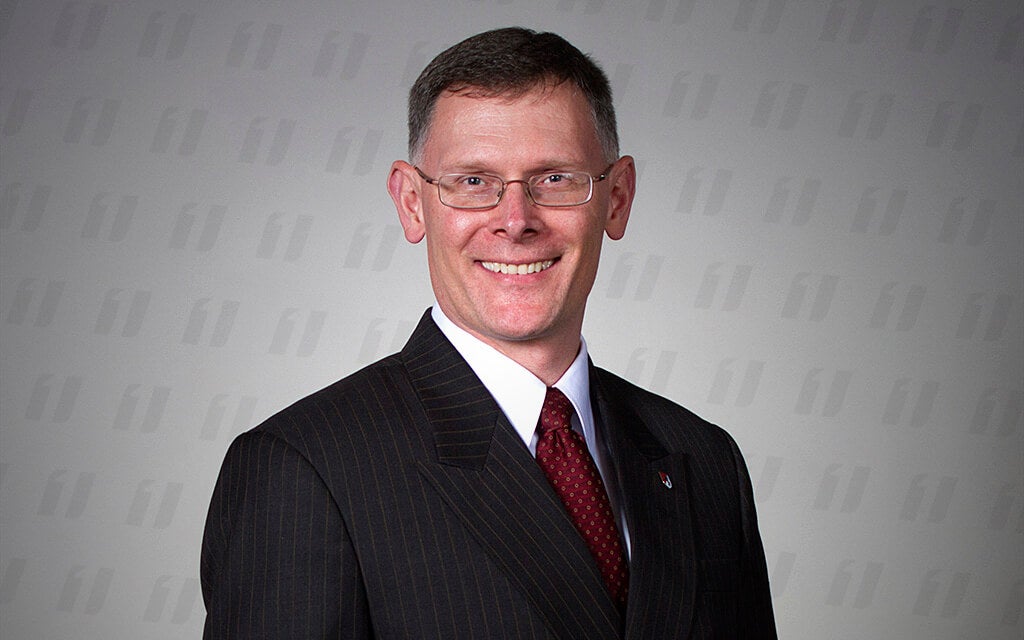 Perseverance and Persistence
Dec 5, 2018 | 5 min. read
After two decades of making family sacrifices while in the Army, First Command Financial Advisor Will Kepley and his wife balance home and office life together.
As a young boy, Will Kepley was fascinated by the old 1960s war movies his parents watched. He played with toy soldiers and tanks, not knowing at the time that he would one day be in charge of them. Although Will grew up as a military enthusiast, he didn't really consider it as a potential career path.
By the time college rolled around, Will was still unsure of what he wanted to do. It was nearing Christmas time and he had just finished his first semester as a math major at the University of Louisville. He opened a letter that was addressed to him from the ROTC department. It said that Will was a conditional winner of a two year scholarship.
"I threw it in the trash," Will said. "But my mom said, 'You might want to get that out of the trash, because I don't know how your dad and I are going to pay for college after this coming semester in the spring."
Understanding what he needed to do to continue his schooling, Will enrolled in basic cadet training in Fort Knox, Kentucky that following summer. After six weeks of training, he received his scholarship. Originally, Will joined the military because the Army paid for his school. He stayed in for over 20 years, however, because he fell in love with it. 
Will's first duty station as a lieutenant was at Fort Riley in Kansas. He worked as an armor officer on tanks just like the ones he had played with as a child. Will had to maneuver, fix, maintain, and employ the tanks in combat.
"I learned so much about how to do my job," Will said. "It was a good experience."
Before he knew it, Will had spent ten years in the Army. Half way to retirement, he decided to go ahead and do another ten years. He had many great memories from his time in the military, but one moment stood out to him the most.
"I just remember waking up not tired one morning and just had this sense of calm and peace knowing that this is what I was meant to do with my life," Will said. "I can't describe it. It was almost like a divine 'now you know why you're here' kind of thing. This was my place, this was where I belonged."
However, that passion, fulfillment and sense of purpose that the Army gave Will didn't make up for the lost time he could have spent with his family.
"Dad was not there a lot of the time," said Will's wife, Camille. "You sacrifice having that extra parent around. He missed out on teaching how to throw a baseball and everything, but there's a lot of pride in making those sacrifices for your country. The job that he does is important and what we do to support him gives us a great sense of pride."
When Will decided to retire from the Army, he began looking for a new career path by attending a job fair. When he saw the First Command table, his eyes lit up in recognition. Will and Camille had been clients since the mid-1990s. The man from the booth got him in touch with the District Advisor (DA), and after a series of interviews, Will became an advisor for First Command. 
Camille also works for First Command as Will's admin assistant. Working with any family member, especially a spouse, can be challenging, but the couple goes by certain rules to make it all run smoothly.
"We joke that between the hours of 10 a.m. and 3 p.m. we're not married," Camille said. "We don't touch or kiss each other or call each other by pet names. We are at work."
Will said that there is no one he trusts more to handle the back office work than Camille. When they go home, they don't bring work with them, which gives them time to be like any other married couple.
Although the couple enjoys their work with First Command now, it was not always easy. 
"I wanted to stop," Will admitted. "I wanted to not do this anymore."
Camille asked her husband if he enjoyed what he did. He said yes. She asked if he would like to continue his job at a different company, and Will said no.
"Then you'll stay here and we'll figure it out," Camille told him.
They did figure it out. Today, Will and Camille take pride in helping people every day on their financial journey and assist them in tackling their biggest goals. 
As a Military Friendly® employer, First Command proactively recruits qualified veterans to join our team. To explore careers at First Command, visit https://www.firstcommand.com/careers/.
Get Squared Away®
Let's start with your financial plan.
Answer just a few simple questions and — If we determine that you can benefit from working with us — we'll put you in touch with a First Command Advisor to create your personalized financial plan. There's no obligation, and no cost for active duty military service members and their immediate families.