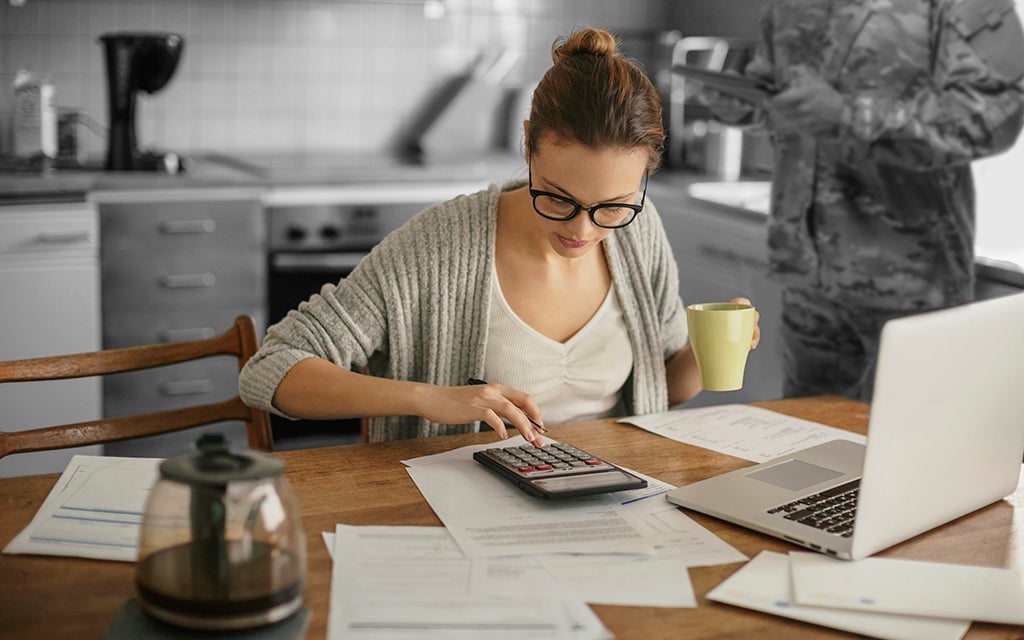 Managing Finances as a Military Spouse
Nov 21, 2018 | 10 min. read
Two military spouses—who are also First Command Financial Advisors—share their experiences handling their family's finances.
For service members and their families, life in the military is anything but predictable. With the possibility of long deployments and PCSing to any number of bases across the world, those who choose this life are used to enduring disruptions. In response to this, nearly nine out of 10 military spouses say it is primarily their role to manage household finances.* 
We asked two First Command Financial Advisors to weigh in on how life in the military affected the way their families managed finances.
Cindy Crow is a six-year Financial Advisor in San Antonio, Texas. But long before that, she served as her family's chief financier. With her husband, Michael, serving in the United States Army and three children at home, Cindy made sure their family's finances were organized by managing accounts and staying on top of payments to avoid late fees.
Jay Schwartz is a Financial Advisor from Clarksville, Tennessee. He and his wife, Maryann, both served in the United States Army. With two military careers—and two children to raise—Jay and Maryann learned early on to trust each other and communicate clearly when it came time to make financial decisions. 
How has life in the military impacted the way you and your spouse handle finances?
Cindy: We have always worked together and tried to be on the same page. But since he was always busy and we never knew when he might be called on assignment, I usually had a more hands-on role and took care of paying bills and moving assets where they needed to be.
Jay: With both of us in the military, we have definitely had to make adjustments to the way we handle our finances. My wife recently returned from a nine month deployment. As a result, I played a more active role in handling family finances, so she could focus on her responsibility to complete her unit's mission. This was the sixth deployment between the two of us, and generally whoever is at home takes the lead with our finances. We have always had equal control over our finances and make big decisions together. But since I was the first to retire, I have taken on more financial responsibilities the last few years. 
What has helped you overcome the difficulties of separation and deployment?
Cindy: Working with a comprehensive financial advisor. Sitting down with someone who listened to us and explained our options helped us stick to a budget and think about how our current financial habits could affect us long term. 
Jay: Communication and trust are essential. We have joint accounts to deposit paychecks, pay bills and make investments. And by utilizing technology and smartphones, we have access to our finances at the push of a button, no matter if we're at home, in training or deployed.
What advice would you give to others in your situation?
Cindy: It's never too early to start making good financial habits! When you're young, time is on your side. And living on less than you earn now can have a positive effect on your future financial health and eventual retirement. Life is unpredictable, and you don't want to miss the opportunity to get a head start on a healthy financial life. 
Jay: Two things. Especially during deployments, make sure you keep some old-fashioned checks on hand. As convenient as financial technologies like PayPal and Apple Pay and Android Pay are, not everyone has caught up with them. So for situations where using a card is either not advised or inconvenient, it's nice to have another means of payment. 
I'd also recommend having your own account (in addition to a joint account). From personal experience, it's hard to surprise my wife with presents when she can look at our bank account to see what I spent money on. At least…that's the excuse I use! 
First Command is proud to rank among the nation's top employers of military vets and spouses. In fact, we recently received a 2019 Military Friendly® Employers Gold Award, and we were named a 2019 Military Friendly® Spouse Employer in 2019 by VIQTORY. Click here for more information about using your military knowledge and experience to make a difference in the lives of those who serve our country.
* About First Command Financial Behaviors Index®
Compiled by Sentient Decision Science, Inc., the First Command Financial Behaviors Index® assesses trends among the American public's financial behaviors, attitudes and intentions through a monthly survey of approximately 530 U.S. consumers aged 25 to 70 with annual household incomes of at least $50,000. Results are reported quarterly. The margin of error is +/- 4.3 percent with a 95 percent level of confidence. Financial Behaviors Index
Get Squared Away®
Let's start with your financial plan.
Answer just a few simple questions and — If we determine that you can benefit from working with us — we'll put you in touch with a First Command Advisor to create your personalized financial plan. There's no obligation, and no cost for active duty military service members and their immediate families.