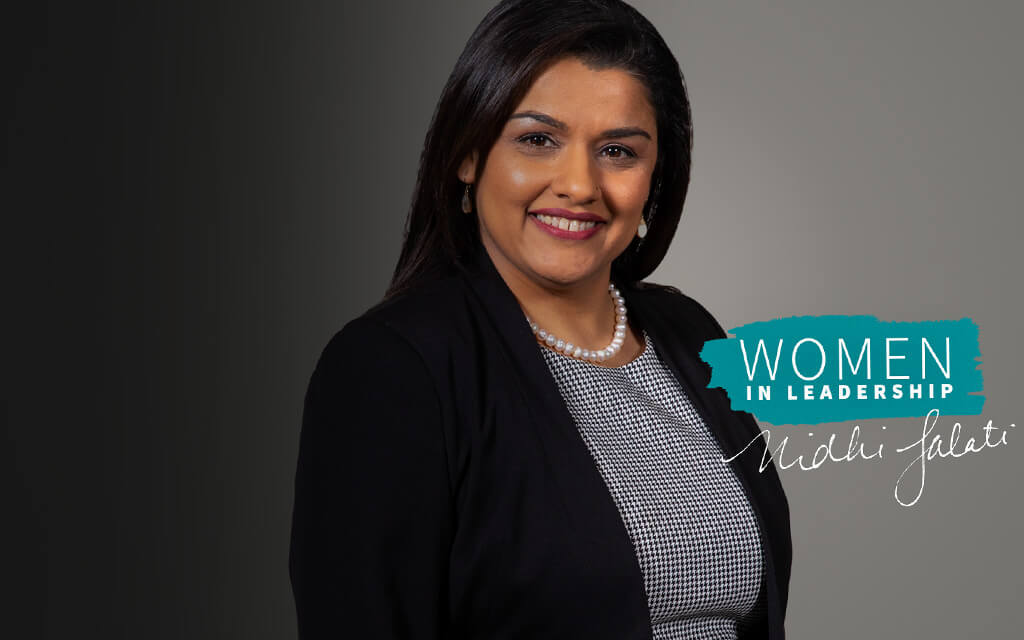 Nidhi Talati, CFP® Director of Financial Planning
Mar 12, 2021 | 4 min. read
Nidhi Talati explains the necessity of building on time-tested fundamentals while simultaneously embracing change.
As the Director of Financial Planning, Nidhi Talati works to implement the vision and strategy of First Command's Financial Planning department. She focuses on enhancing the financial planning experience for both Advisors and clients by building collaborative relationships with field leadership, Home Office teams and business partners. She also works closely with the organization's technical teams as a subject matter expert responsible for translating business needs into development objectives.
Why did you decide to join First Command?
I've always been passionate about financial literacy and education. We all play the money game, but many of us haven't been taught the rules. At First Command, I have an opportunity to use my knowledge and experience in financial planning to equip and empower Advisors so they can do the same for their clients.
I joined the team with a trial mindset. This job was full-time and involved travel, both of which were deal breakers given my family needs. But the hiring manager recognized my potential and had the foresight to offer me flexibility and support. Eventually I came to appreciate the power of the company mission, and that's what has kept me here and put me on a growth path. This company is large enough to be a major player for our market, but small enough that change can happen quickly.
What are some of the challenges you've found here at First Command?
Like any organization that has had success, there is a tendency to continue doing things as they've always been done. Our military heritage has naturally led to a corporate culture which values caution and has a top-down chain of command. We're now at a point where we recognize the importance of adapting to better meet the evolving needs of our clients, but the reality of making those changes continues to be harder than it needs to be.
Now, fundamental paradigm shifts are underway. New leadership has been brought on at all levels, with fresh perspectives and an appetite for driving transformative change. Our transition to an Agile methodology is setting the stage for significant growth. Our relationship with technology, how we think about serving our clients and our digital presence are all evolving. The next few years are going to be transformative!
What are you most excited about doing at First Command?
I'm most excited about the growth potential we have by re-focusing our company on what made us great in the first place – a commitment to providing financial education and to the process of financial planning. The industry has transformed in many ways since we were founded. Increasingly complex products, heightened regulatory requirements, easy access to information online, and the ever growing role of technology in the process – these things have changed the fundamental ways in which an Advisor can best provide value, and we need to adapt accordingly.
Our client base has also matured. We started out with a focus on young, active duty families, and many of those folks are now retirees who need our help in preparing for an entirely new set of financial challenges.  
I've been here less than four years and just in that short time, I've seen a re-energized commitment to providing continuous, meaningful, comprehensive planning at every stage of our clients' lives. There are many moving parts that need to come into alignment. And as they do, the company will grow, our Advisors will prosper, and, most importantly, we will deliver on our promise of supporting clients in their lifelong pursuit of financial security.   
What women in your life have impacted you the most?
I've been fortunate that my husband and I have a group of friends where both partners are successful professionals. These are all couples who are excelling in their careers while raising kids. They have similar views to us when it comes to things like the definition of a successful life, obligations toward extended family, work-life balance, and personal growth and fulfillment. I've been inspired by how these incredible women navigate the balance between career, family, and self-care. I've learned from them that success on this front can look like a lot of different things, and it can change over time. It's been very comforting to recognize my freedom in this area. 
What brought you to this level in your career?
I grew up in an entrepreneurial family where there was a constant emphasis on personal growth. We regularly read books, listened to recorded seminars by business leaders and talked about the importance of continuous improvement. Over the years, I can't even begin to quantify all the ways this has impacted my life and career.
One of the biggest things this did for me was create a sense of accountability. I've adopted an attitude of holding myself to a higher standard than anyone else would expect of me: Prepare more, work harder and go the extra mile.
It also shows up in the internal dialog I have with myself, especially in challenging situations. When I'm out of my comfort zone, I've learned to maintain my composure and embrace the opportunity for growth. Yes, it's still stressful, but it doesn't overwhelm or scare me. When I experience a setback or failure, I'm able to overcome the tendency to beat myself up over it and allow myself the same grace that I would extend to others. This helps me not be fearful of taking risks or new challenges.
Interpersonal skills are so important for a leader. What soft skills helped you get to this position?
I learned the concept of emotional intelligence early in my adult life and have tried to grow in this area ever since. We all need to be aware our own emotions and be purposeful about if/when/how we allow them to influence us.  We also need to recognize the emotions that drive others around us. Understanding emotional intelligence is easy, but consistently practicing it is not!  This is one of those areas where I don't think I'll ever be done learning because every situation offers new learning opportunities.
Favorite Movie: Pretty Woman.
Favorite Book: Too many to name. I enjoy a variety of genres that includes business/leadership books, historical fiction, young adult fantasy, and books like Outliers and Sapiens that help me see the world through a new perspective.
Favorite Work Resource: Harvard Business Review and TED Talks by phenomenal leaders such as Simon Sinek. Sinek's talks focus on team growth, shared vision, the power of WHY, and inspiring people to take action.
Get Squared Away®
Let's start with your financial plan.
Answer just a few simple questions and — If we determine that you can benefit from working with us — we'll put you in touch with a First Command Advisor to create your personalized financial plan. There's no obligation, and no cost for active duty military service members and their immediate families.