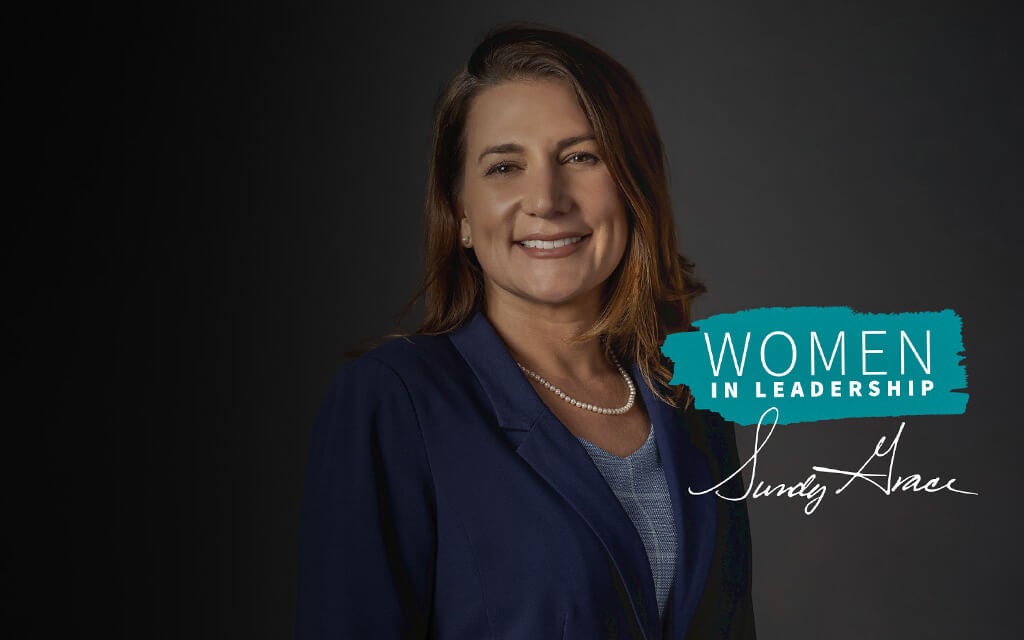 Sunday Grace, SVP, Chief Financial Officer
Oct 29, 2021 | 4 min. read
The senior executive responsible for managing the financial actions and strategy of First Command reveals the skills she used to advance her career and how she raised her daughter to be a leader.
Why did you decide to join First Command?
After working in various accounting roles during college and completing the CPA exams, I was looking for a company to start the next phase of my career. My daughter was two at that time, so I was immediately drawn to First Command's family values and history. There was a lot of change going on in 2005. The changes presented a unique opportunity for me. I came into a new role as an analyst and built the Financial Planning and Analytics function over the next few years. Because of this experience, I often coach the team that they are not limited by the apparent "next rung" on the career ladder. If you find a way to add value, First Command is a company where you can create your own path.
What are some of the challenges you've found here at First Command?
The biggest challenge I have experienced at First Command is the same challenge many companies face working in functional silos. When organizational silos exist, it can create challenges between groups and group leaders. Silos result in duplication of effort, lack of synergy, and less clarity about how employees' roles contribute to the broader organizational strategy and mission. Cross-functional collaboration and teamwork is the only way to work in today's business environment. I am thrilled that we have identified this organizational pitfall and are changing how we work together to serve our Advisors and clients.
What are you most excited about doing at First Command?
I am most excited to be part of the transformational changes at First Command. The pandemic has altered our world in many ways, but it has taught us that we can move fast and be nimble if we work as one team. It is fun to be a part of the shift from a traditional command and control structure to a structure of empowered team members organized around and focused on delivering value to our clients and Advisors. We plan to accelerate our transformation to make it easier for our Advisors to do business. We want to give our employees the tools needed to be effective. We choose to focus on our clients to ensure an excellent client experience. And although we have much more work ahead of us, I have never felt more confident in the path First Command is on. I am grateful to be a part of this team.  
What women in your life have impacted you the most?
Personally, the most significant influence in my life was my daughter, Jude. As the first in my family to graduate from college, I completed my last undergraduate exam the night before Jude was born. Being a new, single mom while taking the CPA exam and beginning a new career was challenging. Overcoming these challenges helped me understand the importance of raising a confident, independent daughter.
How did you raise your daughter to be a leader?
It's easy for young girls to get caught up in gender norms and beliefs that can shape their expectations and feelings of self-worth. They tend to judge themselves harshly when they don't measure up to their image of perfection. As strong women role models, it's critical that we encourage and empower our daughters to achieve their goals. I always gave Jude a voice in our family decisions. I encouraged her to ask questions, solve problems on her own, and embrace her imperfections. We have celebrated our successes and learned from our failures together.
Jude found her passion in musical theatre, and she works hard to develop her talent. Being in the spotlight can be tough on a young girl's self-esteem.  But Jude remains focused and self-assured. She spends her summers volunteering as a counselor at acting camps, developing other young talents. I am so proud when another mom tells me that Jude is their daughter's role model. I have been blessed to have spent the past eighteen years watching this creative little girl grow into a bright, compassionate, determined, and talented young woman and leader. She inspires me every day. One of my favorite quotes is by Brené Brown who said, "we have to be the women we want our daughters to be."
What brought you to this level in your career?
Relationships and support. Over the past sixteen years, the relationships I have built have been an essential part of my career development. I was fortunate to be in a role that allowed me to collaborate closely across all areas of the organization. I have strong professional and personal relationships with so many at First Command across the Field, Home Office, through external partners, and our Board of Directors. I aspire to be my authentic self with everyone, to earn trust, and to give it. Everything I've given, I've gotten back tenfold in the support I receive. Whether it was a District Advisor giving me advice, getting celebratory messages from the team after a big win, or getting feedback from a Board member after a tough meeting, it was always with love and sincerely wanting me to succeed. First Command has a unique culture of love and support for each other.
Interpersonal skills are so important for a leader. What soft skills helped you get to this position?
An essential soft skill that helped me most in my career is being humble. Life and business are team sports. You can't do it alone. I realize that I do not have all the answers and can admit when I have royally screwed up. I understand that I have more to learn than I know. I believe in hiring more intelligent people than me and empowering them to use their skills and knowledge. We have so many amazing people here with expertise in many areas. Tapping into these resources and allowing others to shine has made me a more effective leader.
Favorite Movie: I am a big fan of Quentin Tarantino movies, but Kill Bill is my favorite because it's all about strong women kicking butt.
Favorite Book: A Short History of Nearly Everything by Bill Bryson (and anything by Bill Bryson).
Favorite Book for Women: The Confidence Code: The Science and Art of Self-Assurance – What Women Should Know by Katty Kay and Claire Shipman.
Favorite Book for Future Women Leaders: The Confidence Code for Girls: Taking Risks, Messing Up, and Becoming Your Amazingly Imperfect, Totally Powerful Self by Katty Kay and Claire Shipman (Jude highly recommends this one!).
Favorite Work Resource: Peer Networks, Gartner Research, and Analyst Support.
Get Squared Away®
Let's start with your financial plan.
Answer just a few simple questions and — If we determine that you can benefit from working with us — we'll put you in touch with a First Command Advisor to create your personalized financial plan. There's no obligation, and no cost for active duty military service members and their immediate families.