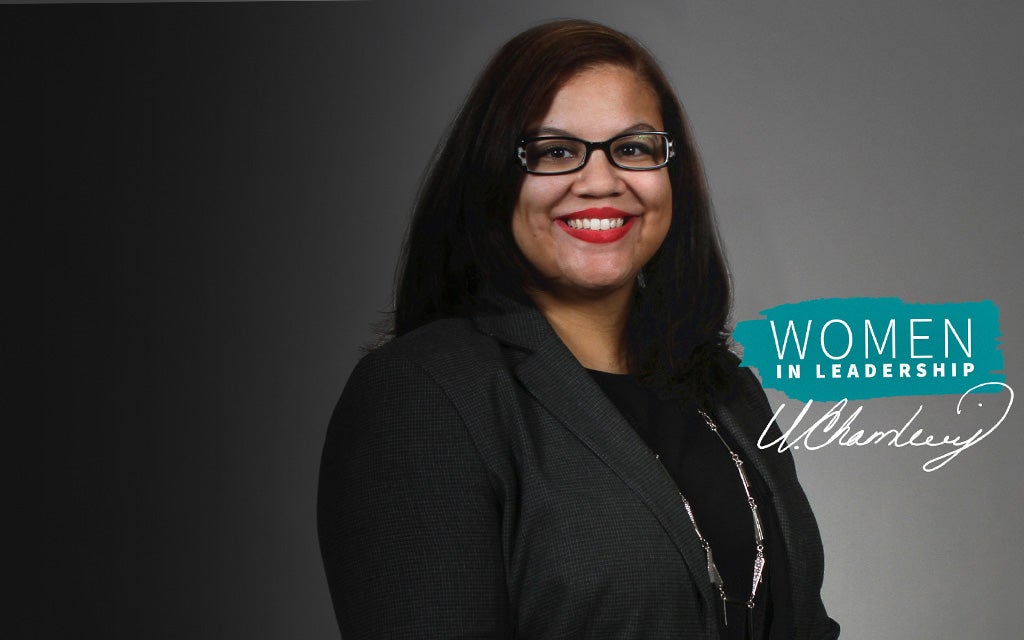 Vanessa Chambers, District Advisor, Alabama, Mississippi, Louisiana
May 28, 2021 | 4 min. read
Vanessa Chambers reveals the lightbulb moment that brought her to First Command and the soft skill that is her secret weapon.
As a First Command District Advisor, Vanessa mentors, trains, and coaches Advisors throughout Alabama, Mississippi and Louisiana. She also recruits new Advisors and empowers them to build successful careers while serving military families in their pursuit of financial security.
Why did you decide to join First Command?
My parents have been clients for over 30 years, so I essentially grew up knowing about First Command and the role the company had played in my parents' life. I remember going to annual financial reviews with my parents, and eventually I got to the age where I went to my own annual reviews.
My Advisor when I was a young adult was Don Davidson, who is my mentor to this day. I had just moved to the United States from Germany, and at that time, I was unsure of what career path I wanted to pursue. During one of our financial discussions, I remember asking Don if he had a job for me, because I wasn't passionate about the career I was in. A few moments later, the District Advisor joined us and my annual review turned into an interview! As soon as this opportunity presented itself, it was like a lightbulb went off and I knew I had found what I was meant to do. It's been an adventure ever since. 
What are some of the challenges you've found here at First Command?
When I joined First Command, I was an administrative assistant on Fort Lee in my early twenties. I was a young woman of color, living in a new country, and there weren't a lot of people that looked like me in this company. What initially felt like a challenge, quickly turned into some of the greatest moments of my life shared with some of the most amazing people. Since then, there's been so much more positive change and diversity in First Command. It's exciting to be a part of it.

Another challenge was adjusting to a new job and life in the states after living in Germany my whole life. I knew I was going to do anything and everything to make a successful career here at First Command. I was determined to forge my own way.
What are you most excited about doing at First Command?
I love what I'm doing right now in my role as District Advisor. Empowering my advisors and working to fulfill the mission of First Command is not only rewarding for us, but our work here can change the trajectory of an entire family. We are really changing people's lives here. We teach military families how to create positive financial habits and take action, and we empower those who have not had the best financial background. We are giving them hope and a roadmap to turn things around. It's exciting to coach the coaches, my advisors, as they help people make some of the most important decisions in their lives.
What women in your life have impacted you the most?

My mom and my sister have shaped me into the person I am today. They've set such a wonderful example to work hard and bring discipline to everything I do. They are my biggest cheerleaders, and it is an honor to have them as my lifetime mentors and role models. My mother is truly superwoman and I'm so thankful for her encouragement, tough love, and guidance.  
One of our very own is First Command's Jennifer Berlin. I have known her for almost 10 years. She has been a mentor to me since I started at First Command. I admire her discipline, tenacity, and creativity. I believe God sends certain people in life to help you navigate, and Jennifer Berlin is one of those people.
Interpersonal skills are so important for a leader. What soft skills helped you get to this position?
I am an empath and I care very much for people. I like knowing what makes people tick, and what motivates them. Everyone deserves kindness and a space to truly be themselves. Providing my team with that space and security is very important to me, and I find that they excel that much more in their business. I think emotional intelligence is a critical component in my leadership and makes me an impactful leader.
Favorite Movie: The Big Short
Favorite Book: Their Eyes Were Watching God by Zora Neale Hurston
Favorite Work Resource: My incredible First Command colleagues and TED talks
Get Squared Away®
Let's start with your financial plan.
Answer just a few simple questions and — If we determine that you can benefit from working with us — we'll put you in touch with a First Command Advisor to create your personalized financial plan. There's no obligation, and no cost for active duty military service members and their immediate families.