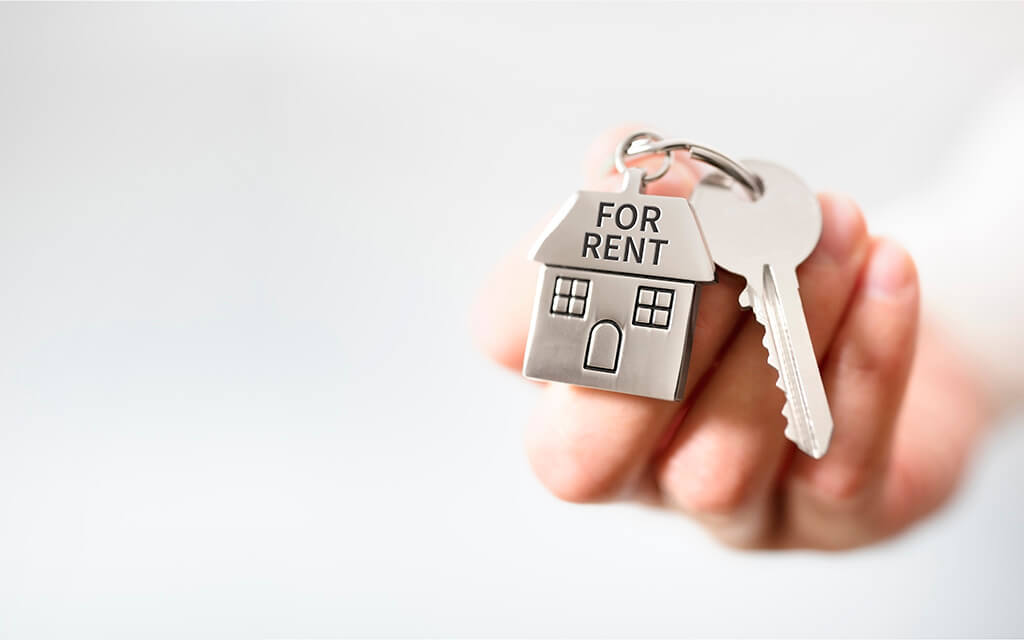 What You Need to Know Before Becoming a Landlord
Apr 2, 2019 | 6 min. read
Renting out your house can be a steady source of income. But before you become a landlord, make sure it's right for you.
We've all heard success stories from people who made a killing by flipping houses or renting them out, and if you've ever watched Income Property on HGTV, you've probably been drawn to the idea of rental income funding your retirement. 
Relocating homeowners who are struggling to sell their home may also find themselves considering renting their property as a way to cover monthly expenses. But while many investors have found financial success in the rental market, it's not for everyone. Before you take the leap to become a landlord, ask yourself some tough questions.
Is it an appealing rental?
As with all things in real estate, location is king. Rental homes are most appealing if they are convenient to jobs, recreational activities and shopping. Houses that are big enough for families, but small enough to accommodate a couple (think three-bedrooms, two-baths), in a safe neighborhood and in a good school district have maximum potential.
You'll also need to consider your local market. If you're in a military area, is the house convenient to base? If you're in a college town, are you open to renting to students?
Can you make money? Or at least break even?
Being a landlord isn't for the faint of heart, so you've got to run the numbers to be sure it's worth it. For starters, list expenses such as your mortgage, property taxes, insurance, average maintenance costs and management fees. If these expenses cannot be covered, you'll want to seriously reconsider moving forward.
You also need to be realistic about how much you can charge for rent. Talk to neighborhood realtors and landlords, and utilize online resources such as Zillow. It's always a good idea to consult a tax professional at this stage, too, to make sure you're aware of any tax implications. 
If you originally bought the house for your family to live in, you may be at somewhat of a disadvantage compared to another landlord who bought the house solely as investment property. The reason is that some of the features you fell in love with, such as beautiful landscaping or granite countertops, aren't necessarily going to motivate a renter to pay more for your property. The best course of action is to distance yourself emotionally from the home and make every effort to regard it as a business entity before pricing it.
In addition, it's important to protect yourself from financial pitfalls by setting aside an emergency fund for your rental home. Hot water heaters fail, some renters do more damage than others, and there is always the possibility that the home will lie vacant for a period of time. 
Do you have the temperament?
There's no such thing as a sure thing, so be honest with yourself about your stress and risk tolerance. As with any investment, there may be highs and lows. It's also a good idea to assess your ability — and desire — to commit the time and energy to being a landlord. 
How involved do you want to be?
If self-managing your property sounds like a chore, hiring a reputable management company is essential. Investigate several organizations to compare fees, services and references. This may be a good option if you're planning on moving outside of the area, because they will typically handle listing your rental, screening applicants, drawing up contracts, managing repairs and other time-consuming tasks. Though fees and arrangements can vary, as a baseline, you should expect to pay a monthly management fee ranging from 8 to 12 percent of the monthly rental value of the property. 
However, if hands-on management is more your style, you can save some money by doing it yourself. Just make sure you're diligent in your research and knowledgeable about your state's rental and property laws. You'll also need a list of local, trustworthy resources who can step in if you're unavailable. 
If you're a military homeowner and receive last-minute PCS orders, or are having trouble selling your home, becoming a landlord may be a consideration. Here are some military-specific resources that may be useful:
Are you still enthusiastic about becoming a landlord? If so, it's time to meet with your Financial Advisor. Through First Command's partnership with Armed Forces Insurance (AFI), we offer landlord insurance, often referred to as dwelling fire insurance. In addition, your Advisor can review the specifics with you to make sure renting makes sense as part of your overall financial plan.
Get Squared Away®
Let's start with your financial plan.
Answer just a few simple questions and — If we determine that you can benefit from working with us — we'll put you in touch with a First Command Advisor to create your personalized financial plan. There's no obligation, and no cost for active duty military service members and their immediate families.