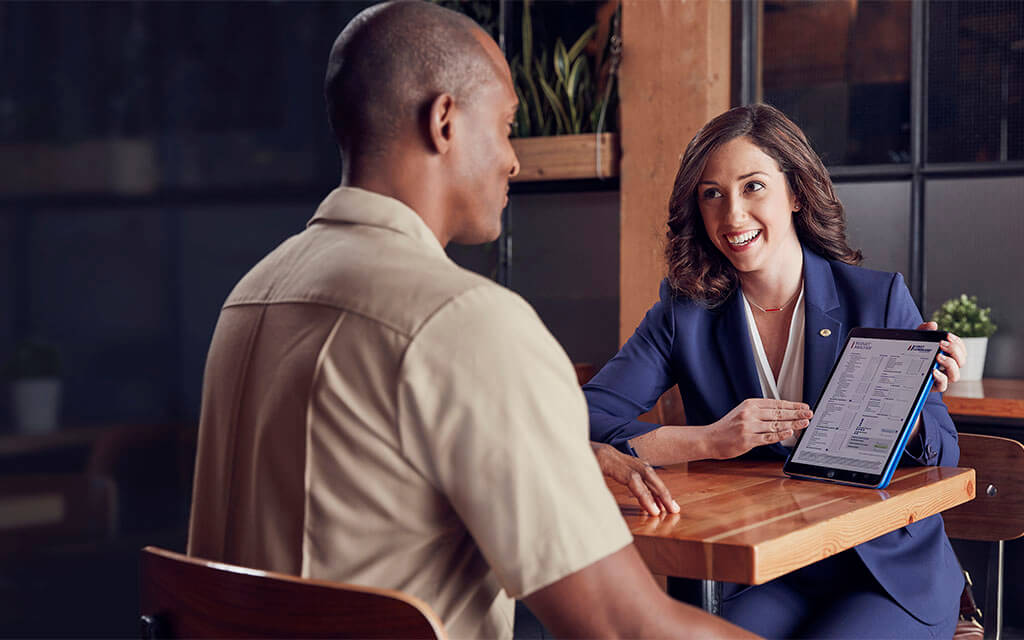 By: Scott Spiker
Chief Executive Officer
Apr 15, 2019 | 6 min. read
Exploring the three specific qualities that are the best predictors of a First Command Financial Advisor's success
What makes a good First Command Financial Advisor? That's a question we ask ourselves a lot around here. Because we know that the single best way to accomplish our objective of improving the financial well-being of servicemembers and their families is to hire and train outstanding advisors. And because we understand that each client's perception of First Command is more informed by the value delivered by their advisor than any other single factor.
So…back to the original question. What makes a good First Command Financial Advisor? While there are a number of potentially desirable advisor traits – like strong people skills or good organizational ability – we've settled on three specific qualities that we believe are the best predictors of an advisor's success.
First, they must know and understand the people they hope to serve. That's why we're squarely focused on hiring veterans and military spouses. There simply is no better way to ensure that our advisors have the thorough understanding of the military lifestyle, benefits and values that allows them to build trusting relationships with clients. There is a significant bonus to hiring these folks – not only do they have an intuitive understanding of military values like duty, honor and selfless service, they tend to consistently practice them in both their personal and professional lives. 
The second quality we look for in prospective First Command Financial Advisors is strong leadership and coaching skills. The best way for me to explain our prioritizing these qualities is probably just to point to First Command's mission statement: "Coaching those who serve in their pursuit of financial security." Until a few years ago, we tended to make the financial plan the focal point of our value proposition. We still believe that the best way for people to strategically pursue their financial goals is by implementing a plan. But we've come to realize that the greatest value we deliver to our clients is not the plan itself, but the ongoing relationship with a knowledgeable and trusted advisor who helps them execute their plan. That's why we want advisors who excel at motivating people to get started and at coaching them through the inevitable challenges they will face during the course of their financial journey. 
"Purpose may point you in the right direction but it's passion that propels you." 
– Travis McAshan, Entrepreneur and Web Strategist
There's one more key characteristic that we're looking for when we hire a First Command Financial Advisor, and it's not a skill that can be learned. People either have it or they don't.  I'm talking about passion. As in a sincere and heartfelt and maybe even burning passion to help as many servicemembers and military families as possible get their financial lives on track and reach confidently for their goals and dreams. The kind of passion that causes you to figure out how you can succeed rather than focusing on all of the reasons that you can't. The kind of passion that transforms a job into a calling. 
Serving as a First Command Financial Advisor is a career that offers the right people a real opportunity to make a profound difference in people's lives – and those advisors who realize that and embrace the challenge with conviction, determination and, yes, passion, rarely fail. That's why I'm increasingly convinced that passion for our mission just may be the best predictor of all of who will find fulfillment and success as an advisor.  
So why, you may be wondering, have I chosen to offer these insights into our hiring process? For two reasons really. First and foremost, because I want First Command clients to know how much importance we place on this aspect of our business and how committed we are to identifying advisors who will understand their needs and be passionate about serving them. But also, frankly, because I want any client reading this who believes they possess the kind of knowledge, leadership and passion for serving that I've described to give real consideration to joining our mission. First Command has a long and very successful history of hiring veterans and military spouses who are also clients to be advisors – a tradition we have every intention of continuing as we seek to foster and promote the trusting client-advisor relationships that are the hallmark of our organization.     
Get Squared Away®
Let's start with your financial plan.
Answer just a few simple questions and — If we determine that you can benefit from working with us — we'll put you in touch with a First Command Advisor to create your personalized financial plan. There's no obligation, and no cost for active duty military service members and their immediate families.