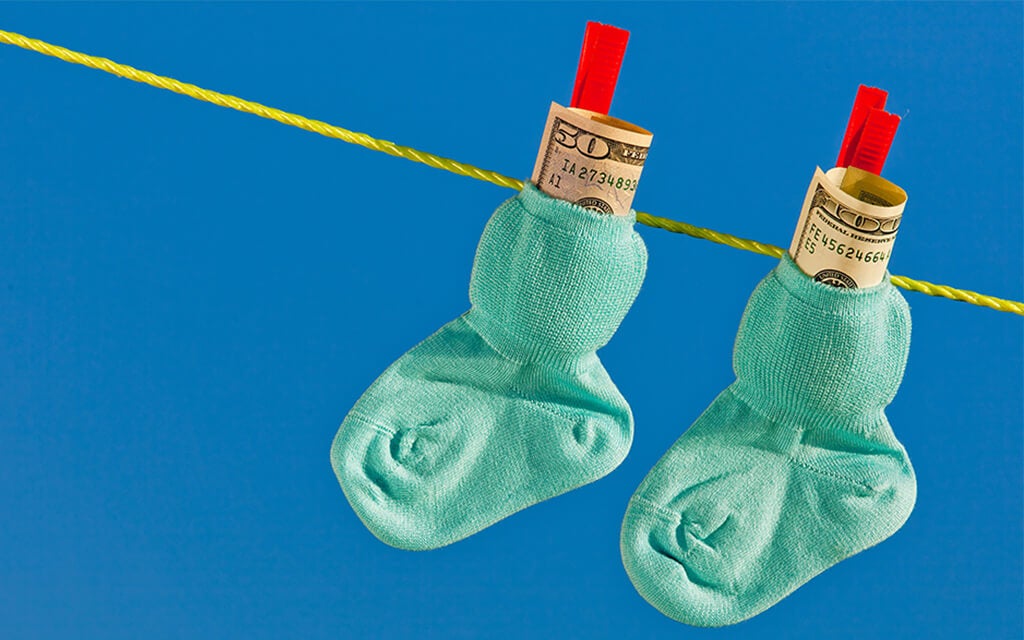 BABY ON THE WAY: HOW TO FINANCIALLY PREPARE FOR PARENTHOOD IN THE MILITARY
Apr 22, 2023 | 6 min. read
Discover Tips and Benefits to Help You Plan While You Serve
Military families have a lot to consider before deciding to have a baby. According to a report by the CDC, the U.S. birthrate is the lowest it has been in over 30 years. The report's findings show that the hesitation is due to financial reasons.
Although the U.S. economy is doing well, young adults fear they won't be able to afford a child due to high insurance costs, childcare expenses and lack of parental leave.
With the expense involved, it makes sense that people are waiting to start a family. However, when the time is right and you find yourself planning for a baby, it's important to know that it's possible to welcome a new addition without going into debt. Planning for a baby financially is one of the most powerful things you can do for the future of your family. Here's how to begin.
Things You Need to Know When Planning for A Baby Financially While Serving in the Military
1. Examine your Health Insurance Plan
Now is the time to take a good look at your health insurance plan. Uniformed service members, retirees and their families are eligible for TRICARE comprehensive healthcare coverage to all beneficiaries but there are different types of coverage to consider. Make sure you're getting the right coverage for your growing family. Also, if your partner has a job that offers health insurance, compare the two plans to see if your family could benefit from secondary coverage. And remember, the birth or adoption of a child allows you to qualify for a special enrollment option, so you can make changes outside of the annual enrollment period.
2. Buy Secondhand
One of the best ways to stick to a budget while preparing for a new family member is to buy gently used items. Babies grow quickly, especially during the first year. Buying clothing secondhand is a great way to save money on items you know they will only wear a handful of times before they outgrow them. While thrift stores are a great option, you can also get free items by asking friends or family members whose little ones have grown if they would like to get rid of any old clothes or other items. Another great place to find gently used items are online marketplaces and social media groups. There are specific groups for everything so if you're living near a military installation, check to see if there is a baby items buy/sell/exchange group affiliated with your installation.
3. It Takes a Village
A mistake many new parents make is trying to do it all themselves. A wonderful aspect of military life is the built-in community that surrounds you. Check message boards on base, informational centers, and online social media groups to find new parents in a similar situation to you, get to know and trust them, and then divide and conquer. Consider carpooling to the grocery store, school, or appointments. Babysit each other's kids and share new parenting tips. Creating an atmosphere of trust and helpfulness may not only benefit you financially but also emotionally.
4. Lean on all available resources
Do you know that your employer (the government) provides military families with different types of support and guidance like The New Parent Support Program? This program offers prenatal classes, parenting classes, home visits and more. Once your child is school-aged, check out the The Department of Defense Education Activity (DoDEA) website to see what's available like access to virtual learning, activity suggestions, home schooling instructions as well as ideas for building your own inexpensive e-library. Do a little research and you might be surprised at the variety of no-cost and low-cost resources available to you.
5. Buy Items in Bulk
You can buy items in bulk at big box warehouse clubs, which can save you money in the long run. Buying diapers, wipes and formula in bulk is usually cheaper than individually purchasing items. But wait to stock up until you know what brands your baby prefers. Each child is unique, and you won't know if they have an allergy or sensitivity until you introduce them to a product.
6. Think About Longevity
When prepping for a baby, think about how much use you will get out of the items you are purchasing until your child is too old for them. Cribs are often pricey, so look for one that converts into a toddler bed to get the most bang for your buck. Research other big-ticket items like car seats and strollers to make sure your baby will be able to use them for as long as possible. Conversely, the short lifespan of items your baby can only use for a few months might cause purchases such as a bassinet, swing or infant bathtub to move to the bottom of the list.
7. Call Your Insurance for a Breast Pump
You can easily save hundreds of dollars by getting your breast pump covered through your health insurance. Call your insurance company to see if they cover any breast pumps and take advantage of this cost-saving resource. 
Adding a new member to your family is a time of joy and discovery and being financially prepared for your new arrival will allow you to focus on the things that really matter. These are some general tips, but every situation is different. To get a more personalized plan for your growing family, get in touch with one of our Financial Advisors. For more information and to set up a meeting near you, visit www.firstcommand.com/get-started.
Get Squared Away®
Let's start with your financial plan.
Answer just a few simple questions and — If we determine that you can benefit from working with us — we'll put you in touch with a First Command Advisor to create your personalized financial plan. There's no obligation, and no cost for active duty military service members and their immediate families.