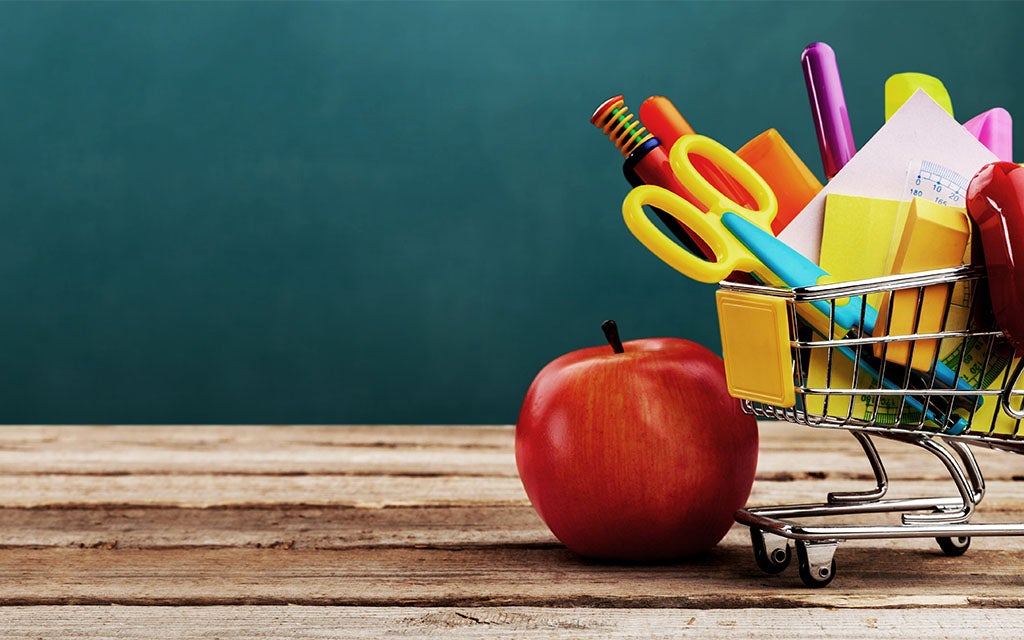 Six Smart Back to School Shopping Tips to Stay on Budget
Jul 22, 2022 | 4 min. read
School supply lists are getting longer and more expensive. Save some money — and your sanity — by following these six tips.
The new school year is right around the corner, which normally brings on a mishmash of emotions. You may feel sad to see summer ending and, at the same time, relieved to return to a routine. You're wistfully nostalgic for the baby years, but excited to see what adventures lie ahead. And while it's fun to prepare the kids for a fresh start, the expense can be daunting.
Over the years, public school spending cuts have resulted in decreased funding for classroom supplies, so parents are being asked to pick up the slack. Teachers are feeling the pain, too. Money magazine reports that teachers spend close to $500 per year on average of their own money to supplement classroom supplies. In addition, parents are also shouldering the burden of their child's participation in school clubs, art programs and sports, which can make these activities cost prohibitive for families on a budget.
According to the Huntington Backpack Index, which tracks school and supply expenses for American families, the average 2019 costs — per child — broke down as follows:
$1017 for elementary school
$1277 for middle school
$1,667 for high school
But don't sound the alarm yet — with proper planning, this annual ritual can be manageable and even fun. Follow these tips for how to go back to school shopping on a budget:
Take stock. To avoid buying things you already have on hand, make — or better yet, have your kids make — an inventory of pens, binders and notebooks in your home.
Make a list. List every item in order of importance, and price everything online to set a preliminary budget. This is a great exercise for your kids to participate in because it allows them more ownership in the process and teaches them to prioritize. You might be surprised by the level of excitement generated by color-coding folders and binders, and older kids may even consult Pinterest for low-cost customization ideas. Involving the kids also allows you to set the expectation that they'll need to cover anything off-list or out-of-budget, and it introduces valuable budgeting skills.
Do your homework. Be the first to know about sales and promotions by following your go-to stores on social media and setting up email alerts. Use a price comparison app to make sure you're getting the best deal. And before you buy clothes, double check the school's dress code to make sure your student is in compliance.
Be strategic. Spread the shopping — and the spending — over several trips. Buy the most urgent items first, and wait on secondary items. Often, the list provided by the school doesn't match the teachers' lists, so it can be in your best interest to wait until after the start of school to see if your child really needs eight porous point medium assorted ink pens. There's also a bonus to waiting it out: Although supplies will eventually thin, prices typically go down after Labor Day. If you live in a state that holds annual sales tax holidays, plan for large dollar purchases such as electronics and clothing on those dates. Here is a list of participating states and items subject to exemption.
Recycle. If you have more than one child, buy quality items that can go the distance. It's best to avoid trendy styles or monogrammed items to increase the chances of a peaceful hand-me-down process.
Leave it to Mom. According to oath.com, dads are increasingly more involved in back-to-school shopping, but there's a price attached. Moms tends to be more price conscious and motivated to search out deals. In fact, dads spend, on average, 10 percent more than moms.
Take control of back-to school shopping by planning ahead, helping your kids prioritize and making the most of your resources. With any luck, there will only be happy tears as you send them off again.
Get Squared Away®
Let's start with your financial plan.
Answer just a few simple questions and — If we determine that you can benefit from working with us — we'll put you in touch with a First Command Advisor to create your personalized financial plan. There's no obligation, and no cost for active duty military service members and their immediate families.