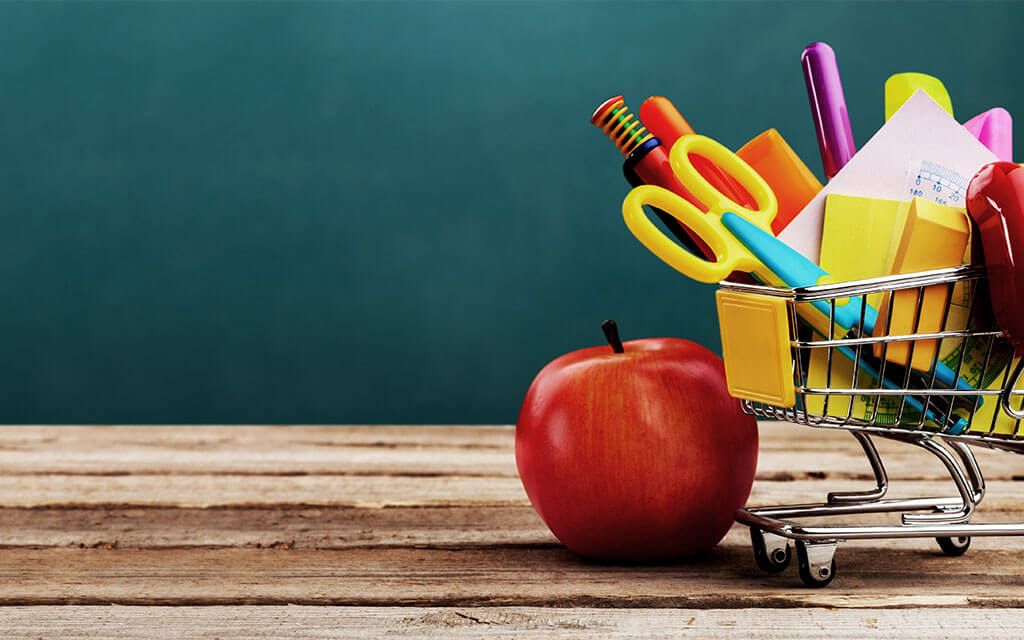 Six Smart Back-to-School Shopping Tips
Aug 11, 2023 | 5 min. read
School supply lists are getting longer and more expensive. Save some money — and your sanity — by following these six tips.
The new school year can bring on a mix of emotions for a military parent. You may feel sad to see summer ending and, at the same time, relieved to return to a routine. You're wistfully nostalgic for the baby years, but excited to see what adventures lie ahead especially for kids who may be starting at a new school after PCSing. Whether you are misty-eyed or anxiously awaiting it, the first day of school prompts back-to-school shopping while we're all still sweltering in the mid-summer heat. And while it's fun to prepare the kids for a fresh start, the expense can be daunting for military and civilian families alike.
Over the years, spending cuts in public schools – which nearly 80 percent of U.S. military children attend according to pta.org – have resulted in decreased funding for classroom supplies, so parents are being asked to pick up the slack. Teachers are feeling the pain, too. In its 2023 Teacher Spending Survey, AdoptAClassroom.org found the average teacher spent $860 out-of-pocket on classroom supplies during the 2022-23 school year. The national nonprofit, which connects donors with educators to fund pre-K through 12th grade classroom supplies, reported a 14 percent increase in teacher expenditures since 2021 and a 44 percent increase since the survey began in 2015. In addition to classroom supplies, parents are also shouldering the burden of their child's participation in school clubs, art programs and sports, which can make these activities cost prohibitive for families on a budget.
But don't sound the alarm yet — with proper planning, this annual ritual can be manageable and even fun for parents and kids. If you are buying supplies for one or more of the 900,000+ school-age children of military parents, follow these tips for how to go back-to-school shopping on a budget:
Take stock. To avoid buying things you already have on hand, make — or better yet, have your kids make — an inventory of pens, binders, notebooks and other school necessities in your home.
Make a shopping list. After getting a supply list from your school, organize every item in order of importance, and price everything online to set a preliminary budget. This is a great exercise for your kids to participate in because it allows them more ownership in the process and teaches them to prioritize. Involving them also allows you to set the expectation that they'll need to cover anything off-list or out-of-budget and introduces valuable budgeting skills.
Put technology to work. Be the first to know about sales and promotions by following your go-to stores on social media and setting up email alerts. Use a price comparison app to make sure you're getting the best deal. Take advantage of online promotions and free shipping offers. While Big Four accounting firm Deloitte's 2023 Back-to-School Survey reports social media's marketing influence over back-to-school shopping is decreasing, it remains a good source to find deals and save money.
Be strategic in your spending. Start early and spread the shopping — and the spending — over several trips and paychecks. Buy the most urgent or hard-to-find items first, wait on secondary items, and be wary of shopping trends that are just hype. Often, the list provided by the school doesn't match the teachers' lists, so it can be in your best interest to wait until after the start of school to see if your child really needs eight porous point medium assorted ink pens. There's also a bonus to waiting it out: Although supplies will eventually thin, prices typically go down after Labor Day. Take advantage of discounts on everything from clothes and shoes to the supplies and tech gear that fill a new backpack, and do a little detective work to figure out which retailers offer discounts to military families. If you live in a state that holds annual sales tax holidays, plan for large-dollar purchases such as electronics and clothing on those dates. Here is a list of participating states and eligible items.
Reuse and recycle. If you have more than one child, buy quality reusable items like clothes or calculators that can go the distance. It's best to avoid trendy styles or monogrammed items to increase the chances of multiple years of use and successful handoffs to younger siblings.
Avoid costly missteps.  Check return policies for online purchases so you don't incur unexpected shipping costs and blow your savings if returns become necessary. Before you buy clothes, double check the school's dress code to make sure your student is in compliance. And be sure to shop early for must-have and specialty items to catch sales, ensure availability and avoid desperate purchases from unfamiliar online sources.
Back to school can be stressful for military kids. On average, military families relocate every two to three years – 10 times more than civilian families – according to wearethemighty.com. If your family completed a PCS move this summer, your kids will be going to a new school. The good news is back-to-school shopping can build excitement and ease worries about making a good first impression. The even better news is that studies have found that military kids are often more resilient, social and independent than their civilian counterparts, thanks to the unique experiences of military family life.
Take control of back-to-school shopping. Plan ahead, help your kids prioritize and make the most of your military family's resources.
Get Squared Away®
Let's start with your financial plan.
Answer just a few simple questions and — If we determine that you can benefit from working with us — we'll put you in touch with a First Command Advisor to create your personalized financial plan. There's no obligation, and no cost for active duty military service members and their immediate families.