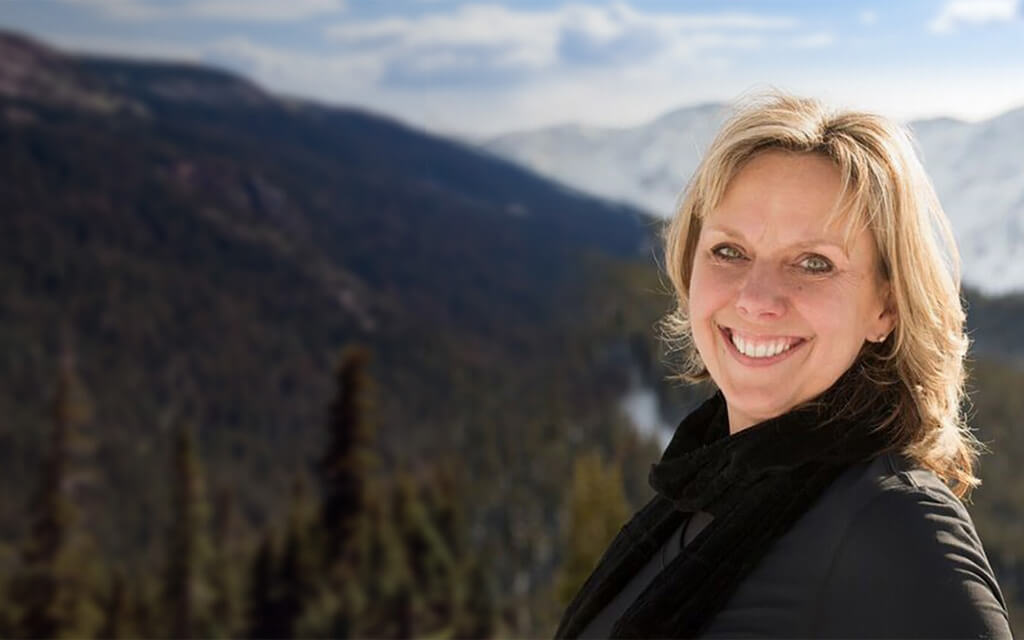 Supporting the Troops One Family at a Time
Jun 5, 2019 | 6 min. read
How a civilian nurse became the force behind Project Sanctuary.
During the 1990s, Heather Ehle was a registered nurse working in a free family clinic in Colorado. As the Gulf War progressed, she started to notice a trend: the waiting room was often filled with service members, their spouses and their children. It was not uncommon for these families to have driven from other states searching for help.
"The veterans suffered from headaches, memory loss, fatigue and other physical symptoms," says Ehle. "The spouses brought notebooks to write everything down, and the children had been taken out of school because the appointment was so far away. It was my first introduction to military families, and it really struck me that the whole family was in this together."
After 9/11, Ehle read an article that brought these images back. "A study found that for families with a parent in the Army, when that parent deploys, the risk for child abuse tripled and the risk for neglect quadrupled," Ehle says. "I thought about all those kids in my waiting room, and my heart sank."
Ehle researched organizations that serve military families as a unit, and discovered none existed.
She started talking to veterans about how to best support their families and it sparked the idea of establishing a retreat center that combined Colorado's bountiful opportunities for outdoor recreation with her medical training. "I spent six months trying to pawn the idea off on someone else," Ehle laughs. "I didn't think I was qualified."
On the anniversary of her mother's death, Ehle was inspired to make the leap. "I decided I would never dread that day again, and I filled out the paperwork to become incorporated. Now September 27 is a day I look forward to, because it is Project Sanctuary's birthday."
For the first retreat, one family signed up. Ehle had made plans to take them horseback riding. "They said, 'We don't want to go horseback riding. We need a date night. And marriage counseling. And financial advice.'"
Ehle listened and pieced together a program based on what they needed — a model Project Sanctuary still uses 12 years later. "We continue to evolve our retreats based on what our families tell us," she says. "When they asked for a therapeutic program to help them cope with traumatic stress, we built one. When they asked for a program for teenagers, we built that, too."
Project Sanctuary retreats are focused on mental health and are run by Certified Therapeutic Recreation Specialists with assistance from licensed professional counselors. Each six-day retreat incorporates classroom time, group and individual activities, and opportunities for counseling or follow-up with a social worker. Now in seven states, each Project Sanctuary location has its own personality: In California, you'll be zip-lining through the redwoods; in Colorado, prepare to snowmobile in the Rockies; and in Texas, get ready to saddle up and eat some barbecue.
"It's about creating connections with the families in a safe place," says Ehle. "It takes a huge commitment to host a retreat as long as six days, but the results are big. One of our mental health professionals commented that she can make more progress with a family in one retreat than in a year of office counseling."
Attending a retreat is often just the first step — ongoing personalized support services are offered to families to build upon progress made during the retreat. Support services run the gamut from crisis intervention to long-term financial planning. Among the many volunteers Ehle has corralled, First Command Financial Advisors teach classes at every retreat, and families in need of further financial education are paired with an advisor to help them work toward financial security. "It's not a one-and-done," says Ehle. "The Advisor stays with the family until their needs are met."
Project Sanctuary offers 30 retreats a year, and has served more than 1,400 families since its inception. However, there are many more who have asked for help. With so many families in need, the support program has been expanded to provide interim services to those on the waiting list.
Ehle credits the partners, donors, staff and volunteers for moving the mission forward. Staff members include military veterans and spouses, but also civilians with no military background. Many volunteers and donors are graduates of the program who have experienced healing and want to pass it on. Talking freely about the importance of mental health and removing the stigma against asking for help is key.
"Most of our families live with PTSD and traumatic brain injuries," Ehle says. "You don't recover from PTSD, you learn to cope with it — which is why we're in it for the long haul. In addition, families naturally undergo changes while the service member is deployed. We have the honor of putting them back together."
The services at Project Sanctuary are offered to both active duty service members and veterans from all branches and eras. The program is completely confidential with no chain-of-command reporting. Ehle is also quick to point out that 'family' is a loosely-defined term. Single service members and veterans come through the program, and some bring a friend or relative. In fact, one veteran drove from Florida to Colorado with just his dog, because that was the only family he had left. Two years later, he and his son had reunited and returned to volunteer together.
Ehle's goal is to slowly and strategically expand Project Sanctuary's reach so no family has to wait for help and healing. "We are still deploying, and some people don't seem to remember that," Ehle says. "The wars have gone on so long now that the kids who were doing art as part of their therapy have grown up, enlisted and deployed. I like to think we are having a multigenerational positive effect on these families."
Project Sanctuary is not affiliated with First Command Financial Services, Inc., or any of its affiliated entities.
Get Squared Away®
Let's start with your financial plan.
Answer just a few simple questions and — If we determine that you can benefit from working with us — we'll put you in touch with a First Command Advisor to create your personalized financial plan. There's no obligation, and no cost for active duty military service members and their immediate families.