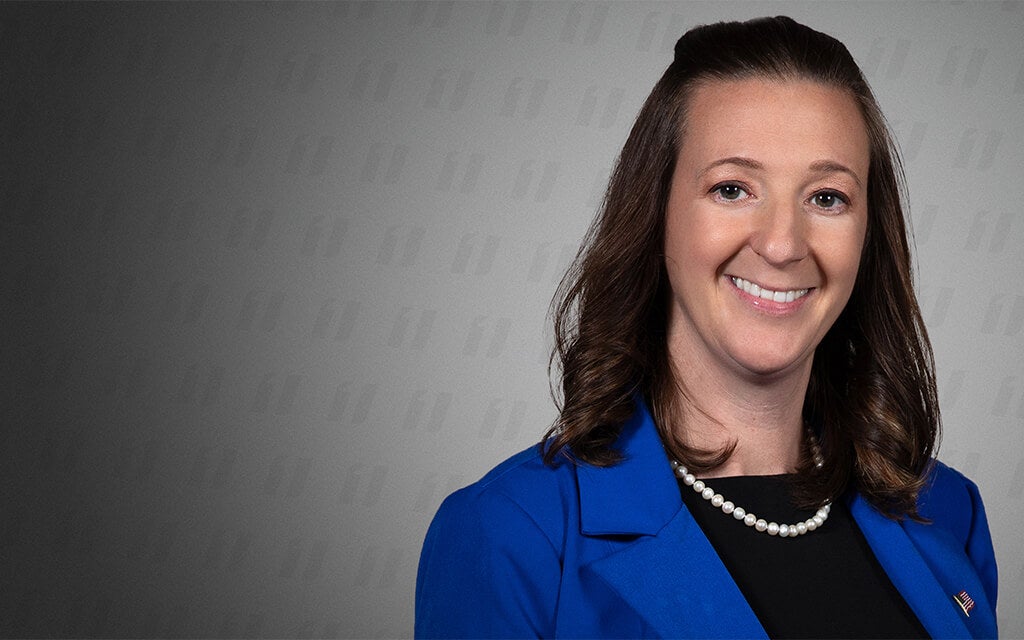 Finding Balance While Building a Business
May 20, 2019 | 6 min. read
Monica McKenna, a First Command Financial Advisor and Military Spouse of the Year nominee, talks about balancing family and career.
One frosty day in Buffalo, New York, Monica McKenna watched in horror as eight feet of snow accumulated within 24 hours. Unable to take another moment of the cold, McKenna packed her bags, asked herself how far south she could possibly go, and moved to the Florida Keys. This fateful decision led McKenna to meet her husband, Marty, who is a Lieutenant Commander in the United States Coast Guard. Building a business as a First Command Financial Advisor while being a mom to two young children and a military spouse isn't without hardship, but McKenna makes balancing her many roles look easy.
Did you ever think you would be a military spouse?
No, I didn't know anyone who was in the military. I had never been exposed to the military, so I didn't know anything about it. I had no idea what I actually signed up for and what being a military spouse entailed when I met my husband. Luckily, I met him later on in his career. Now he has the freedom to choose whether or not he wants to go on missions.
What is the best part about being a military spouse?
The best and worst part is probably the travel. It's really fun to go to a new place and start over, but the Coast Guard tells you when you have to leave as opposed to getting to choose. However, it is fun getting to explore a new town.
If you had to give advice to a new military spouse, what would it be?
Someone once told me when your husband is home, you have to let him be the man of the house, and when he's gone you have to step up and be the man of the house. You have to be able to switch in and out of both roles. Best advice I ever received.
Tell me a bit about some of the jobs you've had.
I was good at math, so I went into engineering in college. I got my degree, but still didn't fully understand how I was going to apply what I had learned in the real world. After graduation, I applied for a ton of jobs and never got picked up. So I bartended, had a blast, and lived on vacation for several years. The most money I ever made in my life was from bartending. It was amazing and so much fun. But I kept hearing my mom in the back of my head saying, "It doesn't have benefits. You need a real job." So I applied for some office jobs and got hired by an engineering firm as a project manager. Unfortunately, it didn't pay much and I could no longer afford to live in the Keys. A friend asked if I had considered teaching and I thought it sounded fun, so I decided to try it. I taught at the college, middle school and high school level. I loved teaching high school and college students, but middle school students were more challenging. Although I enjoyed many aspects of my experience as a teacher, ultimately I came to the conclusion that it was not the right career for me.
How did you become a First Command Financial Advisor?
I was participating in a group called Stroller Strides, because I enjoy running and I wanted to meet new moms like me. One of the moms was married to a First Command Financial Advisor, who happened to be at the race. He asked me if I had ever considered a career as a financial advisor. In college, I always helped my friends with their finances, so, impulsively, I told him I would be open to considering it. After talking to him further about it, I decided it was a good fit. I started studying for my licenses that week!
What drew you to the job?
It can be a demanding career that requires working long hours when you are establishing your business, but because it is your business, you have the flexibility to schedule around your family life. It's important for me to be there for my kids when I need to be.
How do you balance your job with family?
It's tough. It's probably been one of my bigger struggles. My husband is amazing and thankfully, he's home. I don't know how I could do it without him. I've also learned that setting specific home hours and family hours is important.
How did the 2018/2019 government shutdown affect your family?
Because the Coast Guard is part of Homeland Security, my husband's pay was interrupted and I could tell that he was somewhat stressed. Our TV went out during the NFL playoffs and he said, "How can we afford to go out and get a new TV when I'm not being paid right now?" He kind of had a meltdown. But I said, "Honey, stop. We are okay. We have a financial plan and we have enough in savings to cover six months of expenses."
What is your favorite part about being a First Command Financial Advisor?
Helping people. I love teaching, and now I get to teach adults about their finances. I've only been here for a year and I can already see a big change in one family. They are in such a better spot than they were.
What are you passionate about?
I'm passionate about my family and helping people with their finances. It's so awesome to know you're changing someone's life and giving them hope.
Get Squared Away®
Let's start with your financial plan.
Answer just a few simple questions and — If we determine that you can benefit from working with us — we'll put you in touch with a First Command Advisor to create your personalized financial plan. There's no obligation, and no cost for active duty military service members and their immediate families.