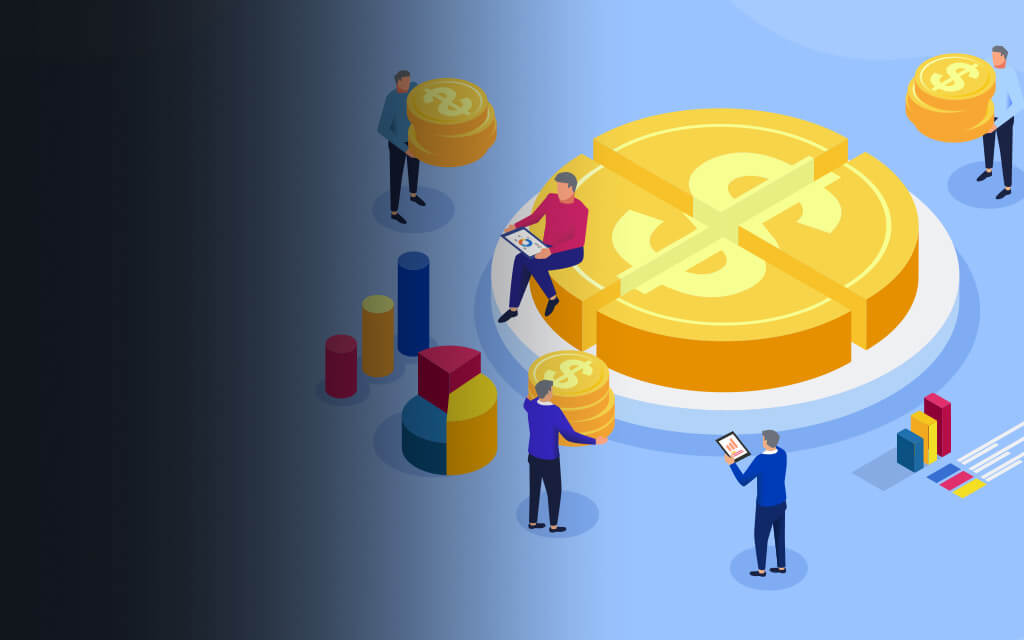 Annuities 101: The Key Questions You Need to Ask
Jun 24, 2022 | 4 min. read
What is an annuity, how does it work and who are they for? This primer outlines what you need to know.
You've been planning and saving for your retirement for decades and now it's finally here. But how do you change gears from accumulation to distribution? How, in other words, do you convert your investment portfolio into the income you will need to live on for the rest of your life?
Let's take a closer look at one financial tool that could play a useful role in your retirement planning challenge. An annuity is a contract between you and an insurance company in which you make a lump-sum payment (or series of payments) and in return begin receiving regular disbursements, beginning immediately or at some point in the future.
Why should I consider an annuity?
The primary purpose of an annuity is to provide a reliable stream of guaranteed income. But annuities offer some additional advantages that can make them useful in the retirement planning process:
Unlike stocks and mutual funds that are fully exposed to losses during periods of market volatility, some annuities offer investors an opportunity to participate in market gains up to a defined limit or cap while also enjoying protection from the risks associated with market losses. While there are charges if these annuities are cancelled early, there are no fees for this protection from losses.
Annuities are also the only investment product that can legally state that they offer a guaranteed income stream that you cannot outlive. Think of it as the opposite of life insurance, which provides protection for your family in the event you die too soon. Annuities are designed to ensure you will have an income stream no matter how long you live. The peace of mind that comes with knowing that you will not outlive your income is provided by what's called an income rider for a small annual fee similar to that of a mutual fund.
Similar to retirement investment accounts like an IRA, 401(k) or the Thrift Savings Plan (TSP), funds within an annuity accrue on a tax-deferred basis. That means you don't have to pay taxes on the growth that occurs within your annuity until you begin withdrawing money. Keep in mind that these funds can only be withdrawn without penalty after age 59½ since they are designed to be retirement accounts.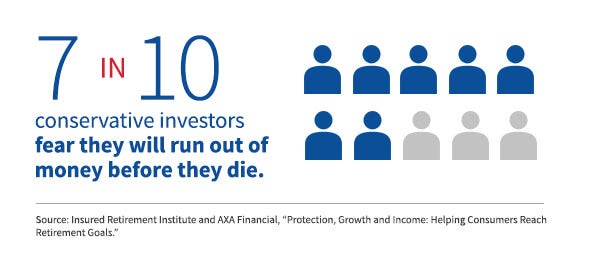 If I don't need the income right away, will an annuity still work for me?
Selecting the right annuity is largely a function of whether you need income now or in the future. 
Immediate annuities are purchased with a one-time lump sum payment and start distributing guaranteed income either now or up to a year from now. If you are planning to retire soon and need an additional stream of guaranteed income to supplement your pension or Social Security, an immediate annuity might be right for you. As the annuitant – or recipient of the income – you can choose from a variety of payout options, including lifetime income and joint lifetime income.  It is also possible to choose "period certain" payments, which are provided for a specific number of years.
Deferred annuities are a better choice if you are preparing for retirement, but still intend to work for a few more years. They provide a guaranteed stream of lifetime income that begins at a future date that you control.  Two primary types of deferred annuities are fixed index and variable.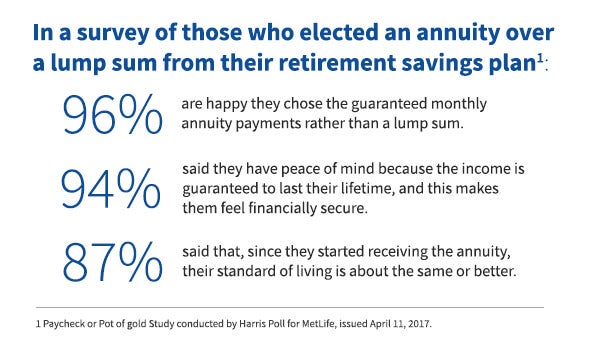 What if I don't need income, but I want some protection against market volatility?
Even if additional guaranteed income is not a priority, an annuity may have a place in your financial plan if you are uncomfortable with the prospect of market volatility and potential short-term losses in your portfolio as you approach retirement. Structured (or buffered) annuities offer the opportunity to participate in the potential growth associated with a market index like the S&P 500 while also providing some protection against losses. Fixed index annuities offer full market downside protection. Best of all, there are no additional fees associated with this protection.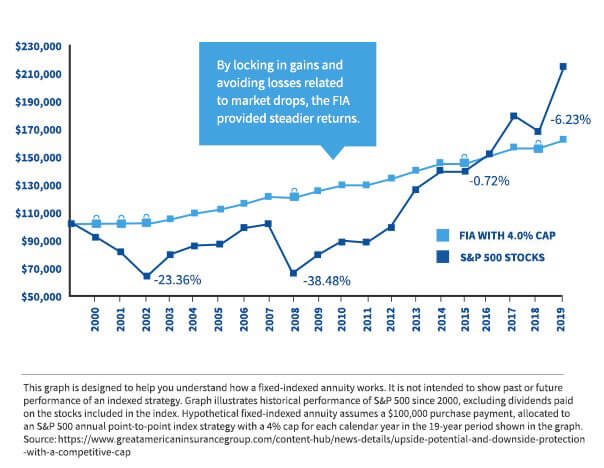 Does an annuity make sense for me?
You are unique and so are your retirement income needs.  The best way to determine whether an annuity has a place in your financial plan is to get a holistic assessment of your current financial situation and future goals.
To get a better idea of the different types of annuities available, visit www.firstcommand.com/investing-saving/income-planning. Then schedule a meeting with your First Command Financial Advisor to determine how to navigate your retirement journey with confidence.
Before investing, consider the investment objectives, risks, charges, and expenses of the annuity and its investment options. Contact First Command for a prospectus or, if available, a summary prospectus containing this information. Read it carefully.
Guarantees apply to certain insurance and annuity products and are subject to product terms, exclusions and limitations and the insurer's claims paying ability and financial strength.
Get Squared Away®
Let's start with your financial plan.
Answer just a few simple questions and — If we determine that you can benefit from working with us — we'll put you in touch with a First Command Advisor to create your personalized financial plan. There's no obligation, and no cost for active duty military service members and their immediate families.