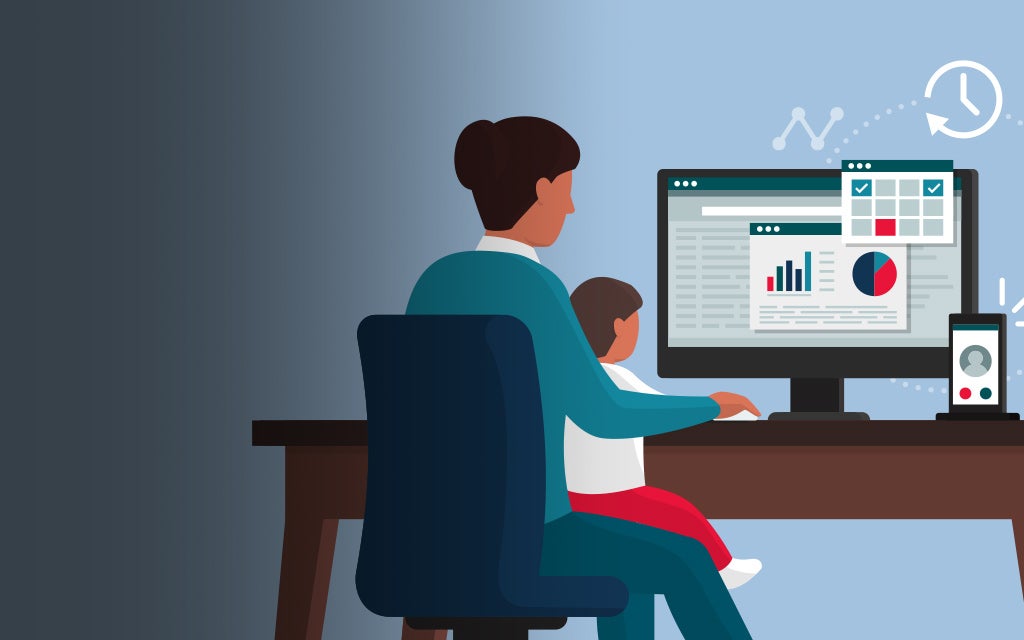 Learning About Finances, Pandemic Style
Apr 9, 2021 | 5 min. read
Online learning has its pros and cons, but it has proven to be a valuable lifeline for those in need of everything from social interaction to financial advice.
When the COVID-19 pandemic turned the world upside down last year, both educators and students were forced to adapt to online learning. We've all read about – or experienced firsthand – the challenges children and young adults have faced with this shift, and the long-term effects are yet to be determined.
Not only have students lost out on the academic benefits and inherent accountability of face-to-face education, a host of additional issues has arisen. Among those is a decrease in peer learning opportunities driven by the decline in social interaction.
Due to social distancing measures to mitigate spread of the virus, adults are experiencing many of the same challenges. Typically, peer learning occurs organically through personal interaction and conversation. Remember admiring a co-worker's haircut while passing them in the hallway and getting the name of their stylist? Or learning about a helpful new app when you were out with friends? Or hearing the latest about fantasy football rankings at the gym?
For most of us, these in-person, organic opportunities have dwindled as the pandemic continues far longer than any of us expected. To stay in touch and up to date on topics of interest, virtual learning and social interaction is the new norm.
Dramatic shifts in communication methods
At the start of COVID, Facebook reported a 70 percent increase in Messenger group video calls. Social media groups, online communities and group chats surged, taking the place of traditional gatherings. Unfortunately, as these new platforms grew in popularity, so did the risk of misinformation. So, before you jump into an online community or take information you read in a group chat at face value, make sure you're dealing with a reputable source.
At First Command, we have always prided ourselves on face-to-face financial coaching. And we still believe our clients benefit from working with their Advisor in this type of setting. However, we're also proficient at adapting quickly in challenging environments – after all, we are a military-focused organization, with many of our Advisors and employees coming to us directly from the military community.
To ensure we continue to deliver on our personal financial coaching promise in this socially restricted environment, we have embraced technology that allows us to offer our clients video conferencing, online seminars, podcasts and virtual events. Making this shift hasn't come without its challenges, but both clients and Advisors are becoming increasingly adept at functioning in this brave new digital world. Here are some examples of the services our Advisors are now offering.
Video conferencing
Video conferencing has taken some getting used to. But even with periodic technical glitches and Fido barking in the background, it's given clients convenient, ready access to their Financial Advisor directly from the safety of their homes. And for those who faced a long drive, competing work/family priorities or other barriers to meeting in person pre-COVID, it may even improve communication.
Many Advisors also report that video conferencing efficiency gives them more time to proactively reach out to clients. For example, Tampa, Florida Financial Advisor Jackie Jenkins, says,
"Since the pandemic, I have offered more frequent appointments to conduct financial check-ins with all clients. This has helped them keep better track of their financial situation and share any changes in the household. Talking to them every three-to-six months has also given me peace of mind that client families are staying safe and healthy."
Virtual workshops
Learning is a lifelong process, and that certainly holds true for financial literacy. Young families are typically more focused on topics such as saving, paying down debt and planning for future expenses such as college tuition. Pre-retirees have much different financial concerns and interests, including income and estate planning. At every stage, we believe that the more information you have, the more empowered you will feel and the more personally invested you will be in your financial plan.
Due to their inability to conduct in-person classes, Advisors have pivoted to virtual offerings. Clarksville, Tennessee Financial Advisor Emili Robinault has teamed up with fellow Advisors to offer seminars on the Thrift Savings Plan, tax diversification and long-term care. She also conducts Facebook Live training sessions on topics such as timeless investment principles and the recent changes to military pay. Robinault says,
"The response to virtual seminars has been great. I've received lots of positive feedback and there is always at least one attendee who wants to pursue a new part of their financial plan. It's so rewarding to help clients take that next step."
Jenkins agrees. She adds,
"When you offer relevant material and make it easy for people to attend from the convenience of their own homes, they tend to make it a priority. When hosting events in the past, our in-person attendance was hit or miss. The virtual component has made the attendance rate far more consistent, allowing us to provide useful financial information to more people."
Virtual events
Feelings of isolation are typical now that most of our socializing is done digitally. Replicating a social environment via teleconference is challenging, and some clients have expressed privacy concerns or experienced technical difficulties. Nevertheless, there are numerous opportunities to engage virtually if you can roll with the punches and get past those random, sometimes awkward moments of silence. Check with your local First Command office to see what's on the calendar.
At First Command, our objective is to be an active partner with you in your pursuit of financial security. So in addition to the above resources, we also offer topical articles on financial and military issues. For those who prefer videos and podcasts, we provide a host of resources on our YouTube channel. And as always, please reach out to your Financial Advisor if you have questions, need help with a transaction or just want to review your personal financial plan.
Get Squared Away®
Let's start with your financial plan.
Answer just a few simple questions and — If we determine that you can benefit from working with us — we'll put you in touch with a First Command Advisor to create your personalized financial plan. There's no obligation, and no cost for active duty military service members and their immediate families.