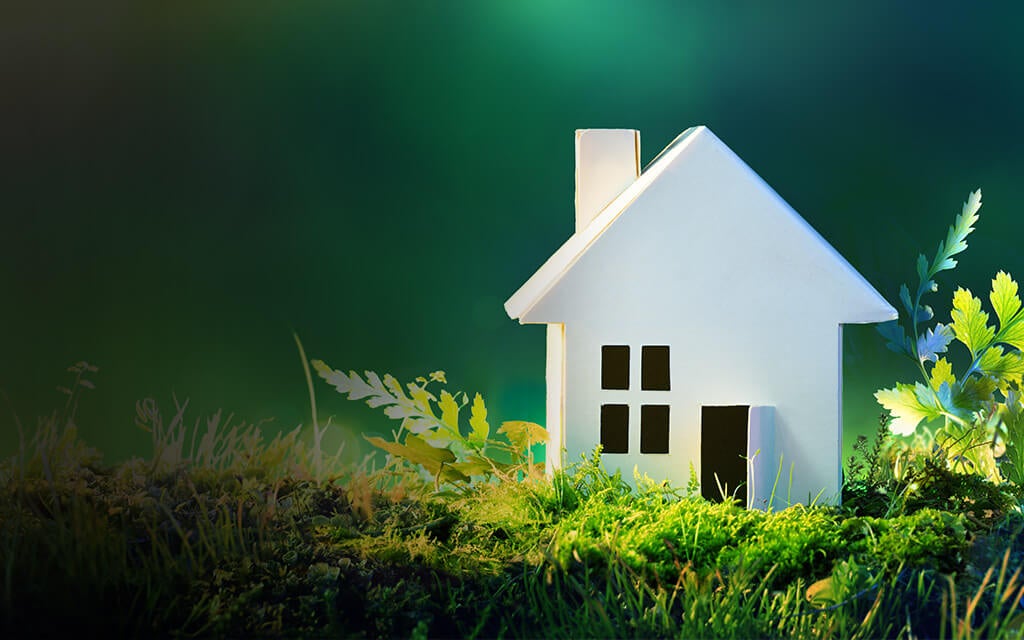 Budget and Eco-Friendly Home Improvement Ideas
Apr 16, 2021 | 4 min. read
Making a few upgrades to your home can save you money over time and can help save the environment, too.
The COVID-19 pandemic forced everyone to slow down and spend more time at home. While this meant the restaurant and entertainment industry suffered losses, home improvement stores like Lowe's and Home Depot saw an unexpected surge in customers. And while more states are opening up amid the vaccine rollout, home improvement is still a priority for many. The housing market is at an inventory low, meaning homes are selling faster than ever and there is an incredible amount of competition between buyers.
Whether or not you are looking to sell your home, you'd be wise to make some home improvement updates in order to make it more eco-friendly. A recent study found that homebuyers are willing to pay almost 3.5 percent more for a home with green features than a home without. And even if you're not ready to move, updating your house with eco-friendly features can save you money in the long run. Here are four green updates that can cut costs over time:
1. Energy efficient windows - One of the most helpful improvements you can make is to replace single pane windows with double panes. The extra insulation can save you hundreds per year on average. And the less energy you are using, the less greenhouse gasses in the environment. One of the simplest ways to reduce your carbon footprint while lowering your energy bills is the use of Energy Star-certified windows. These windows are highly effective at insulating your home due to features like multiple panes, pane distance spaces, quality frame materials, specially coated glass, and noble gases as insulation between panes.
2. Energy efficient exterior doors – Replacing an old exterior door is also a great way to cut costs on your energy bill. Using an Energy Star-certified exterior door can save you as much as 10 percent on costs to heat and cool your home. The most energy-efficient and durable doors are made of fiberglass or steel. If you live in an environment where the weather conditions are very cold or humid, fiberglass may be the best option. Steel is cheaper and stronger than fiberglass, but can rust if not treated properly or exposed to the elements.
3.  Tankless water heater – Although a tankless water heater can be expensive in up-front costs, you get an immediate return on your investment since it typically cuts your energy bill by about 20 percent. And by some government estimates, a well-placed tankless water heater could cut your bills by as much as 50 percent. A tankless water heater is also an attractive feature for potential buyers.
4. Nontoxic carpet – If you're looking to upgrade your flooring, look into non-toxic, eco-friendly carpet. Many carpets contains toxins called volatile organic compounds (VOCs), which are not only bad for you and your family, but the environment as well. There is an ever-widening variety of nontoxic carpet to choose from, but when looking for a green carpeting solution, be sure to choose one that is labelled "low VOC" and made from natural fibers such as wool, jute, seagrass or sisal.
While many home improvement projects require an initial investment, choosing eco-friendly fixtures and upgrades can save you money in the long run. Also, if you are a veteran, you may be eligible for financial help from the VA while making repairs on your home. For more information, visit https://www.usa.gov/repairing-home.
Be sure to work with a financial advisor to find ways to include home improvement upgrades into your budget without derailing your financial plan. Our Advisors help military families put a financial plan in place to pursue future goals – home-related or otherwise. Click here to find a First Command Advisor near you.
Get Squared Away®
Let's start with your financial plan.
Answer just a few simple questions and — If we determine that you can benefit from working with us — we'll put you in touch with a First Command Advisor to create your personalized financial plan. There's no obligation, and no cost for active duty military service members and their immediate families.