OUR CORE VALUES
We hold ourselves to strict standards of ethical behavior.
First Command is committed to operating at the highest level of ethical standards. Every person throughout the organization plays an active role in implementing and following business standards and practices that are based on the company's core values: courage, love and effectiveness. These values are used to guide creativity, decision-making and the conduct of our daily business.
View our Code of Ethics
GOVERNING BODY
Meet our Board of Directors.
First Command's Board of Directors—the governing body of the company— is the ultimate advocate of our ethical standards. The Board selects the senior executive team, provides them with advice and counsel, and monitors their performance. In addition, the Board ensures that high ethical standards are reflected in our everyday culture.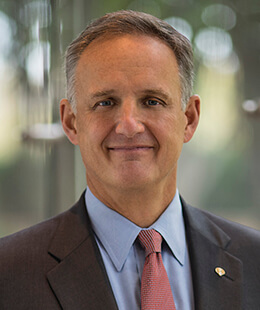 J. Scott Spiker joined First Command Financial Services in September 2007, becoming the first Chief Executive Officer recruited from outside the company. In January 2017, the company's Board of Directors elected him as Chairman in addition to his title as CEO. In 2020, Scott relinquished the CEO title in January and retired from the company in September, staying on as Chairman. In this role, Scott focuses on the continued development of the strategic direction of First Command, reaffirming and strengthening the company's commitment to serving our nation's career military families in their pursuit of financial security.
This emphasis aligns with Scott's own history of military service where, as a commissioned officer in the U.S. Navy, he served as a Surface Warfare Officer onboard a frigate and served as Head of Enlisted Recruiting for the Midwest Region.
Following his military service, Scott served in a number of senior executive roles in the investment, insurance and banking industries. His previous executive leadership positions include: President and CEO of Destiny Health, President and CEO of the Stanton Group, President and COO of Definity Health, and President of the Business Services Group at Dain Rauscher (now RBC). He also served in senior leadership positions at Norwest Bankcorp (now Wells Fargo Corporation) and Mark Twain Bancshares.
Scott is actively involved in both his community and the financial services industry. In August 2014, he became the Chairman of the Board for United Way of Tarrant County and held that position until July 2016. He was also elected to the 2018 Board of Directors for the Financial Services Institute, an organization dedicated to ensuring all individuals have access to competent and affordable financial advice, products and services. Scott is also on the Board of Directors for CaringBridge, a 501(c)(3) nonprofit organization committed to helping those with health issues get the support they need through online outreach.
A 1977 graduate of the U.S. Naval Academy, Scott holds an MBA in Marketing and Finance from the University of Chicago Booth Graduate School of Business. He is married and has two daughters.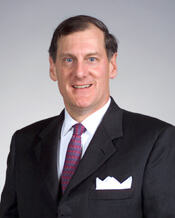 Mark Brickell is Chief Executive Officer and a board member of Blackbird Holdings, Inc. in New York City. He is a graduate of University of Chicago and the Harvard Business School. During 25 years with J.P. Morgan, his responsibilities included treasury, lending, derivatives trading and regulatory concerns. Mr. Brickell joined the First Command Board of Directors in 2006 and serves on its Executive Compensation and the Compliance Committee.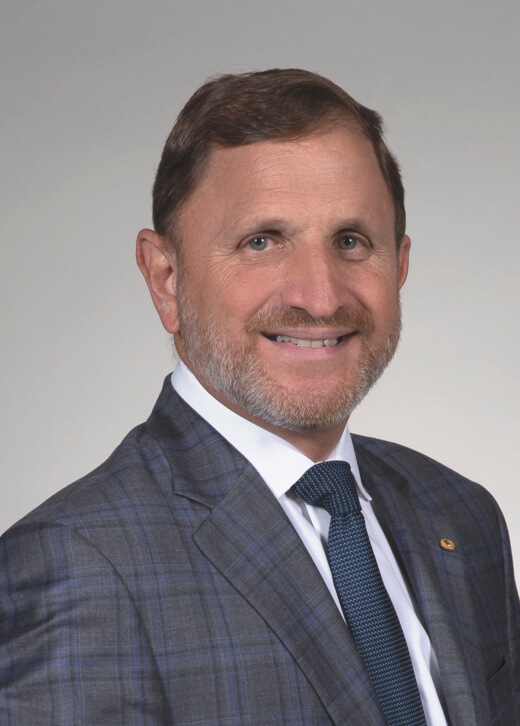 Dave Rich is the CEO and Managing Partner of DBR and Associates, a corporate development firm specializing in advising companies in the software and services industries. DBR and Associates also advises executive leadership teams – including the leadership team at First Command Financial Services – on digital transformation initiatives.
In addition to his work with First Command, Dave currently serves as the Executive Chairman of DemandBridge, a company that provides marketing automation and enterprise resource planning software to the marketing services industry. He also serves as the Executive Chairman of Chicago-based InContext Solutions, the global leader in enterprise class virtual reality solutions for retail and consumer packaged goods companies. Previously he was Chairman/acting CEO of Palo Alto-based Revolution Analytics, which was acquired by Microsoft in 2015.
Dave began his distinguished career in the General Dynamics (now Lockheed Martin) F-16 Fighter Program as a manufacturing technology engineer. In 1984, he joined the Dallas office of Accenture, a global firm specializing in management consulting, systems integration and outsourcing. Over the next 28 years, he held several key leadership roles there, including global managing director for Accenture analytics, the CRM service line and the high tech industry. He was also responsible for the profits and losses of various operating entities, including North America Communications and the media and high-tech industry operating units.
A graduate of the United States Naval Academy, Dave holds a Bachelor of Science degree in Management and Technology. He is a board member of the Naval Academy Foundation and BlueStar HonorCare, a start-up led by a retired admiral and classmate of Dave's which is focused on providing health monitoring services for veterans and their families. Previously, he served as Chairman of the Board for the Aidmatrix Foundation, which leveraged supply chain technology solutions to provide humanitarian aid and disaster relief.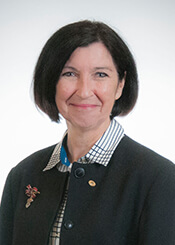 Vice Adm. Jody A. Breckenridge served as Commander, Coast Guard Pacific Area, from July 2009 to May 2010, overseeing operations of units performing missions across over 73 million square miles throughout the Pacific Basin to the Far East. Additionally, she had oversight of two service level commands — the Deployable Operations Group and the Coast Guard Force Readiness Command.
Previously, Vice Adm. Breckenridge served as the Director, Strategic Transformation Team, where she was responsible for aligning and synchronizing the efforts to transform and modernize the Coast Guard. Simultaneously, she served as Assistant Commandant for Human Resources where she had oversight of the Coast Guard's HR professionals. From 2006-2007 Vice Adm. Breckenridge served as Commander of the Eleventh Coast Guard District in Alameda, Calif., overseeing Coast Guard operations in the Southwest and the Eastern Pacific. During her tenure, the Eleventh District stepped up its interagency collaboration leading to record drug seizures including the M/V GATUN, the largest maritime interdiction in US history, and the arrest of Francisco Javier Arellano Felix, head of the Arellano Felix Drug Cartel. Her initial flag assignment was as Commander, Maintenance and Logistics Command Pacific, with responsibility for all mission support in the Pacific Theater.
Vice Adm. Breckenridge grew up in Potomac, Md., and joined the Coast Guard in 1976, graduating from the Officer Candidate School in June of that year. Her first tour of duty was in the National Response Center, eventually as Senior Watchstander. Afterwards, she was assigned to the Pollution Response Branch of the Marine Environmental Protection Division at the Coast Guard Headquarters. During that time, she served as a White House Social Aide. For a short time, she worked in the Coast Guard Academy for summer training programs.
In September 1979, Vice Adm. Breckenridge reported to Group Seattle, where she served as the Assistant Port Safety Officer and was then selected as the first Group Operations Officer. Subsequent duty assignments have included the Coast Guard Pay and Personnel Center, Coast Guard Headquarters, postgraduate school at the University of Maryland, Chief of Officer Candidate School at Training Center Yorktown, VA, Executive Officer of Integrated Support Center Seattle, Coast Guard Personnel Command (Chief, Officer Assignments), Industrial College of the Armed Services, the Coast Guard Personnel Command (Assistant Chief and Chief, Officer Personnel Management Division), and Commanding Officer, Coast Guard Recruiting Command. While assigned to the Personnel Command, Vice Adm. Breckenridge represented the Coast Guard on a five-month Department of Defense study titled "The Officer Personnel Structure for the 21st Century." She also served as the Deputy Chief of Staff for Coast Guard Headquarters.
Vice Adm. Breckenridge earned a Bachelor of Science Degree in Biology from Virginia Polytechnic Institute and State University, a Masters Degree in Public Policy from the University of Maryland, and a Masters Degree of Science in National Resource Strategy from the Industrial College of the Armed Forces. While attending the University of Maryland, she was elected to the honor society of Phi Kappa Phi and was presented an Excellence in Scholarship award, graduating with honors. In 2007 she was honored with the University of Maryland Distinguished Alumnus Award.
Awards and Decorations
Coast Guard Distinguished Service Medal with one gold award star
Legion of Merit with two gold award stars
Meritorious Service Medal with two gold award stars
Coast Guard Commendation Medal with three gold award stars
Coast Guard Achievement Medal with gold award star
Meritorious Team Commendation with one silver award star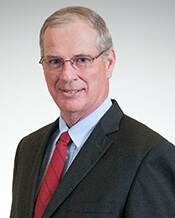 Vice Adm.(Ret.) Barry M. Costello, a native of Vermont, attended Holy Cross College and was commissioned an ensign through the NROTC program in 1973.
His sea commands include: USS Elliot (DD 967), Destroyer Squadron 23, Cruiser Destroyer Group 1, Constellation Strike Group, Task Force 55 during Operation Iraqi Freedom and 3rd Fleet.
Vice Adm. Costello attended Albany Law School, where he earned his Juris Doctor, and he is a member of the New York State Bar. He also attended the College of Naval Command and Staff where he was selected as honor graduate, graduating with distinction, and earning a Master of Arts degree in foreign affairs. He has participated in the National Security program at John F. Kennedy School of Government at Harvard University.
Vice Adm. Costello's primary shore assignments included Deputy Director for Strategy and Policy (J5), the Joint Staff, and Chief of the Navy's Office of Legislative Affairs.
Since retiring in June 2007, Vice Adm. Costello has founded The Costello Group, which provides strategic advice and counsel. He recently released "Fortune Favors Boldness", the story of naval valor during Operation Iraqi Freedom in 2003. Vice Adm. Costello is a frequent speaker on leadership topics. He resides in Seattle, Washington.
Awards and Decorations
Order of the British Empire(CBE)
Defense Distinguished Service Medal
Legion of Merit with two gold award stars
Bronze Star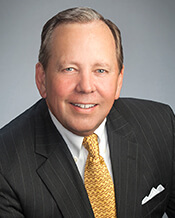 Logan Dickinson is president of The CSG Companies, a comprehensive group of employee benefit planning, consulting and brokerage firms headquartered in Fort Worth, Texas. Mr. Dickinson earned a BBA in Finance and MBA in Finance and Accounting at the University of Texas at Austin. Professionally, he has achieved certification as a CPA as well as both the CLU and ChFC industry designations. Mr. Dickinson came to the First Command Board of Directors in 1998 and serves on the Executive Compensation and Reputation Risk Committees.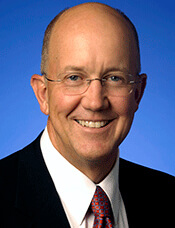 Henry G. Hagan, Chairman of Red Oaks Resources, LLC, a strategic consulting and CEO advisory service, possesses more than 30 years of broad business experience encompassing sales and marketing, business operations, acquisitions, and leadership and governance.
He began his career in 1975 with Southern Life Insurance Company of North Carolina, then from 1981-2010 held executive positions of increasing responsibility with Monumental Life Insurance Company - An AEGON Company, culminating in his tenure as Chairman, President and Chief Executive Officer from 2002-2010.
A graduate of The University of North Carolina at Chapel Hill (B.A., Political Science) and The University of Virginia Colgate Darden School of Business Administration (M.B.A., with Honors), he has served on the boards of numerous corporate, professional, civic, charitable and educational organizations, institutions and foundations. He is a Fellow of both the Life Management Institute (with Distinction) and the LIMRA Leadership Institute, as well as a Board Governance Fellow of the National Association of Corporate Directors.
Henry and his wife, Sims, reside in Baltimore and have three daughters and one son. He enjoys hunting, fishing, sailing, water skiing and snow skiing.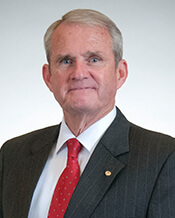 Gen . Dan K. McNeill served as Commander, Coalition Forces, Afghanistan, from 2002 to 2003 and as Commanding General, U.S. Army Forces Command (FORSCOM) from 2004 to 2007. He then served as Commander, International Security Assistance Force (ISAF) in Afghanistan from 1 February 2007 to 3 June 2008.
Gen. McNeill was commissioned as a second lieutenant of Infantry through the ROTC Program at North Carolina State University, where he graduated with a Bachelor of Science Degree in 1968. He attended Infantry Officer Basic and Advanced Courses, the United States Army Command and General Staff College, and graduated from the U.S. Army War College in 1989.
Gen. McNeill commanded airborne infantry units at the company, battalion, brigade, division and corps levels. His service as a staff officer included tours as an S3 or G3 at brigade, division and corps levels. As a general officer, he served in assignments as an Assistant Division Commander, Division Commander, Corps Chief of Staff, Deputy Corps Commander and Corps Commander. His tours included assignments in the Republic of Vietnam, Republic of Korea, Italy, Saudi Arabia/Iraq, Afghanistan and numerous stateside posts.
Gen. McNeill's operations assignments included Operations Just Cause, Desert Shield/Desert Storm, Uphold Democracy and Enduring Freedom.
Awards and Decorations
Defense Distinguished Service Medal (with two oak leaf clusters)
Distinguished Service Medal (with two oak leaf clusters)
Defense Superior Service Medal
Legion of Merit (with four oak leaf clusters)
Bronze Star Medal (with two oak leaf clusters)
Meritorious Service Medal (with three oak leaf clusters)
Army Commendation Medal (with two oak leaf clusters)
Army Achievement Medal
Expert Infantryman Badge
Master Parachutist Badge (with bronze award star)
Army Aviator Badge
Special Forces Tab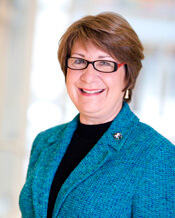 Paula Meyer's distinguished career in the investment management and mutual fund business began with Vanguard Group in 1981 and most recently has included serving as President of Piper Capital Management (from 1993 to 1998) and in executive leadership positions with Ameriprise Financial, Inc. (from 1998 to 2006). She has run her own independent consulting business since 2006 and serves on a number of corporate, professional and foundation Boards of Directors. Paula graduated from Luther College, where she has served on the Board since 2002 and as Board Chair since 2008. She earned her MBA with emphasis in finance and marketing from the University of Pennsylvania, Wharton School of Business. Paula and her husband Kurt have three children and make their home in St. Ansgar, Iowa, where she is active in their church, the community, and politics.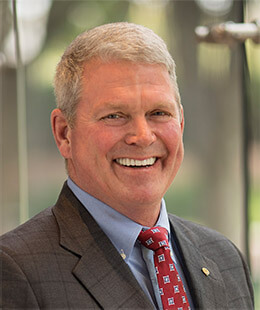 Kirk Olliff is the Executive Vice President and National Director of Advisor Operations at First Command Financial Services. With a focus on company growth, Kirk oversees the company's advisor force. He is also a member of the Executive Leadership Team, which guides the strategy, culture and growth of the company. Taking seriously the company's commitment to coaching clients toward financial security, Kirk is dedicated to assisting the people he directs as they strive to achieve that goal.
Kirk started his First Command career as a Financial Advisor in 1994. Soon after, he was promoted to District Advisor. After serving in this capacity in two different locations, he moved to the corporate office. There, he held the positions of Regional Vice President and Director of Advisor Operations for the Central Division, before assuming his current role.
Prior to joining the company, Kirk served in the United States Army for 20 years as a warrant officer and a commissioned officer.
A graduate of Embry–Riddle University with a Bachelor of Arts degree and a Master of Business Administration degree in Management, Kirk received a certificate in business excellence from the Vanderbilt University Owen Graduate School of Management. He holds series 6, 63, 65 and 26 securities registrations plus state life and health insurance licenses. He is a member of the Financial Planning Association and GAMA International. Married with three children and eight grandchildren, Kirk enjoys hunting, fishing, skiing and spending time with his family.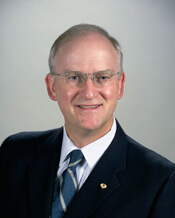 Carroll H. (Chip) Payne II has been a member of the First Command Board of Directors since 1983. Chip is owner of an architectural practice in Fort Worth, specializing in residential design, energy efficiency and historic preservation. Chip's abiding love and respect for the values of the company founded by his father provide inspiration to Board members. He chairs the Board's Reputation Risk Committee and serves on the Executive Committee.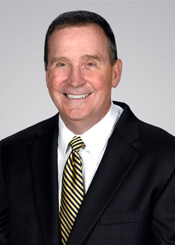 Prior to his retirement in August 2008, Lt. Gen. John F. Sattler served as Director of Strategic Plans and Policy, U.S. Joint Chiefs of Staff, as well as the U.S. representative to the Military Staff Committee of the United Nations.
Born and raised in Monroeville, Penn., Lt. Gen. Sattler received his commission as second lieutenant in June 1971, following graduation from the United States Naval Academy, where he earned a Bachelor of Science degree in Economics.
In February 1972, after completing The Basic School (TBS), he was transferred to 2 Battalion, 4 Marines in Okinawa, where he served as a Rifle Platoon Commander. In 1973, he was assigned to the Reserve Division at Headquarters Marine Corps where he served until his reassignment to Amphibious Warfare School as a student in 1976. Graduating with honors in 1977, he was assigned to The Basic School where he served as a Tactics Instructor, Staff Platoon Commander (SPC), and Infantry Officer Course Instructor.
Following his tour at Marine Corps Base Quantico, Lt. Gen. Sattler returned to 2 Battalion, 4 Marines on Okinawa for duty as Battalion Operations Officer. Upon return to the United States in 1981, he served as Infantry Weapons Procurement Officer at Headquarters Marine Corps until 1985. He graduated with honors from Marine Corps Command and Staff College in 1986, and reported to 2 Marine Division for his third tour with 2nd Battalion, 4 Marines, this time as the Executive Officer.
In 1988, Lt. Gen. Sattler was assigned as Commander, Ground Combat Element for Special Purpose MAGTF 4-88. After serving as J-3, Ground Officer for Joint Operation Solid Shield, he spent one year at Headquarters Marine Corps before being assigned to the Industrial College of Armed Forces (ICAF) at the National Defense University, Washington, D.C. He graduated with distinction in June 1991 and reported for duty as Congressional Liaison Officer to the U.S. House of Representatives. On August 12, 1995, he he took command of 2 Marine Regiment. He was promoted to Brigadier General at his change of command on May 29, 1997 and assumed duties as Assistant Division Commander, 2 Marine Division that same day.
In September 1998, Lt. Gen. Sattler reported to the Joint Staff and assumed duties as the Deputy Director for Operations (Combating Terrorism) J-34. In July 2000, he transferred to Headquarters Marine Corps to assume duties as Director, Public Affairs Division. In July 2001, he assumed duties as the Commanding General of 2 Marine Division at Marine Corps Base Camp Lejeune, North Carolina. In November 2002, he assumed duties as Commander, Combined Joint Task Force, Horn of Africa. In August 2003, he assumed duties as Director of Operations, U.S. Central Command. Sattler was promoted to Lieutenant General and assumed command of I Marine Expeditionary Force on September 12, 2004. On August 3, 2005, Lt. Gen. Sattler assumed the duties as Commander, U.S. Marine Forces Central Command.
On 5 July 2006, the Pentagon announced Sattler's nomination to be the U.S. Joint Chiefs of Staff's Director of Strategic Plans and Policy. Lieutenant General Sattler relinquished command of the I Marine Expeditionary Force and Marine Forces Central Command on August 14, 2006. He was assigned as Director for Strategic Plans and Policy, Joint Staff on September 1, 2006. Lieutenant General Sattler retired effective 1 August 2008.
Awards and Decorations
Basic Parachutist Insignia
Defense Distinguished Service Medal Defense Superior Service Medal
Legion of Merit with one award star
Meritorious Service Medal with one award star
Navy & Marine Corps Commendation Medal
Joint Meritorious Unit Award
National Defense Service Medal with two service stars
Vietnam Service Medal
Iraq Campaign Medal
Global War on Terrorism Expeditionary Medal
Global War on Terrorism Service Medal
Navy Sea Service Deployment Ribbon with three service stars
Arctic Service Ribbon
Philippine Presidential Unit Citation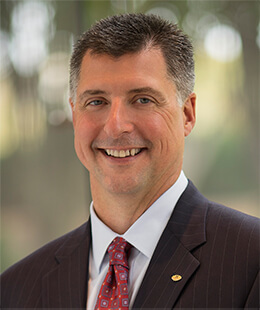 Mark Steffe is the President/CEO of First Command Financial Services, Inc. which provides personal financial coaching to about 290,000 client families around the world. Mark is responsible for guiding the organization in its efforts to make lifelong financial security possible for all military families. First Command accomplishes this by creating lasting bonds with clients through face-to-face coaching and empowering them to develop positive financial behaviors for every stage of their lives. First Command is headquartered in Fort Worth, Texas, and has more than 175 offices worldwide. First Command, through its subsidiaries, maintains more than $35 billion in managed accounts and mutual funds and has more than $62 billion in life insurance coverage in force, while First Command Bank holds more than $960 million in deposits.
Mark joined First Command as a Senior Vice President and Chief of Staff of Advisor Operations in 2010 and has since played an integral role in evolving the client experience in a digital world. At the same time, he has protected the integrity of the face-to-face coaching that is central to the First Command philosophy. Throughout his subsequent roles as Senior Vice President and Director of Advisor Operations for the Midwest Division and Executive Vice President and National Director of Advisor Operations, Mark helped build strong, collaborative relationships between Advisors and the Home Office. This has been crucial in enabling Advisors to help clients pursue their financial goals more effectively and efficiently. His accomplishments and demonstrated leadership ability led to his promotion to President in 2017 and expanded COO responsibility in 2018.
In January 2020, Mark was appointed as the first CEO in First Command's history without military service experience. His selection was the result of an ethos of service to the military gained during more than a decade immersed in First Command's culture, a deep understanding of the challenges faced by our Nation's military families, and in recognition of the demonstrated leadership skills required to guide the organization in its efforts to make lifelong financial security possible for all military families. On day 70 in his new role, Mark was confronted with a once-in-a-generation crisis as a global pandemic was declared. Under his leadership, First Command rapidly adjusted its operations to continue to help military families pursue financial security amidst a volatile economic landscape in which in-person face-to-face coaching was no longer possible. At the same time, at Mark's direction, First Command immediately made financial relief programs available to clients to bolster their financial outlook during the crisis.
To ensure that First Command continually adapts to the needs of military families, Mark and his team regularly meet with clients to seek out their perspectives. During his tenure at First Command, Mark has visited more than 50 military installations in 23 U.S. states and three countries. This personal outreach is supplemented by the First Command Financial Behaviors Index®, a monthly survey that assesses the financial behaviors, intentions and attitudes of career military families. Mark also consults regularly with First Command's Military Advisory Board, a select group of retired senior flag officers and senior enlisted leaders from the Nation's military services. The 10-member board provides Mark and First Command with an independent perspective on issues relevant to First Command's work, as well as advice on how to best serve the interests of military clients.
In his role as President/CEO, Mark has spearheaded inclusion initiatives for First Command. Under his leadership, First Command is striving to create a more inclusive culture in which all employees and Advisors feel trusted, valued and empowered. For Mark, advancing equality is not just the right thing to do from a business perspective, but a personal imperative born from a desire for everyone to have the same opportunities he has had in his career. In service of this goal, Mark committed to the CEO ACT!ON pledge for diversity and inclusion in 2020. He also championed the hire of the company's first Diversity & Inclusion Director. In recognition of Mark's leadership during the pandemic and on issues of diversity and inclusion, he was nominated as one of the Dallas Business Journal's Most Inspiring Business Leaders of 2020. Mark was also recognized in 2020 as a member of the Fort Worth 400, an annual list by Fort Worth Inc. magazine of influential community leaders.
Mark actively supports several charitable endeavors, including the annual Spirit of Giving campaign by United Way of Tarrant County and the First Command Educational Foundation (FCEF). United Way of Tarrant County is a local charity focused on providing leadership and harnessing resources to solve persistent social challenges, while FCEF is a nonprofit organization dedicated to empowering those who serve our Nation by improving their financial literacy. FCEF accomplishes this goal by offering approximately $130,000 in annual scholarships and financial education to America's military servicemembers, civilian federal employees and their families. In addition to his philanthropic pursuits, Mark is active in LeaderPrime, which fosters connections among Fort Worth business leaders new to the city or to their roles.
Mark graduated with high honors from the University of Illinois, earning a Bachelor of Science degree in Finance. He holds Series 7, 8, 23, 63 and 65 securities registrations, plus life and health insurance licenses. He completed the Harvard University Advanced Management Program in 2015.
He lives in Fort Worth, Texas along with his wife and five children. On any given day off, you can find him attending one of his children's sports games or cooking family dinners.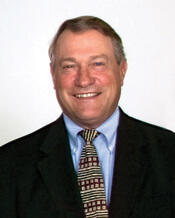 John Wilson served for five years in the U.S. Navy before beginning his career with Mutual of New York Life Insurance Company in 1976. A Chartered Life Underwriter and Chartered Financial Consultant, John served with MONY as a Sales Manager, as an Agency Manager, and, until 1999, as Vice President — Marketing/Complementary Distribution, and he received numerous company and industry awards throughout that time. John is currently President of Ottawa Land & Cattle Company, Inc. He earned a bachelor's degree in economics from the University of Missouri (where he was a scholarship athlete and four year letterman) and an MBA in finance and insurance from the University of Pennsylvania, Wharton School of Business. He and his wife Susan live in Olathe, Kansas and have five children.