Good Banking Habits Start Early
Teen Money Market Savings
Account Features
Help your kids develop money saving skills.
At First Command, we're committed to helping all clients become good savers. With the Teen Money Market Savings Account, your child can learn the importance of saving money, along with the advantages of earning interest. You can help by working with them to set savings goals, and by encouraging them to deposit their extra money into this account. And because this is a joint account between a parent and teenager, you are always in control.
No monthly maintenance fee1
Competitive, tiered interest rates2
Free Coverdraft protection3
FDIC-insured
No fee for first six ATM withdrawals per statement cycle4
Limited check writing 1

Details & Rates
Current Rates
Our Teen Money Market account has a $25 minimum opening deposit amount. This is a joint account with a teenager, aged 14 – 17, and a parent or guardian. You can manage the account – as well as pay and receive bills – with OnCommand online banking, and sign up for free digital eStatements to simplify your banking experience. You'll also have access to unlimited telephone banking at no charge.
| Minimum Daily Balance to Obtain APY | Interest Rate5 | APY6 |
| --- | --- | --- |
---
Download the MobileCommand™ app for iPhone® or Android®, and discover the simplicity and convenience of doing your everyday banking right from your mobile device.
Check account balances
Transfer funds
Pay bills
Deposit checks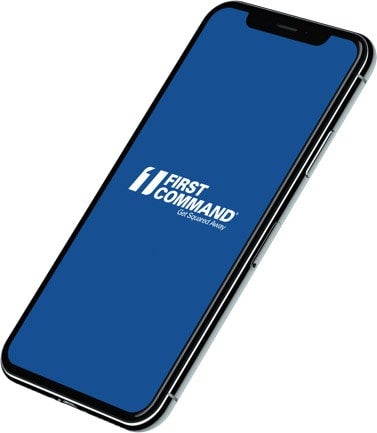 ---
Rates and offers current as of , and are subject to change.
1. Federal regulations allow a maximum of six withdrawal/transfer transactions per statement cycle, including checks and excluding ATM transactions. Excess withdrawal fee is $10.00 for each withdrawal exceeding six.
2. Interest credited and compounded monthly. Increasing interest tiers with minimum balances of $1, $2,500, $5,000, $10,000, $25,000, $50,000. See our current rates and Annual Percentage Yield (APY).
3. Coverdraft available from another FCB deposit account or FCB line of credit.
4. First Command Bank does not charge a fee for the first six ATM withdrawals per statement cycle. Subsequent transactions will be charged $1.50 each. There is no surcharge to FCB Debit used at ATMs in the MoneyPass® network or NYCE networks. FCB will rebate other ATM surcharge fees, charged by ATM owners, up to $15 per statement cycle.
5. Rates are subject to change without notice. Fees could reduce the earnings on the account.
6. APY stands for Annual Percentage Yield.