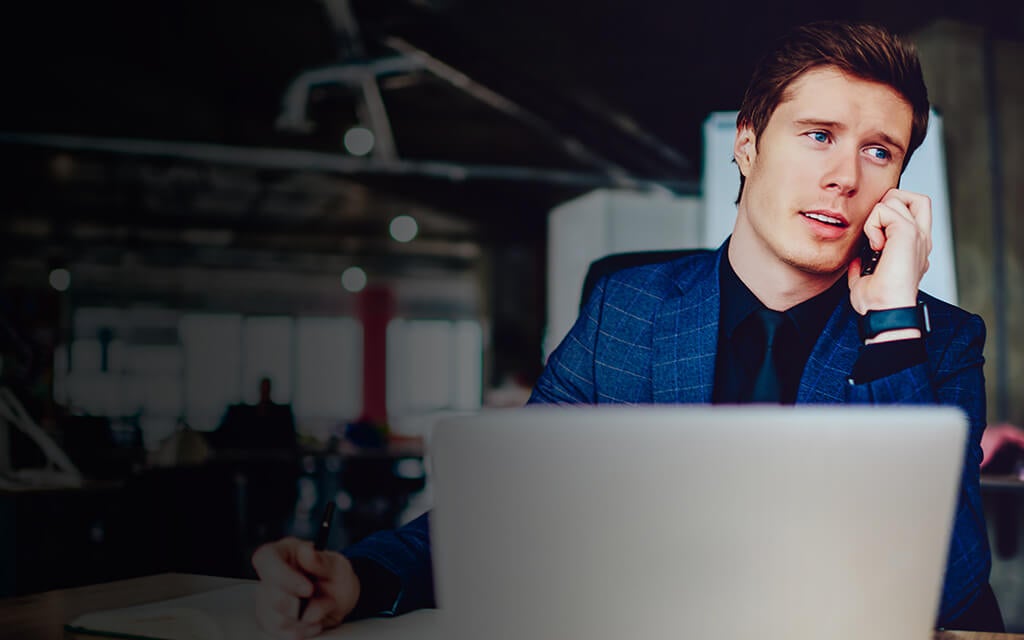 By: Julie Barnes
Director of Recruiting and Licensing
Jan 22, 2021 | 3 min. read
The job interview often begins before you even get to the office. Sharpen your phone interview skills with these tips.
Transitioning from the military? It's time to brush up on your interview skills. If a company is interested in you after receiving your application, you will likely be invited to do a phone interview before a formal sit-down. Phone interviews come with their own set of unique challenges, so it's important to be prepared.
When you are contacted about a phone interview, the contact may come by phone or email. So if you are actively searching for a job, follow these recommendations:
Create a professional email address. If needed, set up an alias email address tied to your primary account. Check and respond to emails daily.
Record a professional voicemail that states your name. For example, you could say, "Hello, you have reached 'first name, last name.' I am unavailable at the moment. Please leave your name and phone number. I will get back with you as soon as possible." Check and respond to voicemails daily.
Be ready for an impromptu phone call. If you don't recognize the number, don't open with "What's up?" or "Talk to me." Be polite and professional. State your name by saying, "This is 'first name.'" It sounds professional, lets the recruiter know they have reached the correct person and confirms the pronunciation of your name. If the company representative asks to do an on-the-spot phone interview, request to schedule a time instead. This will give you adequate time to prepare.
Do research on the company prior to the call. At a minimum, review their website and familiarize yourself with their mission. Have several questions written down, but wait to ask them until you are prompted.
At the scheduled call time, make sure you are in a quiet place where you can hear the interviewer clearly, concentrate and take notes.
Prepare a 1-2 minute personal introduction that includes information about your professional background.
Know your salary requirements.
Be energetic!
Listen closely to questions.
Have an understanding of how your strengths will help you succeed in this new position.
Recently, First Command conducted a phone interview with a woman who was in the process of retiring from the Army after 20 years of active duty service. At the beginning of our conversation, she told our recruiter she was really nervous because this was her first phone interview. She did great! Here are a couple of things that set her apart:
She was well prepared and energetic.
She had a clear understanding of the position and how her personal and professional goals aligned.
She seemed excited and passionate about her career choice.
When our team asked her a question, she not only answered the question but also provided examples or stories to substantiate her response.
She asked for feedback on how she did at the conclusion of the interview. It showed her openness for growth and development, and a desire to continue bettering herself. 
The phone interview is an integral first step to determining a possible match. As long as you are prepared, you'll make a great first impression.
First Command is always looking to hire individuals and transitioning service members that want to make a positive difference in the lives of others. Being a financial advisor can be a rewarding career for those who enjoy coaching, working with military members and helping others pursue their goals and dreams. To learn more about this opportunity, visit: https://www.firstcommand.com/careers/advisor/.
Get Squared Away®
Let's start with your financial plan.
Answer just a few simple questions and — If we determine that you can benefit from working with us — we'll put you in touch with a First Command Advisor to create your personalized financial plan. There's no obligation, and no cost for active duty military service members and their immediate families.