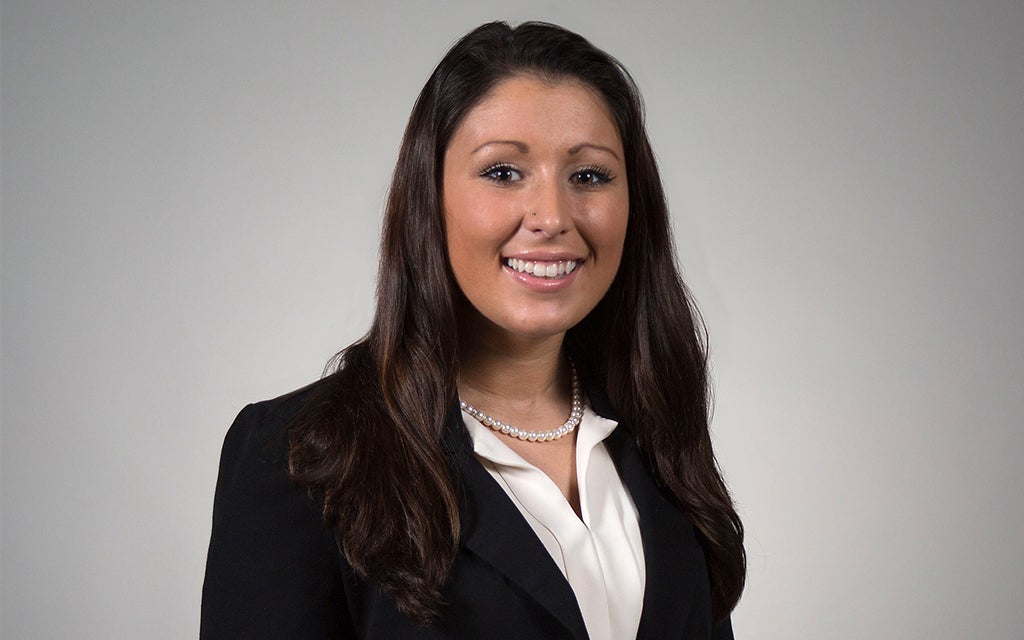 Olivia Inglett Helps Fellow Military Spouses
Oct 1, 2018 | 5 min. read
Olivia Inglett's journey as a military spouse began two and a half years ago when she married her college sweetheart, Joe. Just a week after their wedding, she packed up her belongings and moved from Virginia to Enterprise, Alabama, to be close to Joe while he attended flight school. Although Joe had been in the United States Army since he was 17, he spent his college years in the ROTC, with the goal of receiving his commission in aviation for the Virginia National Guard. So throughout the time they dated, Olivia was used to Joe attending training during the summer and one weekend a month. The reality of his military career affecting Olivia's life didn't actually sink in for her until the orders for Fort Rucker arrived.
In the midst of this life transition, Olivia was also busy pursuing her own career. After receiving a degree in business, she began working as an accountant for an oil company – a job she enjoyed but ultimately found monotonous. So moving to Alabama gave Olivia the perfect opportunity to find a job she enjoyed more.
"I love being able to sit across the table from people – most often really young lieutenants, who are just starting out – and give them confidence that their families will be okay." 
What do you like about your job as a First Command Financial Advisor?
Service has always been really important to me. In my role as an accountant, I didn't feel like I was having much of an impact on the world. So I was really intrigued by the company's desire to serve military families. In the short time my husband and I have been at Fort Rucker, we've already lost several friends in aircraft accidents, which has helped me realize just how important my job is. I love being able to sit across the table from people – most often really young lieutenants, who are just starting out – and give them confidence that their families will be okay.
How have you been able to get involved on base?
When I got here, there was very little for spouses. There is a spouse club, but it isn't very robust and mostly consists of spouses married to the upper chain of command. So I decided to start a couple of spouse groups myself. One group meets occasionally at the park. We just hang out and drink coffee while the kids play on the playground. It's a really low key way of meeting people, which has been absolutely wonderful. We also started a separate group just for Guard and Reserve spouses. I think this one is especially important because it helps connect people before they return to mostly civilian communities in their home state. That way, when something big happens, like deployment, you have people to reach out to – even if it's long distance.
Sounds like you're pretty passionate about helping other families like yours. Can you talk a little more about that?
Being in the National Guard or the Reserves is like having one foot in the civilian world and one foot in the military world. I mean, I've never met anyone from my husband's unit back in Virginia. It's just something you do with your time. That is, until troubled times come, then it becomes your life. But we're just not involved in the culture back in Virginia. And in a civilian community, people don't understand TDYs and deployments like they do in military culture. I'm really passionate about creating support systems for other people in this situation, both at work and in my free time. They may not have anyone else to support them.
Get Squared Away®
Let's start with your financial plan.
Answer just a few simple questions and — If we determine that you can benefit from working with us — we'll put you in touch with a First Command Advisor to create your personalized financial plan. There's no obligation, and no cost for active duty military service members and their immediate families.