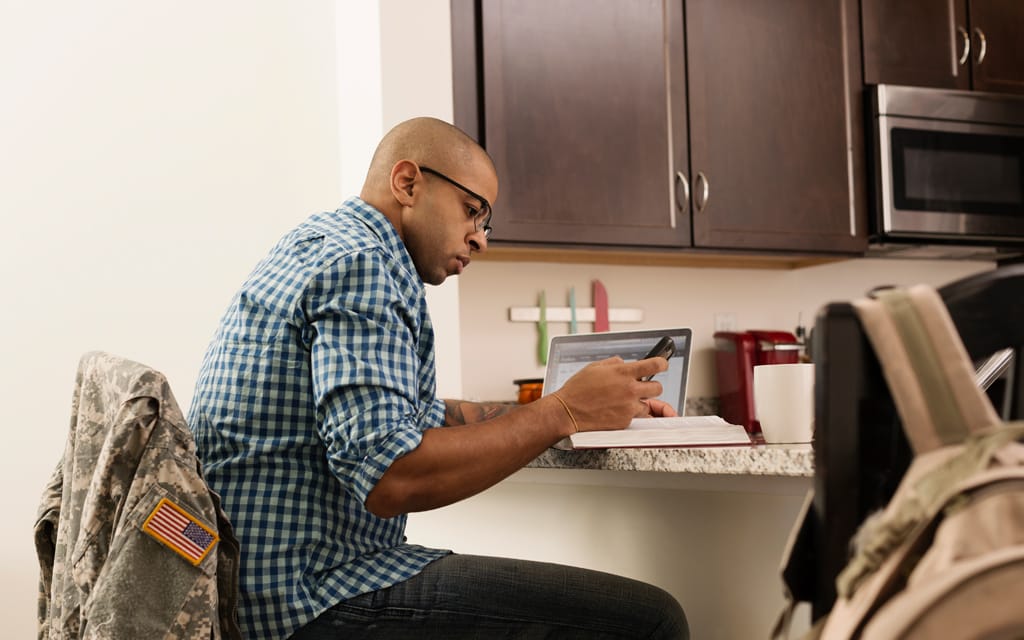 3 Career Transition Tips for Veterans
Jul 17, 2018 | 2 min. read
Jim McNair leads the Lawton, Oklahoma office of First Command Financial Services. Jim joined First Command as a Financial Advisor in December 2011 after retiring as a lieutenant colonel from a 26-year career in the United States Army. There, he served as a fire support officer in the 75th Ranger Regiment and in 4 tactical divisions, including combat duty in Iraq and staff duty at the Pentagon and in NATO. A graduate of the University of Texas at Austin with a Bachelor of Arts degree in Mathematics and Oklahoma City University with a Master of Business Administration degree, Jim holds Series 7, 24 and 66 securities licenses plus state life and health insurance licenses. He and his team are dedicated to coaching those who serve in their pursuit of financial security. Connect with Jim's office on Facebook: https://www.facebook.com/firstcommand.lawtonok/. 
I'm a retired Army officer. After 26 years in the services, I knew I needed a game plan for my next career. I wanted the opportunity to succeed, to make money. I wanted to achieve in another field. But I wasn't sure where to start. So, I attended a Hiring Our Heroes hiring event at Ft. Riley where I met and was eventually recruited by First Command, a company dedicated to helping service members get their financial lives squared away. 
I am a transition success story, and I wanted to share a few tips that can help you make a seamless transition into the civilian workforce.
1. Consider Your Family's Priorities
My family and I always hoped to transition into the same community of my last assignment. When I retired while stationed at Fort Riley, Kansas, we chose to stay in the local community of Manhattan, KS, where we remained for several years before moving to Oklahoma. 
Remaining in the same community was important for my family. Perhaps your family has other post-transition priorities, such as living close to friends/family or living in a location with access to outdoor activities. You should sit down with your family and discuss your priorities long before any permanent decisions are made. When you're all focused and working together on "a common mission" the whole process becomes easier. Everyone is excited about the future. 
2. Align Your Values and Professional Goals
When I made the decision to retire from service, I knew that I wanted my next career to allow me to: 
Excel in a new field
Stay connected to the military 
Offer flexibility so I could be there for my family
When I met with a First Command recruiter and learned more about the company, I realized that this opportunity was a good match for the values and professional goals I had outlined. I have stayed with the company because I'm always increasing my knowledge and skills, I get to help military families prepare for the future, and if I want to go to my daughter's basketball game or soccer practice, I have the flexibility to do so. I have also been able to rise in the ranks and run the district office in Lawton, OK.
3. Seek Out Military-Friendly Employers
Veterans are one of the best labor resources in our country because we bring so much to the table: leadership, resiliency, discipline, integrity, work ethic –I could go on and on. It's heartening to see more and more businesses recognize the value vets offer. As you begin researching post-service career options, be sure to seek out companies that have a proven track record of recruiting, training, hiring, promoting, and providing ongoing support to veteran employees.
First Command is growing and expanding our Advisor presence in communities near military bases globally. If you are interested in finding out more about a career with First Command, visit https://www.firstcommand.com/careers/.
Get Squared Away®
Let's start with your financial plan.
Answer just a few simple questions and — If we determine that you can benefit from working with us — we'll put you in touch with a First Command Advisor to create your personalized financial plan. There's no obligation, and no cost for active duty military service members and their immediate families.