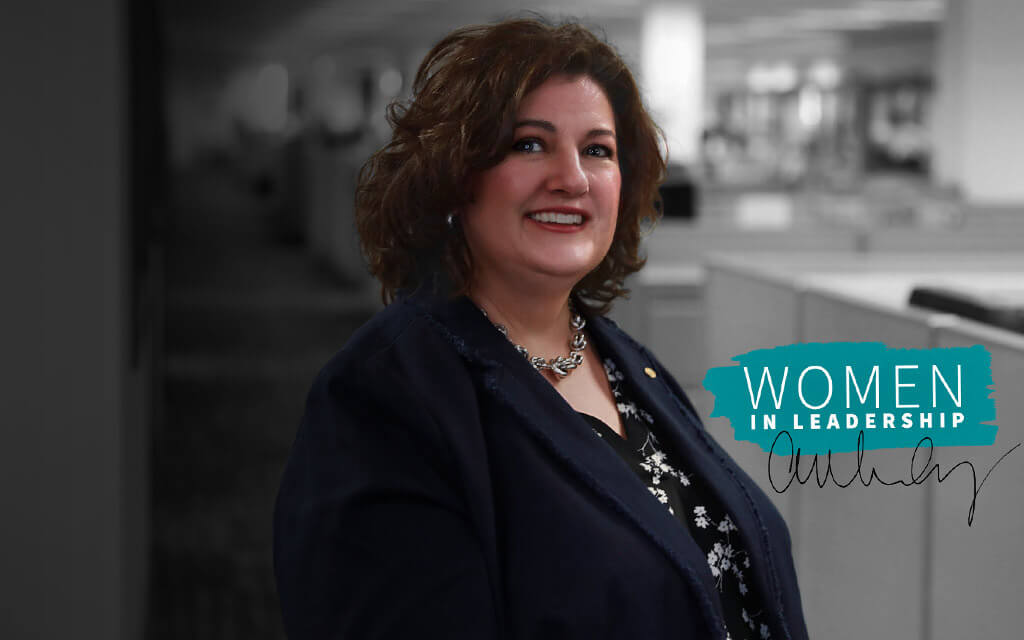 Amy Doherty, EVP and Chief Operating Officer
Jul 2, 2020 | 3 min. read
The newest member of the Executive Leadership Team talks candidly about challenges women face in the tech industry and how that has shaped her management style.
Amy Doherty joined First Command in October 2019 as Chief Operating Officer. In addition to running operations, Doherty has accountability for all the technical areas of the organization, including information security, information technology, data management and digital development. 

Why did you decide to join First Command?
Every person I met throughout the hiring process was so singularly impressive that I thought, "Iron sharpens iron" – meaning I knew that being a part of this incredible team would only help me grow. When I met the CEO, Mark Steffe, I knew he would push me every day, and he does: He pushes me to be better and better. I really wanted the challenge of that.  I also felt very aligned to the mission.  The opportunity to serve those who serve was very compelling and inspiring to me.
How did you excel in the traditionally male world of technology?
I went to an all-girls' high school which offered lots of opportunities for advanced academics in a very supportive setting. My Dad always told me I could do anything I put my mind to, and it didn't ever occur to me not to believe him.  So I've carried that with me my whole life. In college, I studied nuclear engineering and science, so from the start, I was in a male-dominated field. 
It's really important for me to support other women in technology because it's a tough and rewarding career. There's a burn- in period in tech when you are starting off – you have to be fully available to work an unpredictable schedule that includes nights and weekends. Statistically, women have disproportionate responsibilities outside of the office as caregivers for children, aging parents and the home. This unpredictable schedule can be really problematic. Because the number of women in technology remains so low, I'm really passionate about creating an equal playing field at work. For example, I don't attend evening social events where women on my team would be less likely to attend. I don't plan breakfast meetings, because women on the team are often getting their kids to school. 
To excel in this field, it's necessary to invest time well outside of working hours just to keep up. Looking back, we've had seismic shifts in the foundations of technology – from mainframes to client-server to network computing and so on. Tech professionals are expected to be completely up to speed on the emerging technology while keeping up with the market pressures of the business. Networking, reading, attending conferences and continual education are an essential part of this career.
What are some of the challenges you've found here at First Command?
When I see a big challenge, I see it as a juicy opportunity for growth. There are so many ways to make a difference here. We have big ambitions, and we want to scale our mission in a big way. We want every military family to be on the path to financial security. We feel that so deeply, and we have such conviction in our mission, that we want to do it fast and right. Our company's Agile transformation is giving us confidence that we can do large scale and complex things quickly.
The biggest opportunity is to create excellent client experiences, build the modern architecture, and have a roadmap that everyone understands and has bought into. It is satisfying to deliver enhanced client products and solutions every few weeks, and that can happen with Agile. It appeals to us as humans – we want to serve and we want to achieve.
What are you most excited about doing at First Command?
I am most excited about making a difference. There are so many ways to do that. I want to continue to help people understand what their roles are, so they have clarity and feel valued as contributors to the mission.
What women in your life have impacted you the most?
My mother had seven children – and raised six independent women. Because she was fearless, it never occurred to me to be intimidated by new experiences, new people or new opportunities. My mother was an explorer, traveling the country with us kiddos, while my father stayed home and built his business. This early modeling made it easy for me to say "yes" whenever a career opportunity presented itself. 
I also had a unique experience with a female technology executive while at a diversity lunch.  I was seated next to her and I asked her to tell me more about her job. She said, "Amy – my job is to solve really hard problems. And you know what? That's your job, too." That experience has stayed with me and gives me conviction when I'm faced with a really hard problem.
What brought you to this level in your career?
Saying "yes" to everything even when it's scary has made a difference for me. I had to believe that I could do it and have confidence in myself.  I always said "yes" – then figured it out. I was open to taking on the next challenge. Asking lots of questions and checking for understanding frequently helped me build confidence and deliver successfully.
Interpersonal skills are so important for a leader. What soft skills helped you get to this position?
I have a natural curiosity and fascination with people. I want my team to feel fulfilled at work and I believe that part of my job is to help them make their career dreams come true. I really care about the people around me. I think about them each uniquely – it's like a fun puzzle to figure out how they are best served and how they serve best.
Favorite Movie: Miracle
Favorite Book: Tribe of Mentors
Favorite Work Resource: LinkedIn
For more information about Doherty and the rest of the leadership team, visit https://www.firstcommand.com/about/leadership/.
Get Squared Away®
Let's start with your financial plan.
Answer just a few simple questions and — If we determine that you can benefit from working with us — we'll put you in touch with a First Command Advisor to create your personalized financial plan. There's no obligation, and no cost for active duty military service members and their immediate families.