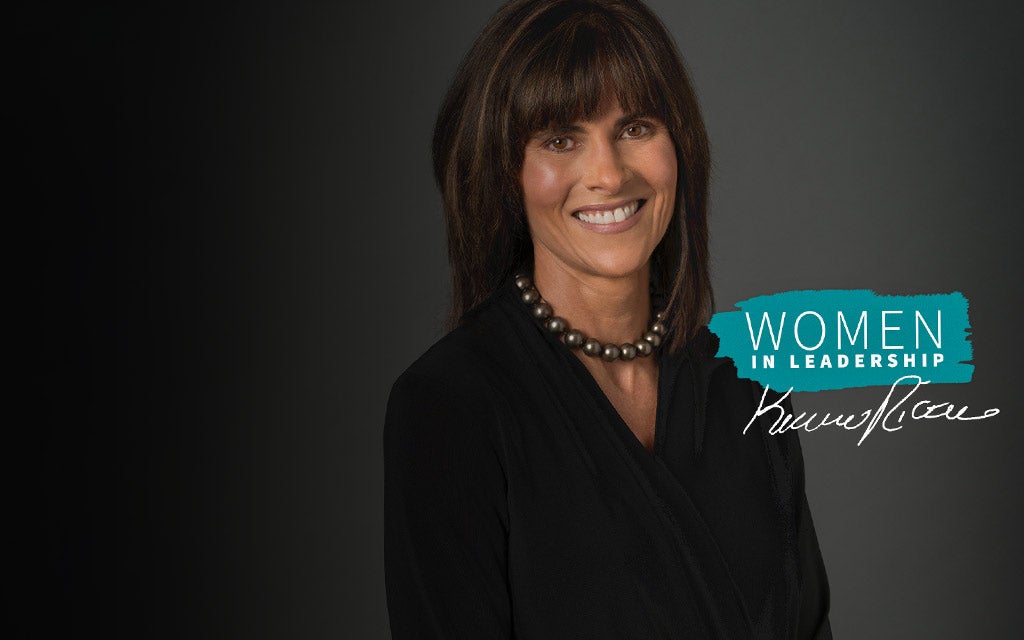 Kellie Richter, EVP, Chief Marketing and Client Experience Officer
Nov 6, 2020 | 5 min. read
The force behind First Command's marketing and client experience strategy reveals how her mentors influenced her, and how she pays that forward.
In November 2016, Kellie Richter joined First Command as the Chief Marketing Officer. In response to the organization's continued emphasis on achieving optimal client experiences, she has also taken on the role of Chief Client Experience Officer. Richter leads the strategic direction of the company's marketing efforts to drive growth across all platforms. This includes traditional marketing responsibilities such as brand development, communications and market awareness. In addition, she oversees the design of new programs and systems to improve the client experience, create and deliver client value, and increase client satisfaction and retention.
Why did you decide to join First Command?
I was intrigued by the opportunity to leverage more than 25 years of experience in the financial services industry to truly make a difference in the end client's quality of life – but what really sealed the deal was meeting my future colleagues on the executive leadership team. I felt an immediate connection with the team's authenticity and passion for the company's mission.
What are some of the challenges you've found here at First Command?
I often think your biggest strength can also become your biggest challenge. I think that's true at First Command, where our strong culture of service means our people often perform heroic acts to deliver that service. This can and has masked areas of opportunity to improve technology, training and processes to allow for more nimble experiences for our clients and the Financial Advisors who coach them. We're recognizing this challenge and addressing it head-on with new, agile ways of working that put the clients' needs first. In turn, these improvements will empower those closest to the work to deliver in a way that's unique to First Command.
What are you most excited about doing at First Command?
I am most excited about our mission. I think you'll find that to be a common response to this question across our company. Everyone is here because they want to be part of something bigger than themselves. In our case, it's about helping military families pursue financial security. In my role, I get to hear about and see examples of that nearly every day.
What women in your life have impacted you the most?
I watched my mother raise four children while pursuing her master's degree in education and go on to become a high school principal, which at that time had traditionally been a male role. She taught me through example that career possibilities are endless if you work hard, build your qualifications and invest in strong working relationships. I have also had both male and female mentors throughout my career and they all share something in common: They challenged me and provided constructive feedback. Early in my career, I reported to a woman who brought out the best in me by giving me tough assignments. The more she asked of me, the more I achieved. It was energizing to have someone demonstrate so much confidence in my abilities, and I was determined not to let her down.
I have tried to apply these learnings to mentorship opportunities that have come my way, such as coaching women who are recovering from domestic violence for job readiness and helping young marketers develop in their careers.
What brought you to this level in your career?
The constant pursuit of learning and understanding. My parents are both retired after long careers as educators. Growing up in my family often felt like a form of school. My parents thought learning was best taught through experiences, and though I had a very modest upbringing, it was rich with cultural experiences, travel, the arts and reading. I quickly learned to appreciate all types of people, cultures and the pursuit of lifelong learning. When you stop learning, you stop growing.
Interpersonal skills are so important for a leader. What soft skills helped you get to this position?
Developing candid, authentic and trusting relationships with colleagues, and – whenever possible – enjoying time socially to get to know them as individuals. This dynamic is what I'm missing the most now that we've all had to transition to working from home!
Favorite Movie: Pulp Fiction
Favorite Book: I don't have a favorite book, but I do have favorite genres: History, biographies and historical fiction. 
Favorite Work Resource: Online subscriptions to industry and advisory reports, articles and podcasts. (McKinsey, Forrester, Gartner, HBR, ICI, FSI, etc.)
Get Squared Away®
Let's start with your financial plan.
Answer just a few simple questions and — If we determine that you can benefit from working with us — we'll put you in touch with a First Command Advisor to create your personalized financial plan. There's no obligation, and no cost for active duty military service members and their immediate families.