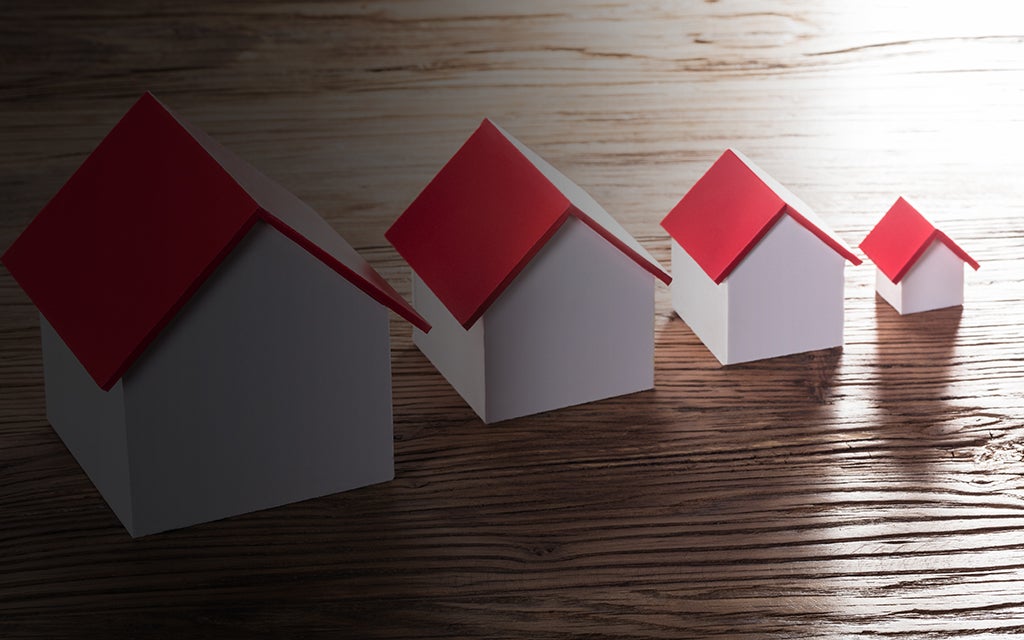 Downsizing for Retirement: Is it Time?
Oct 23, 2020 | 5 min. read
When preparing for retirement, less is more.
Planning for and achieving a secure retirement is becoming more challenging, leading many pre-retirees to consider downsizing for retirement. Over the past several decades, employers with an eye on long-term profitability have been steadily replacing company-funded pension plans with employee-funded retirement savings accounts, like 401(k)s and 403(b)s. As a result, workers today who can count on a company-funded pension to provide a steady post-retirement income are rare. And although eligible government employees and service members still receive lifetime pensions, most find that it is necessary to supplement their pension with personal savings. Compounding this problem is the uncertainty surrounding the future viability of the Social Security program. The Social Security Administration estimates that its reserves will be depleted by 2037.
Unfortunately, not everybody is rising to the retirement challenge. According to a recent Bankrate survey, more than one in five Americans do not set aside any money for retirement, emergencies or other goals. And while roughly 10,000 Baby Boomers retire every day, many are financially unprepared for the shock of no longer receiving a paycheck. In fact, the Insured Retirement Institute estimates that almost half of Boomers have no retirement savings at all.
Why are Americans so unprepared? Many survey respondents indicate a lack of knowledge about how much they really need to accumulate for retirement. But the reality is there is no magic, universal number. The amount you need to accumulate depends almost entirely on how much you plan to spend. So the more you can lower your expenses, the less you need to set aside.
Learning How to Downsize for Retirement
It makes sense that the greatest impact on your budget is your biggest expense: your home. Consider each room's functional, daily use, and whether you still need all the space you once thought you did. Does anybody still use the playroom? How often do you eat at the dining room table? When was the last time someone slept in the guest room?
Thanks to our fast-paced lifestyles and the omnipresence of technology, simplification is a growing cultural movement. Inspiration is everywhere, including:
Architect Sarah Susanka, author of The Not So Big House, and architect Katie Hutchison, author of The New Small House, provide design strategies for paring down.
In the Netflix original series Tidying Up with Marie Kondo, viewers are encouraged to discard anything that doesn't "spark joy."
Real Simple magazine features articles about simplified living.
HGTV's Tiny House Hunters follows home seekers looking to downsize to under 600 square feet.
Technology has eliminated the need for storage of paper files, books and magazines, so if your home is cluttered with paper, it may be time to embrace digital storage and e-books. If you still have DVDs or — even more of a throwback — VHS tapes, it's time to get serious. You're probably already paying for a streaming service where all of those movies and TV shows are readily available.
Assess the furniture, too. What was once practical when raising a family may not suit your future needs. Current design trends are smaller and streamlined to suit a modern, decluttered lifestyle. In fact, there are multiple articles like this one explaining why antiques and family heirlooms just aren't desirable to kids these days. Once you get a sense of what your family wants, sell anything extra on social media, a yard sale app or eBay — or donate it to charity. 
If you think you may be a candidate for moving to a smaller home, remember you may also be able to take advantage of reductions in related costs such as:
Property taxes
Homeowner's insurance
Commuting
Utilities
Yard care
Downsizing is an obvious option for empty nesters, but it's becoming popular with younger people as well. For Generation X, born between the mid-1960s and 1980, it's not too soon to consider the benefits of living with less. Retirement may seem like a long way off, but it really isn't. In fact, if you're in this stage of life, this may be the perfect time to start getting your pre-retirement ducks in a row. After all, the sooner you can lower your expenses, the sooner you'll reap the rewards. And decreasing your expenses can only help with more immediate priorities, such as sending your kids to college.
At First Command, we advocate for a disciplined approach to investing for the future and responsible financial behaviors such as expense management. Retirement preparation should always include a practical assessment of what's important to you, how you live day-to-day, and how you plan to spend your nonworking years. Learning to live with less could be the crucial next step toward a retirement that fits your lifestyle. Start the conversation with your Financial Advisor today.
Get Squared Away®
Let's start with your financial plan.
Answer just a few simple questions and — If we determine that you can benefit from working with us — we'll put you in touch with a First Command Advisor to create your personalized financial plan. There's no obligation, and no cost for active duty military service members and their immediate families.