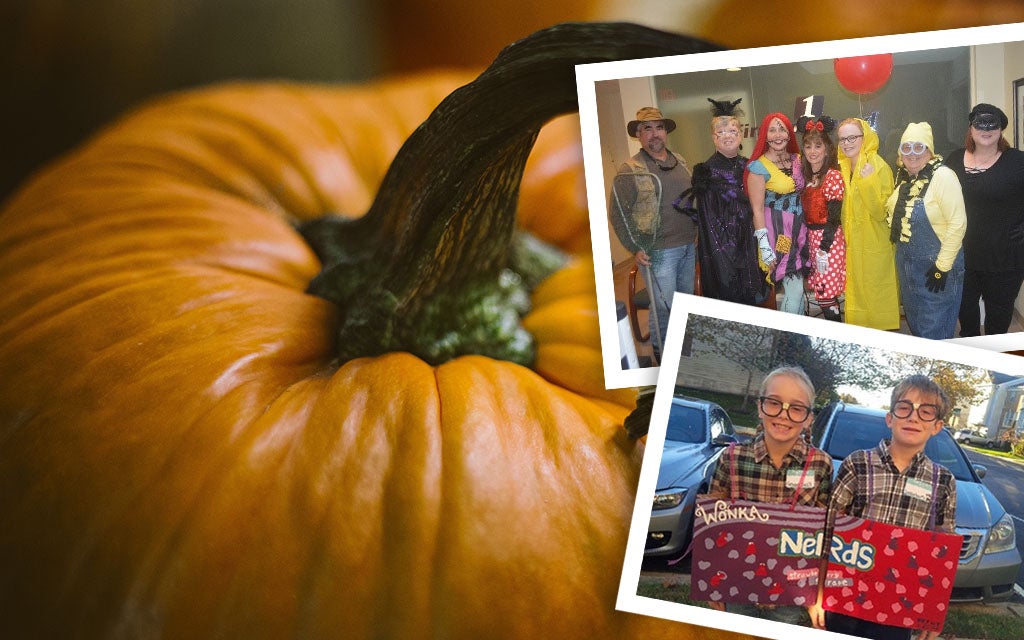 Trick AND Treat! 3 ways to save on Halloween
Oct 15, 2018 | 5 min. read
First Command Financial Advisor Gretchen Butler loves to celebrate Halloween. Every year, she and her Annapolis, Maryland financial planning team celebrate All Hallows' Eve by donning costumes, enjoying lunch in town and, of course, meeting with clients. When we asked Gretchen about the appeal of this particular holiday, she said simply, "It's just fun! Yes, we're a financial services company, but we have a real family feel, which makes us different than other firms. Besides, clients really get a kick out of it."
For those local clients who aren't lucky enough to meet with their Advisor on October 31, Gretchen and her team spread the trick-or-treating cheer by taking a group photo in their costumes and sending a "Happy Halloween" email to their Annapolis financial planning clients. "It's a light-hearted way to show clients our fun side and engage with them outside of a formal appointment," she said.
Since many of the people she serves belong to military families, Gretchen understands the importance of providing fun family memories on a realistic budget. She recommends starting at your base MWR to locate free or low-cost Halloween activities in the community. In addition, Gretchen shared her top tricks for a Halloween that won't haunt your financial plan. 
1. Set a Budget for Halloween Festivities 
According to the 2018 Financial Behaviors Index, most military families planned on spending $200 or more on Halloween fun[1]. Whether this sounds excessive or on track, it's important to start with a budget and stick to it. Knowing exactly how much you can spend is critical before you even begin to brainstorm about costumes and decorations, much less start filling up your shopping cart.
2. Buy Halloween Candy Strategically
With budget in hand, estimate the number of trick-or-treaters you expect and therefore how much candy will be needed to tame the ghosts, robots and princesses that come to your door. Then consider the candy itself: regular-size candy bars are going to cost more than the fun-sized variety, and chocolate normally costs more than lollipops. Also, consider where you're shopping: big-box stores like Costco or Sam's Club offer bulk candy at warehouse prices, and look for sales. Gretchen said, "I always buy my candy on Halloween, when it's on sale. If you don't mind waiting to go to the store until the 31st, you can often get your candy at a really nice discount."
3. Get Creative with Your Costume Ideas
You can spend hundreds on costumes at the local Halloween store, but you really don't need to. In fact, imagining original costumes and bringing them to life is a great way to create memorable family time. Gretchen said, "I keep a storage bin of old costumes to reuse or modify as needed. And like any good crafter, I scour Pinterest for homemade ideas. One year we went with a "nerd" theme, but expanded it just a bit. My kids went as Nerds (the candy) who were dressed as nerds. All it took was cheap glasses from the Dollar Store, masking tape, cardboard and a little paint." 
Halloween is a fun way to celebrate the changing of the seasons and enjoy friends and family. There are plenty of inexpensive, yet festive, options to get your ghoul on without breaking the bank.
Gretchen Butler is a Financial Advisor with First Command Financial Services Inc. in Annapolis, Maryland. You can connect with her on Facebook. 
[1] SOURCE: First Command Financial Behaviors Index, September 2018.
Get Squared Away®
Let's start with your financial plan.
Answer just a few simple questions and — If we determine that you can benefit from working with us — we'll put you in touch with a First Command Advisor to create your personalized financial plan. There's no obligation, and no cost for active duty military service members and their immediate families.