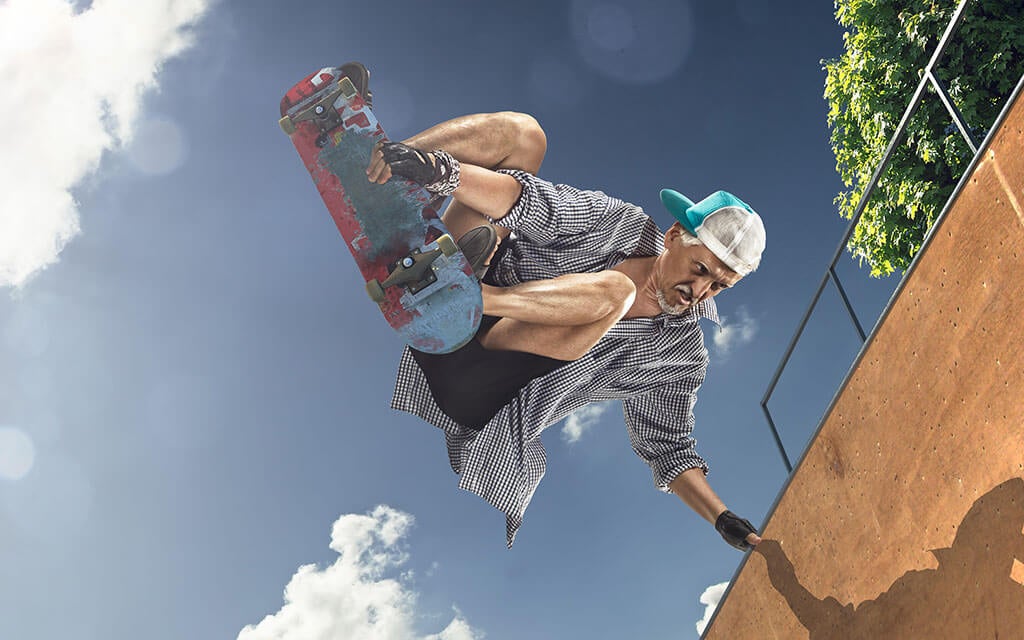 This Is Not Your Grandfather's Retirement
Feb 20, 2019 | 5 min. read
The average length of retirement is now close to 20 years, and it comes with more decisions than ever.
As America ages, roughly 10,000 Baby Boomers born between 1946 and 1964 are retiring every day. By the time the youngest members of this generation reach the traditional retirement age of 65, roughly one-fifth of the population will be 65 or older. 
Because of its size and historical influence, the Boomer generation is used to trend-setting—and expect nothing less as they retire. Thanks to health advances that have produced longer life expectancies, Boomers are planning for longer, more active retirements, shunning conventional stereotypes and paving their own way. Will they be working on their golf swings and knitting on front-porch rockers? Maybe. But chances are, they'll also be taking a class, perfecting their yoga technique and booking an adventure tourism trip. In short, Boomers are reimagining retirement, making financial decisions in tandem with their lifestyle requirements. 
If retirement is on your horizon, one of the first things you'll want to decide is if you want—and can afford—to stop working. America is well-known for its workaholic culture, and it may be more challenging than you anticipate to flip the switch from a 40-hour work week to long periods of unstructured leisure time. Before you make a decision, carefully weigh the purpose, identity and social interaction your job gives you, as well as potential activities you might pursue as a replacement. 
If you do leave full-time employment behind, you may want to consider part-time or freelance work. According to Forbes, half of Boomers who reach retirement age expect to work at least part-time. And with the explosion of the gig economy, there are more options than ever to make money on a freelance basis. This type of work offers entrepreneurial perks such as flexibility and independence. Be realistic, though: contract work typically means a less consistent paycheck as well as the absence of medical and retirement plan benefits. 
Regardless of whether you are all-in or just want to keep your hand in the working world, it is critical to keep your skills current. The last thing you want is to find yourself with limited opportunities because you are perceived as being behind-the-times.
Another critical decision point is where you will live in retirement. Empty nesters no longer have to take into account childcare, school districts or in-state tuition, and if you're no longer working full-time, you may not be tethered to a particular location. 
Many retirees choose to stay put, preferring the comfort of home and their established social circle over a new setting. If you are thinking about making a move, however, start by making a list of potential retirement destinations. You'll want to compare cost-of-living statistics, including state and local taxes. In addition, keep in mind that some states don't tax military retirement income, as outlined in this article. 
Do you see yourself pursuing a particular sport or hobby? Make sure there are plenty of recreational opportunities. Is this your chance to see the world? Airport proximity should be at the top of the list. How is your overall health? You'll want to take into account access to health-care professionals and facilities that can meet your needs.
Last, recent studies show that the number one reason retirees choose to relocate is to be closer to family members. This is an important point as you consider your support network and potential long-term care issues.
As you determine what your ideal retirement looks like, it goes without saying you'll need a plan to pay for it. This is the downside of a longer, more active retirement: it will naturally be more expensive than the "winding down" years of previous generations. 
On our website, you'll find several tools designed to help with the many decisions you'll face as you approach retirement age. Check out our military retirement calculator and this article on when to be taking social security. Most importantly, consult with your Financial Advisor and work together to develop a plan for this exciting stage in your life. 
Get Squared Away®
Let's start with your financial plan.
Answer just a few simple questions and — If we determine that you can benefit from working with us — we'll put you in touch with a First Command Advisor to create your personalized financial plan. There's no obligation, and no cost for active duty military service members and their immediate families.