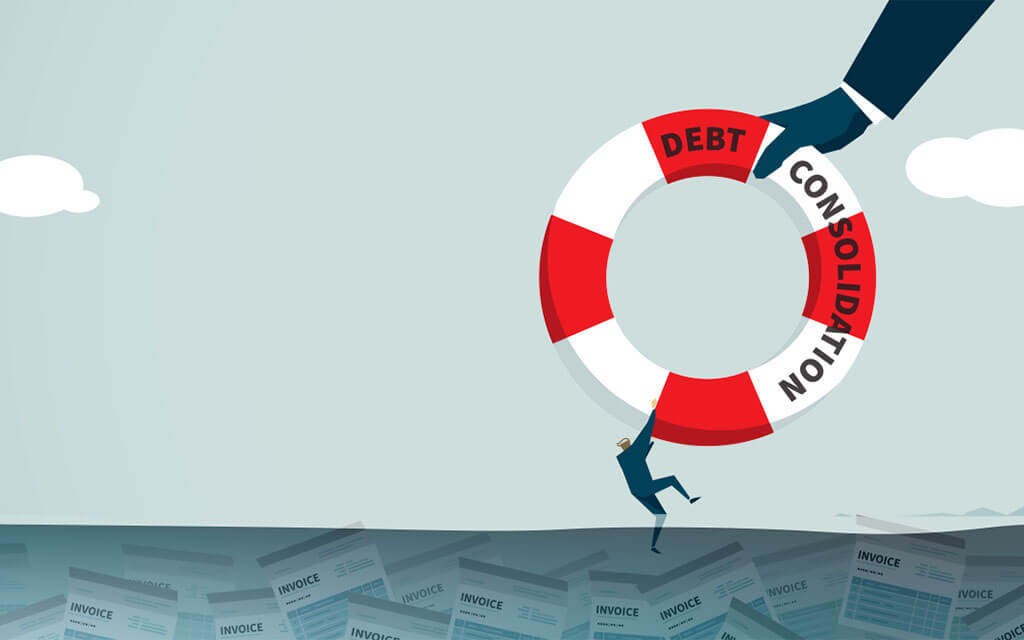 Is Debt Consolidation Your Life Raft?
Feb 13, 2019 | 4 min. read
If you feel like you're drowning in high-interest credit card bills, debt consolidation may offer you a way out.
When you are drowning in credit card debt, it can be hard to tell where the surface is, or how long you'll have to keep holding your breath underwater. The truth is, you don't have to have all of your debt totally paid off before you can breathe again. All you have to do is come up with a plan that enables you to start paying off your debt as quickly as possible, with as little interest as possible. This is where debt consolidation comes in. 
A debt consolidation loan is not the right answer for everyone, but it can be an effective first step toward getting your head above the surface once again. It's a fairly simple concept, really – by merging multiple bills into a single loan with a lower interest rate, you can simultaneously simplify your life, reduce the total interest you're obligated to pay and accelerate the retirement of your debt. Consolidation loans are a particularly effective way to address high-interest credit card debt.
First Command Bank offers consolidation loans for qualified applicants at a low, fixed rate up to $50,000. If you are ready to get started, or want to learn more about how debt consolidation might benefit you, click here. 
If debt consolidation does not seem like the best option for you, or if you have trouble securing a loan, there are a few other options to consider. A couple ideas might be: 
Seeking credit counseling – Some organizations, often nonprofits, offer credit counseling and can help you come up with a plan to pay off your credit card debt. If you decide to explore this option, make sure to look for a National Foundation for Credit Counseling (NFCC) accredited organization. Typically, you will make a single payment to the organization, who will then pay each of your creditors. The organization you work with might be able to negotiate lower interest rates or monthly payments on your behalf, but there might be a fee for their services, and some companies will require you to close out your credit card completely once it is paid off. 
 Using a balance transfer credit card – Balance transfer credit cards will sometimes offer a 0 percent interest rate on balances transferred to the card within a specific time. If you transfer and repay the debt within that time period, you might be able to avoid paying interest entirely. However, some cards charge a transfer fee and restrictions could apply, so it is important to research this option thoroughly before making a decision.
No matter what your financial situation is, you can get out of debt with the right plan. Choosing which option is in your best interest may seem intimidating, but your financial advisor will help you every step of the way and can go over the options that might work best for you.
Get Squared Away®
Let's start with your financial plan.
Answer just a few simple questions and — If we determine that you can benefit from working with us — we'll put you in touch with a First Command Advisor to create your personalized financial plan. There's no obligation, and no cost for active duty military service members and their immediate families.