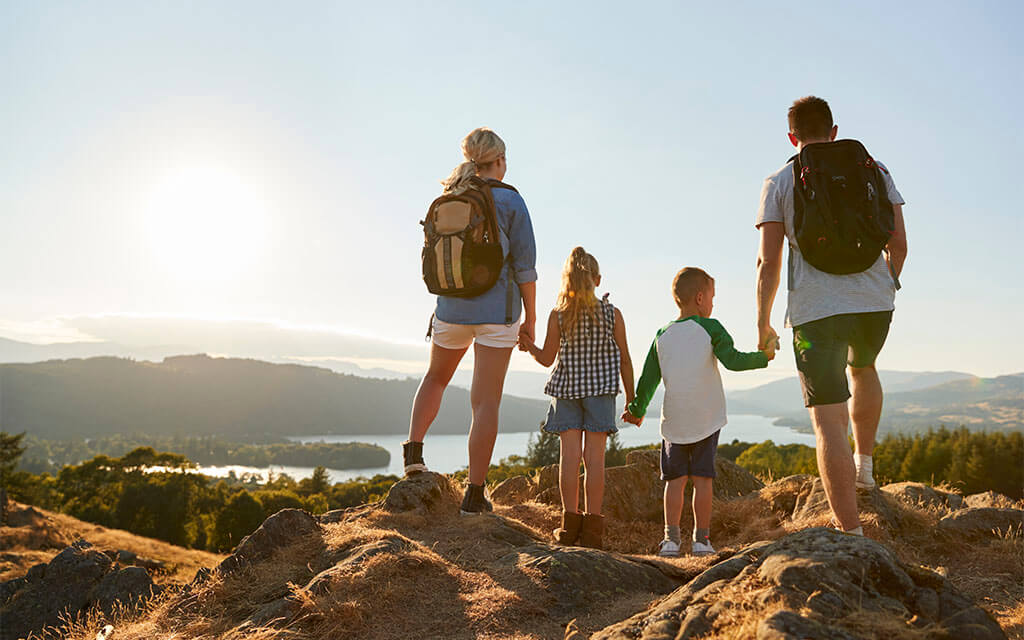 Outdoor no-spend weekends for military families
Jun 28, 2019 | 3 min. read
Is the weekend blowing your budget? If so, you need a no-spend weekend. Try these fun-filled no-cost and low-cost outdoor activities.
Spring is here, which means theme parks and other family mega-attractions are open for business. Before you give a superhero or cartoon squirrel your hard-earned paycheck, consider having a "no-spend weekend." No-spend weekends are a great way for military families to save money by choosing free and low-cost activities, and they're a blast.
The weather is perfect. Why don't you…
Hit a state or national park – Active-duty personnel and their families are eligible for a free annual pass to all U.S. national parks. Also, many parks are either free, relatively inexpensive, or offer military discounts. It's a no-brainer.
Visit a local greenspace – From playgrounds to picnic areas to people watching, there is a lot to love for community greenspaces.
Attend a free evening concert – It's easy to assume that your kids won't be happy with anything short of Drake or Taylor Swift. Don't. Traditional jazz, classical, bluegrass and other "less cool" genres have a way of pairing beautifully with warm nights and cool breezes. A new song or two might even end up on your teen's playlist.   
Be a natural scientist – Step one: score a guidebook from your local library. Step two: go out and collect rocks, birdwatch, identify the types of trees that grow on base, et cetera. Many of us are in the habit of looking past nature – why not look into it instead?
Stargaze –Amateur stargazing used to be hard because the books were littered with elaborate, confusing illustrations of the constellations (Hercules was always drawn with Dwayne Johnson-like delts and biceps). Now there are apps that can map your local sky with incredible clarity. Stargaze in your back yard, or head to where the light pollution is low.
Sketch, paint or photograph a landscape – Is your child the next Monet or Ansel Adams? Who cares, just express yourselves and have fun!
Have a backyard campout – Roast marshmallows, sing songs, tell stories, and maybe even sleep under the stars. Little kids in particular will love it. 
Go somewhere strange – Got a ghost town, eerie historic cemetery or creepy-haunted-something nearby? Visiting spots like this can make for a great family adventure that can be adapted for all ages and sensibilities - the legend of the Hook Man might be just the thing to juice up the expedition for older kids, whereas preschoolers may be content to simply walk across an old bridge. Scout out possibilities online, weigh any safety considerations, be respectful while visiting and make it an adventure.
Shoot hoops, play catch, hit a ball – It's such a simple thing, but playing a sport or a game with a parent is something your child will probably remember his or her entire life. Don't miss out. 
Lean on MWR – From swimming pools to discounted outdoor equipment rentals, MWR has it all. Remember, civilians are paying top dollar for this this stuff so take advantage.
Have fun out there!
Get Squared Away®
Let's start with your financial plan.
Answer just a few simple questions and — If we determine that you can benefit from working with us — we'll put you in touch with a First Command Advisor to create your personalized financial plan. There's no obligation, and no cost for active duty military service members and their immediate families.