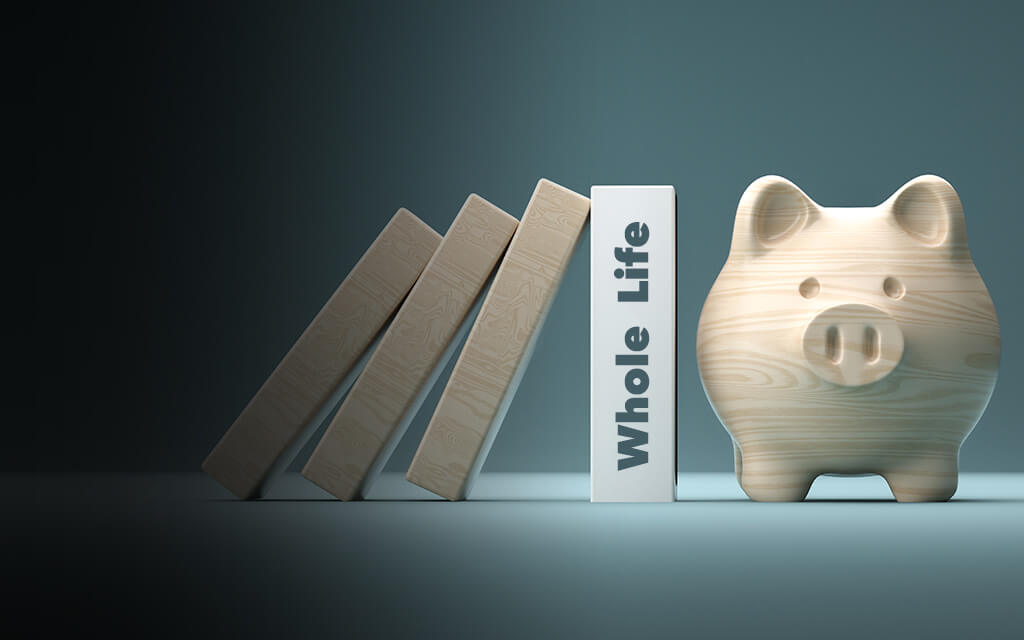 Six Reasons Our Whole Life Insurance is Ideal for Many Military Families
Dec 17, 2021 | 4 min. read
A surprisingly high percentage of military families own whole life or some other form of permanent life insurance. What makes it such a good fit for them?
Effective financial planning is situational financial planning – planning that fully considers and is adapted to each individual or family's unique circumstances, needs and goals. At First Command, we are in the advantageous position of working almost exclusively with new clients who are both young and on active duty in the U.S. military.
Why is that an advantage when it comes to situational planning? There are a couple of reasons. First, they all have the same benefits. That means our Financial Advisors, most of whom are veterans or military spouses themselves, are intimately familiar with their clients' military pension, retirement savings and life insurance plans. Second, because our new clients are largely in the same or at least similar life stages, we are able to focus on and secure the financial products we believe meet their very comparable needs.
This is particularly true when it comes to life insurance. Every service member is automatically signed up for $400,000 of Servicemembers' Group Life Insurance (SGLI) for a cost-effective monthly premium of $25. Yes, it is possible to reduce the amount of coverage and, correspondingly, the monthly premium by increments of $50,000. But in nearly all cases, we believe the low cost of full SGLI makes keeping and paying for it a smart financial decision – even if it's more coverage than single service members with no direct dependents need at that point in their lives.
As generous as SGLI is, there are several reasons that service members should not assume it is sufficient to meet all of their current and future needs.
For those with families, it's entirely possible that the $400,000 SGLI death benefit would not be sufficient to meet all the needs of their survivors, which might include things like paying off a mortgage, providing dollars for children's education and replacing all or a portion of a breadwinner's income.
When service members separate or retire from service, they don't get to take SGLI with them. They can replace it with Veterans' Group Life Insurance (VGLI), but the monthly premiums are substantially higher initially and increase every five years. At age 65, the same $400,000 of coverage that currently costs less than $30 per month for those on active duty costs about $600 per month for veterans.
We normally recommend that retiring service members take the full Survivor Benefit Plan (SBP) benefit to protect the valuable lifetime pension the family has earned. But SBP only replaces half of that pension. Whole life insurance is guaranteed to be there if the service member pre-deceases the spouse and can be used to make up the half of the pension their spouse will lose.
From our perspective, these are all good reasons to consider supplementing SGLI with a personal life insurance policy that can eventually replace it. And in most cases, we believe the best time to do this is early in service members' careers, when they can take advantage of their youth and – in most cases – good health to lock in competitive premiums for permanent, or whole life, insurance. We believe whole life insurance is particularly well suited to our military clients, and we have worked closely through the years with a select group of insurers to tailor enhanced whole life offerings that fit their needs even more closely.
Specific examples of features that we believe make the whole life policies we recommend to our clients so well suited for service members and their families include:
Guaranteed Insurability Options – Every whole life policy we recommend to our clients provides Guaranteed Insurability Options (also known as Options to Purchase Additional Insurance or OPAI). These options give the insured periodic options to purchase additional permanent insurance at standard rates regardless of their location, occupation or medical status. This ensures they will have the ability to increase their coverage over time in response to their evolving needs.
No War Clauses – Some life insurance policies contain "war clauses" that state that benefits will not be paid if death is the result of "an act of war or terrorism." For obvious reasons, that is not an acceptable condition for our clients and our first order of business in conducting our due diligence is to ensure this language does not exist in the contract of any product we offer.
Deployment Orders – Even if one of our clients has already received deployment orders to a region identified as hot spot or war zone, we are able to offer new life insurance coverage to them. This is rare, if not unheard of, in the industry because of the risks associated with these deployments.
Hazardous Active Duty Occupations – We have negotiated with the insurance companies we work with to ensure we can provide coverage at competitive rates for active duty clients who are in what are considered to be hazardous occupations (EOD, combat aircraft, special forces, etc.). Service members in these occupations are considered uninsurable by many companies.
Life Happens / Automatic Premium Loan– If a soldier is deployed and misses a premium payment, the whole life policies we offer can cover these premium payments by borrowing from the policy's cash value (which is known as an "automatic premium loan") to ensure coverage does not lapse when it is needed most.
 Financial guarantees –Unlike the "participating" whole life policies that are most commonly sold by other companies and whose outcomes and future costs may be tied to interest rate movements or the company's performance, our "non-participating" whole life policies have no such ties and are 100 percent contractually guaranteed. Our insistence on this fully guaranteed status goes all the way back to our founder, Lt. Col. Carroll Payne, who believed it was necessary for military families to take some reasonable risk in investing their money if they were to have a chance to achieve their financial goals, but felt just as strongly that life insurance was too important to military families not to be fully guaranteed.
Military families seem to be taking note of the unique benefits of whole life insurance. First Command's 11th annual life insurance survey revealed that 80 percent of middle-class military families (commissioned officers and senior NCOs in pay grades E-5 and above with household incomes of at least $50,000) own some form of permanent life insurance. And 65 percent of those who don't own whole life or another form of permanent coverage say they are likely to consider buying a policy for themselves or someone in their household.
Ultimately, we believe that both permanent (whole life) and temporary (term) life insurance have a place in clients' financial plans. Low-cost term insurance is ideal for covering temporary needs like paying off a mortgage or funding a child's education. Whole life is often better suited to long-term or permanent needs like providing income to a surviving spouse or paying for final expenses. That's why we believe it's essential to conduct a thorough analysis to determine the specific needs of each client's survivors before making any specific life insurance recommendation. Because at the end of the day, the most important thing is making sure we recommend and implement the right amount and types of life insurance for every family that places their confidence in us.
©2021 First Command Financial Services, Inc. is the parent company of First Command Brokerage Services, Inc. (Member SIPC, FINRA), First Command Advisory Services, Inc., First Command Insurance Services, Inc. and First Command Bank. Securities products and brokerage services are provided by First Command Brokerage Services, Inc., a broker-dealer. Financial planning and investment advisory services are provided by First Command Advisory Services, Inc., an investment adviser. Insurance products and services are provided by First Command Insurance Services, Inc. Banking products and services are provided by First Command Bank (Member FDIC, Equal Housing Lender, Equal Housing Opportunity, NMLS 562238). 
Securities are not FDIC insured, have no bank guarantee and may lose value.  A financial plan, by itself, cannot assure that retirement or other financial goals will be met. 
First Command Financial Services, Inc. and its related entities are not affiliated with, authorized to sell or represent on behalf of or otherwise endorsed by any federal employee benefit program, the U.S. government, the U.S. Armed Forces or any other third-party mentioned on this site. 
In the United Kingdom, investment and insurance products and services are offered through First Command Europe Ltd. First Command Europe Ltd. is a wholly owned subsidiary of First Command Financial Services, Inc. and is authorized and regulated by the Financial Conduct Authority. Certain products and services offered in the United States may not be available through First Command Europe Ltd. In Germany, we provide financial planning services through Financial Planners associated with First Command Europe Ltd.
The First Command Educational Foundation is a separate 501(c)(3) public charity and is not affiliated with First Command Financial Services, Inc., or any of its affiliated entities. 
Get Squared Away®
Let's start with your financial plan.
Answer just a few simple questions and — If we determine that you can benefit from working with us — we'll put you in touch with a First Command Advisor to create your personalized financial plan. There's no obligation, and no cost for active duty military service members and their immediate families.