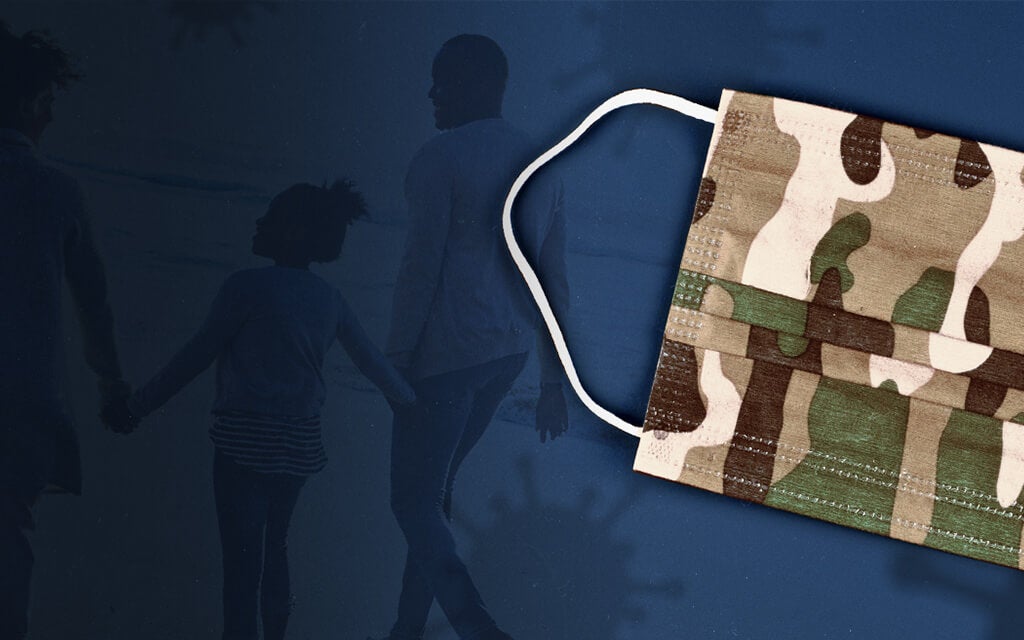 Understanding the Impact of COVID-19 on Military Families
Feb 12, 2021 | 4 min. read
Close to a year in, we look at how military families are faring during the coronavirus pandemic.
We have turned the page on 2020, and the promise of vaccines has given us a much-needed light at the end of the pandemic tunnel. For now, though, COVID-19 is still casting a large shadow over the economy and our day-to-day lives.
Though military families have fared better than most financially because of the stability of their employment and the comprehensive nature of their benefits, they have not been immune to the challenges posed by the greatest health crisis in more than a century. Here are just a few of the pandemic-related issues with which military families are grappling.
Military Spouse Unemployment
Even pre-COVID, military spouse unemployment and underemployment was a prominent cause for dissatisfaction with military life, according to the 2019 Survey of Active Duty Spouses . In 2019, the military spouse unemployment rate was 22 percent, compared to a general unemployment rate at that time of 3.5 percent. Frequent moves are cited as barriers to transferring professional licenses from state-to-state, attaining seniority and pursuing a fulfilling career as opposed to a series of short-term jobs.
Though official statistics are not yet available for 2020, anecdotal evidence suggests that the already-high unemployment rate for military spouses has soared because of COVID's devastating impact on jobs in the leisure, hospitality and service sectors. As a result, military families who depend on a second income report elevated financial stress. First Command's December Financial Behaviors Index  notes that 44 percent of spouses say they have lost employment or income because of COVID-19.
Childcare and School Interruptions
The closing of many childcare facilities and the transition of many schools to remote learning has created a crisis for working parents, and specifically women. Both general population and military spouses find themselves juggling care-taking and home-schooling duties along with professional responsibilities. The longer this continues, the more exhausted and burned out parents and students are likely to become.
PCS Delays
Another factor driving elevated levels of financial concern among military families is delays in PCS moves. Although travel restrictions have been eased since the spring, the effects of the pandemic are forcing military families to be even more flexible than they have always been.
Families who were in the midst of moving when orders were delayed may still have their belongings in temporary storage. Moving companies have had to adopt new procedures to reduce virus transmission, which has inevitably slowed relocations. Labor shortages, shifting safety protocols, quarantine measures and potential lockdowns are all in the mix as virus hot spots pop up throughout the world.
In third quarter 2020, First Command Financial Behaviors Index respondents who reported they are experiencing a delayed move expressed various concerns, including:
Increased housing costs due to paying for their new as well as current residence (54 percent).
Financial uncertainty (52 percent).
Inability to find or start new employment for the military spouse (44 percent).
Vulnerable Military Populations
Many junior enlisted service members and their families reported tight budgets and the need for food assistance even prior to the pandemic. According to the USO, 30 percent of military children qualified for free or reduced school lunches in 2018-2019. And unfortunately, military families who receive a housing allowance may be ineligible for food assistance. During the pandemic, the New York Times  reports that almost 40 percent of active duty families have struggled with food insecurity.
Isolation and Stress
The lack of social interaction and constant uncertainty associated with COVID is causing high stress levels across the board. Children, including those with special needs, are experiencing significant learning and development gaps. And families adhering to safety protocols, home schooling and working from home are not getting the normal breaks from one another, which is only adding to the tedium of a stay-at-home existence.
Service members are experiencing a rise in mental health issues, as COVID adds another layer of strain to their already stressful responsibilities. In fact, AP News  reports that a 20 percent increase in military suicides in 2020 may be due to the additional stresses associated with COVID.
Clearly, there is much to be concerned about as the pandemic continues to surge in the United States and across the world. But there are bright spots, too.
The shift to remote working is changing how many companies hire and retain workers. Organizations have seen firsthand the benefits of a more expansive pool of potential recruits and a more flexible approach to remote work. This cultural transformation could directly benefit military spouses in the COVID era and beyond.
Service members and their families are taking steps to protect themselves financially. First Command's December Financial Behaviors Index survey indicates that one in four military families is increasing their emergency savings as a result of the COVID crisis.
Overall military financial confidence remains strong. Seventy percent of military respondents say they feel extremely or very confident in their ability to retire comfortably, according to the December Financial Behaviors Index.
At First Command, we pledge to serve our Nation's military families in times of joy and in times of tragedy. We offer complimentary financial planning for active duty families, and First Command Advisors  are prepared to meet with you safely and at your convenience – either in person, via teleconference or on the phone. And while supporting your pursuit of financial security is paramount to us, we are committed to the long-term, holistic wellbeing of the military community. Just as we have for the last 60 years, we will get through this current crisis by working together. 
Get Squared Away®
Let's start with your financial plan.
Answer just a few simple questions and — If we determine that you can benefit from working with us — we'll put you in touch with a First Command Advisor to create your personalized financial plan. There's no obligation, and no cost for active duty military service members and their immediate families.