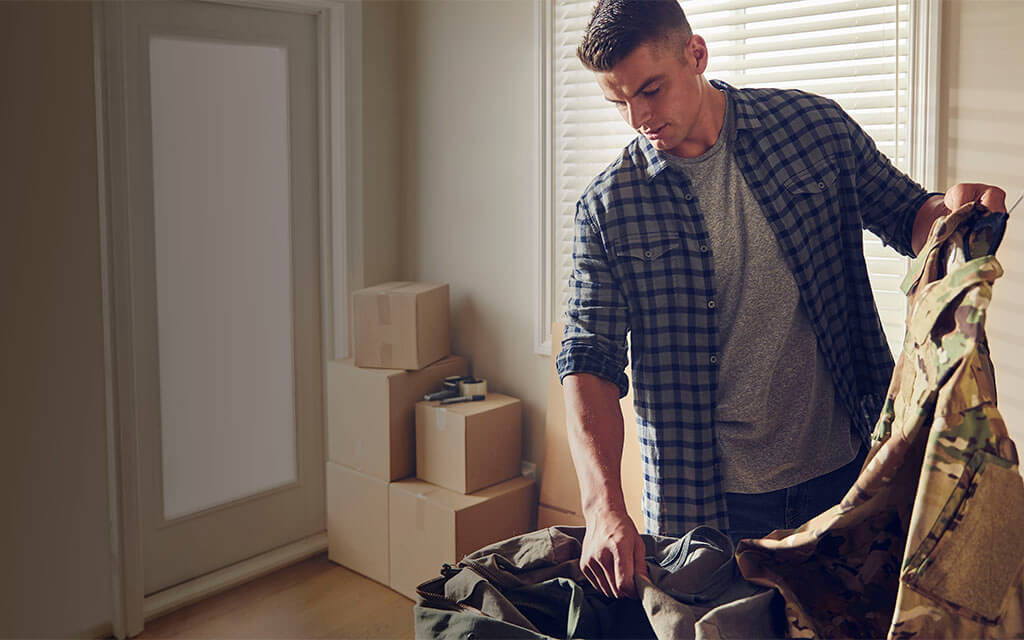 Unexpected Costs of PCSing Overseas
Feb 22, 2020 | 7 min. read
Adventure is on the horizon, but before you get caught up in your new journey, learn about the unexpected costs that come with PCSing overseas.
Change can be good and bad. It is often uncomfortable and sometimes frightening, but never without the promise of adventure. PCSing overseas can be an exciting time, but it can also cause a lot of stress and impose financial burdens. If you are planning an OCONUS move, take extra considerations when it comes to budgeting. We've broken down some of the unexpected costs you might face and offer some suggestions on how to prepare for moving overseas.
Unexpected Expenses When PCSing Overseas
Although some expenses are covered by the military, many are not. Here are some of the most common PCSing scenarios that could leave you with empty pockets:
Selling or cleaning your current home  
Receiving short notice of your PCS assignment can leave you scrambling and spending money to try and get your home sold in time. If you are renting, you might incur cleaning expenses or have to pay for updates.
 Renting a home overseas
You will likely have to pay the first month's rent and deposit at your new home if you plan to lease.
 Waiting for your items to arrive
The military will ship your household items and one car, but they can take months to get there. You might have to pay for new items until the old ones arrive, and possibly a rental car out of pocket.
Transporting pets
If you have pets, they will need to be shipped overseas or rehomed. This can cost around $1,000 per animal. 
Using foreign outlets
Because there are different outlets overseas than in America, you will need adapters or converters, or you will need to buy new appliances in the country you're moving to.
Opening a new bank account
You will need to pay rent and utilities in the foreign country's currency. There may be fees associated with opening a bank account overseas.
Setting up your phone plan overseas
There are often costs associated with canceling phone contracts early and committing to new phone plans overseas.
Storing your car
Some countries will not allow you to drive your car, so unless you plan on selling, your vehicle will need to be stored while you are away.
Making modifications to your car
If your car can be driven in the country you are moving to, modifications might have to be made to make it street legal, such as adjusting the lights. 
How to Prepare for Unexpected PCSing Expenses
As all military families know, PCS orders will likely come in during a very inconvenient time, such as right after a funeral, wedding or other major expense. Being prepared at all times is key, so consider these options:
 Rely on savings.
Most experts agree that having three to six months of income in savings is a good way to prepare for unexpected life changes. Having this kind of financial cushion can help you bounce back when overseas PCS orders arrive.
Reduce your expenses.
If possible, look into alternative ways to reduce expenses and cut corners where you can. For example, if you need to buy some kitchen appliances because the outlets are different, look for used options in your new country's local thrift stores. Also, consider downsizing for your new home by selling items you no longer need or enjoy.
Borrow money from a loved one.
While it is not always the most comfortable situation, it is often a lot cheaper than taking out a loan from a financial institution. If you have a loved one that is able and willing, consider reaching out to them for help.
Open a personal line of credit.
Consider opening a personal line of credit to cover expenses as they pop up. Unlike personal loans, you'll only pay interest on the money you borrow.
Use a credit card.
If you don't already have a credit card that can handle the expenses you are facing, opening one could offer some benefits. Bonus points if you open a credit card that gives you air travel credit! You'll need that flight discount when you're flying back home on leave.
Take out a personal loan.
In some situations, you might have to apply for a secured personal loan. If you're considering this option, make sure you have a plan in place to pay the loan off as quickly as possible. 
Though these individual solutions can be useful in preparing for the expenses associated with PCSing, they're likely to be most effective if they are incorporated into a comprehensive financial plan that addresses both your short and long-term goals.
Ready to get your financial life squared away before you head overseas? We're ready to help. Better yet, our financial planning services are complimentary to active duty military families, with no obligation required. To learn more, speak with a First Command Financial Advisor today.
Get Squared Away®
Let's start with your financial plan.
Answer just a few simple questions and — If we determine that you can benefit from working with us — we'll put you in touch with a First Command Advisor to create your personalized financial plan. There's no obligation, and no cost for active duty military service members and their immediate families.