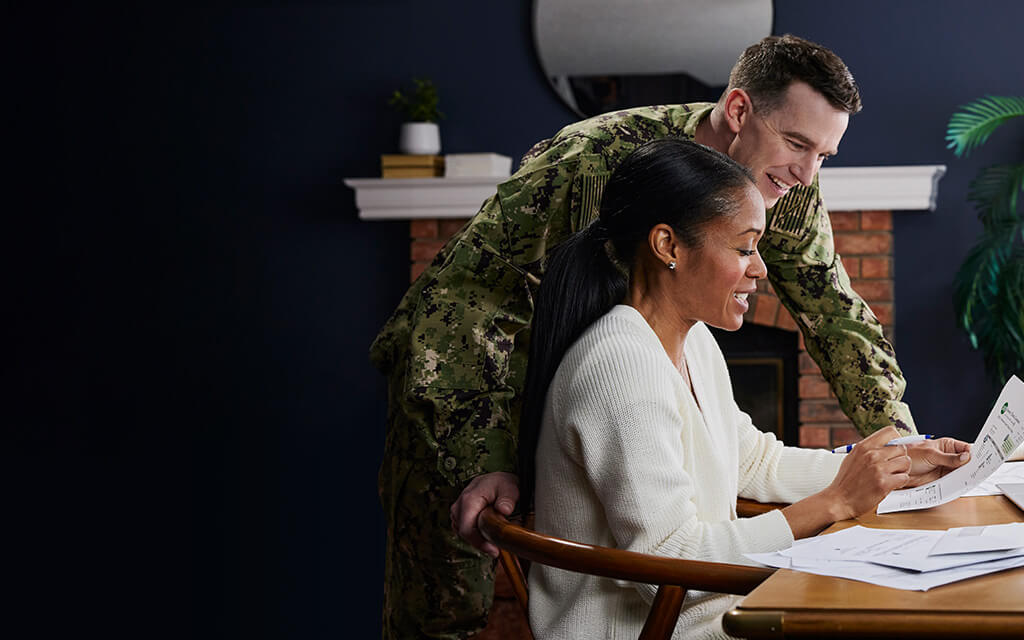 Managing Household Finances: Tips from Military Spouses
Feb 4, 2022 | 4 min. read
Need ideas and inspiration to manage your household finances? Military spouses share tried-and-true methods that work for them.
It's no secret that military spouses are experts at juggling family, service obligations and finances. In fact, nearly 90 percent of military spouses lead their families' budgeting and money management efforts.
Taking care of activities like creating and sticking to a regular budget, saving for special events and purchases and planning for long-term goals like retirement may mean saying "no" a lot – something that can make sticking to financial goals all the more difficult. Is it possible to find balance between being fiscally responsible and feeling like the wallet police? 
Since four out of five of our Financial Advisors are veterans or military spouses, we asked some of those military spouses to share tips for household financial management with the rest of us mere mortals.
Three Ways To Spend Less Money so You Can Better Manage Household Finances
The first thing you want to do when taking control of your finances is to get a thorough understanding of where your money goes every month. Once you've figured out what costs are essential (rent/mortgage, utilities, childcare, etc.) and which ones are non-essential, you can start to trim expenses with purpose. 
Reduce Consumable Expenses Consumable expenses include things like alcohol and tobacco products, regular stops at the coffee shop and trips to the convenience store for sodas and snacks. Reduce the number of trips to these places or find inexpensive alternatives, like bringing coffee from home rather than stopping at a coffee shop or keeping tasty snacks on hand in the pantry. The important thing to ask is, "Does this add value to my life?" If it does, budget it in and enjoy that grande macchiato! If it doesn't add value and it's a purchase of habit or convenience, consider redirecting that money to something that does bring you joy.
Take Advantage of Military Discounts A huge number of online and brick-and-mortar companies, from clothing retailers to restaurants to hotels and vacation destinations, offer significant discounts to military families. Not sure whether a given store offers such a discount? Just ask!
Use Cash on the Weekends It's easy to lose track of how much you're spending when you're having fun, and even more so when you're using a debit or credit card. Before you go out on the weekend, pull out the amount of cash you plan on spending. This will help you stay on budget and give you a clear idea of what you're spending, while still allowing you to go out and have a good time.
Three Ways to Save for the Future and Elevate Your Household Financial Management
With some effort, you've hopefully found small ways to spend less money each month without cramping your family's style. And now that you have some freed-up cash, here are some productive approaches for how to use the extra funds. 
Create an Emergency Fund Want to dramatically reduce your financial stress? Set up an emergency fund and contribute to it regularly. Even if you only add a small amount every paycheck, you'll be able to watch it add up quickly. Best of all, the next time you have an unexpected home repair or issue with your car, you'll have the peace of mind that comes from knowing that you can cover it without dipping into your monthly budget or putting it on a credit card. 
 Make Saving Automatic The best way for saving to become a long-term habit is to make it as easy as possible. Automatically transfer a set amount of money each month to a separate account. You'll be surprised how quickly your savings accumulate when you "pay yourself first." 
 Foster a Healthy Money Mindset Building a culture of saving in your family can be surprisingly easy and deeply satisfying – as long as you're willing to stick with it. But to do so, the whole family needs to be on board. Find time for teaching opportunities to help your family develop a mindset that: 
Eschews the idea of "deserving" nice things and embraces the idea of earning and saving for the things you want
Values spending time together more than spending money together 
Understands that saying "no" to a small, meaningless purchase today may allow you to say "yes" to a larger, more meaningful purchase later
At First Command, our Financial Advisors are well-versed in military pay and benefits, and we offer complimentary financial plans for active-duty service members and their families. If you need help with budgeting and planning, contact a Financial Advisor today to get started.
Get Squared Away®
Let's start with your financial plan.
Answer just a few simple questions and — If we determine that you can benefit from working with us — we'll put you in touch with a First Command Advisor to create your personalized financial plan. There's no obligation, and no cost for active duty military service members and their immediate families.