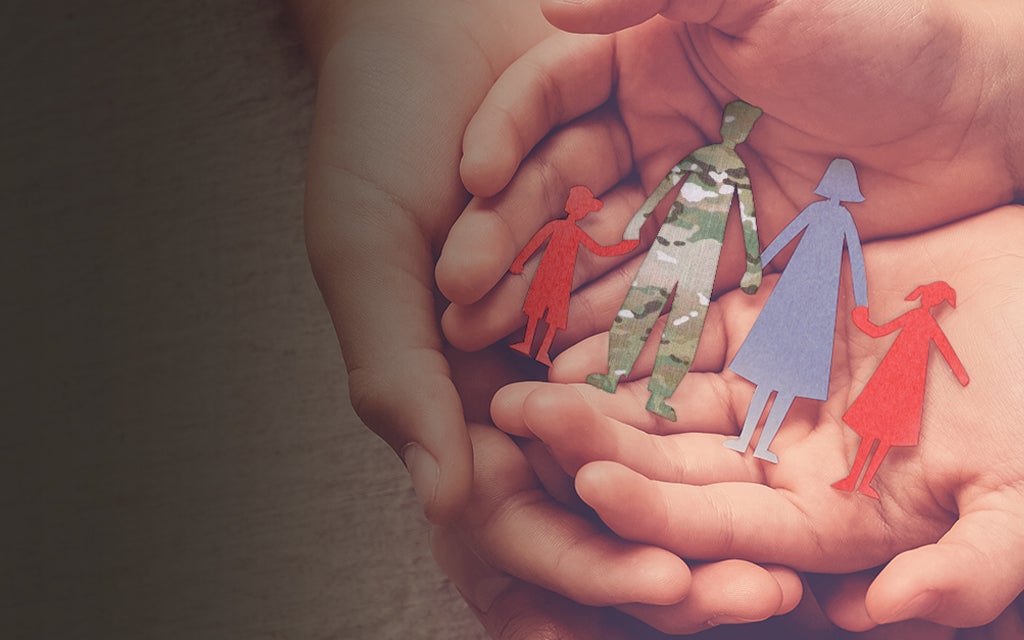 Protecting your Military Family with Life Insurance
Sep 4, 2020 | 3 min. read
What you need to know to secure your family's financial future.
People in the military understand better than most the importance of protecting their family from the unexpected – and life insurance is ideally suited to provide the kind of protection they need, both now and in the future. It's most affordable for those who are young and in good health and it provides income-tax-free funds that can be used by the surviving family members to:
Pay off credit card debt, car loans, student loans or even a mortgage
Replace lost income
Pay for childcare and a child's education
In short, purchasing life insurance is an unselfish act of love that guarantees your family will still be able to pursue their goals and dreams even if something happens to you.
HOW MUCH LIFE INSURANCE DO I NEED?
So, how do you know how much life insurance you need? A surprising number of people rely on general rules of thumb – like purchasing an amount equal to five to seven times their annual income – when it comes to buying life insurance. At First Command, we prefer to conduct a thorough "Survivor Needs Analysis" with every client family, asking detailed questions and gathering specific information in order to determine precisely how much coverage is needed. Questions like:
Would the surviving spouse need money to pay off debts like student loans, car loans or credit card balances?
Is it important that the surviving spouse have funds to pay off the mortgage?
Do dollars need to be provided for the future education of children?
Would the family need supplemental monthly income?
The objective is to:
Identify all of the survivors' needs and assign a dollar value to each.
Compare the amount of coverage needed to any investments, benefits and insurance already in place.
Prepare a life insurance plan that addresses any shortfall.
WHAT TYPE OF LIFE INSURANCE SHOULD I BUY?
Once you've determined how much coverage you need, the next step is to decide what type or types of life insurance will best meet your unique needs. The best, first option for service members and their families is Servicemembers' Group Life Insurance, or SGLI. Anybody on active duty can secure up to $500,000 of SGLI for less than $30 per month.
But is that the right amount of coverage for you? That depends on your situation and your goals. If it is determined that you need more coverage than what SGLI provides, you have two excellent options:
Temporary insurance provides coverage for a specific period of time. It can be purchased for time periods ranging from one to 30 years. If you elect to renew your coverage, the premium increases based on your attained age. SGLI is group term insurance that covers you for as long as you are on active duty.
Permanent insurance is designed to be in place when you die, no matter when that occurs. It is also possible to include "options to purchase additional insurance" with a permanent policy. These options guarantee that you will be able to purchase additional insurance in the future without medical evidence.
Both temporary and permanent insurance can play an important role in making sure that a family has a life insurance plan that fits both their budget and their needs. And by proactively securing personal life insurance while you are young and in good health, you will be much better prepared when you separate or retire from the military and leave your SGLI behind.
WE CAN HELP
A First Command Financial Advisor can work with you to build an insurance plan specifically tailored to meet your family's needs. You might not walk away with the immediate rush of adrenaline that you would get from purchasing a shiny new car, but you will experience the quiet satisfaction and peace of mind that come from knowing you've done the right thing for the people you care about most.
Get Squared Away®
Let's start with your financial plan.
Answer just a few simple questions and — If we determine that you can benefit from working with us — we'll put you in touch with a First Command Advisor to create your personalized financial plan. There's no obligation, and no cost for active duty military service members and their immediate families.