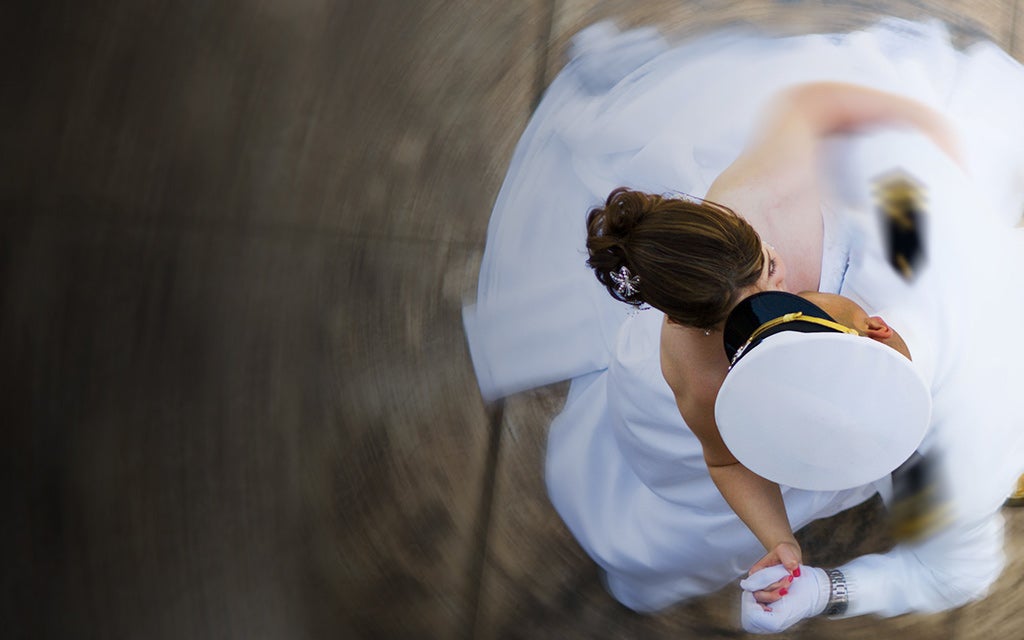 Finding Balance in Your Military Marriage
Mar 13, 2020 | 6 min. read
The military lifestyle can be challenging, but you can still get your happily ever after.
In the wise words of Theodore Roosevelt: "Nothing worth having comes easy." All married couples experience bumps in the road at some point or another, and couples in a military marriage have added stressors such as deployment, frequent relocation and day-to-day uncertainty. Service members understand this is part of the job, but it's still jarring when military responsibilities conflict with spousal and parental expectations.
So, what's the secret to a happy military marriage? Sadly, there's not just one. But since First Command prioritizes hiring from the military community, we were able to ask some co-workers who are veterans and military spouses to share their advice. Here are some of the common themes that emerged.

Expect the unexpected.
If you like surprises, you're in luck – the military lifestyle is full of them. You may expect to be in one place for a while, but orders to deploy can come at any time, and with short notice. Conversely, planning a homecoming party can be tricky, because equipment problems, weather issues and other challenges can cause delays. Service members and spouses simply need to accept the "on-call" nature of military life. The phone can – and will – ring at any time.

Prepare for deployment.
Deployment is a matter of when, not if, so don't wait until the last minute to make a plan to keep in touch. Long periods of separation can be one of the most difficult parts of a military marriage, so think carefully about how both you and your spouse might prefer to communicate and how you can cultivate trust in one another.  
Email, phone calls and video teleconferences are all options, but don't forget about the personal touch. There's nothing quite like receiving a handwritten note in the mail. For inspiration, some families send packages of "open when" letters that include instructions for the recipient to open when they're tired, stressed, lonely, etc. These can be poignant reminders of your bond during the inevitable times when you're not able to get in touch.

Carve out a role for yourself.
There's no doubt that being a military spouse is a job in itself, but it's important to pursue your own interests, too. There's no one answer for everyone, but it's important to identify hobbies, volunteer positions, educational classes or athletic activities that are fulfilling and offer opportunities for growth. 
Full or part-time employment can also contribute to a sense of independence. Thanks to organizations like Hiring Our Heroes, companies are becoming more enthusiastic and open-minded about hiring military spouses. The gig economy has also opened up unique opportunities, and those with a specific skill set such as writing, graphic design or information technology may enjoy the freedom and creative license of freelance work.  In addition, entrepreneurial positions such as First Command Financial Advisor offer benefits such as portability, flexible hours and the opportunity to serve the military community.

Rely on each other.
It's normal to feel isolated after you PCS. Whether you've moved across the country or across the world, your spouse may be the only person you know in your new location. Take time off from the grind of unpacking and reacclimating to explore the area together – even if that means just taking a walk or checking out a local restaurant. Help each other find humor in the situation when the movers don't show up or the couch doesn't fit through the door of your new home. Remind one another it will be a good story one day.

Reach out to others.
Yes, it's important to rely on each other, but don't neglect to connect with others, too. Fellow military spouses are fantastic resources, so spouses should be sure to join the base's military spouse club to get insight and make friends. In addition, almost every military unit has an associated family readiness group whose primary purpose is to help you connect with others and successfully navigate military life. 
Online, there are a host of groups such as Facebook and Yahoo! groups. And be sure to check out military life blogs such as this one offered by Military One Source.

Build and stick to a budget.
Fighting about money is consistently cited as one of the top reasons for marital stress. It's common for people who have different spending habits and money management techniques to marry, but it's important to get on the same page sooner rather than later.

 Building a budget together is a critical first step. Your budget will clarify where your money is allocated, help you prioritize for the future and minimize stressful discussions about finances.

We can help.
At First Command, we're committed to coaching you and your family towards lifelong financial security – starting with your first budget all the way through your retirement years. Our Financial Advisors are well-versed in military benefits and, because most are veterans or military spouses, they can relate to the challenges and opportunities that come with military service. Let us help you get started today.

Get Squared Away®
Let's start with your financial plan.
Answer just a few simple questions and — If we determine that you can benefit from working with us — we'll put you in touch with a First Command Advisor to create your personalized financial plan. There's no obligation, and no cost for active duty military service members and their immediate families.