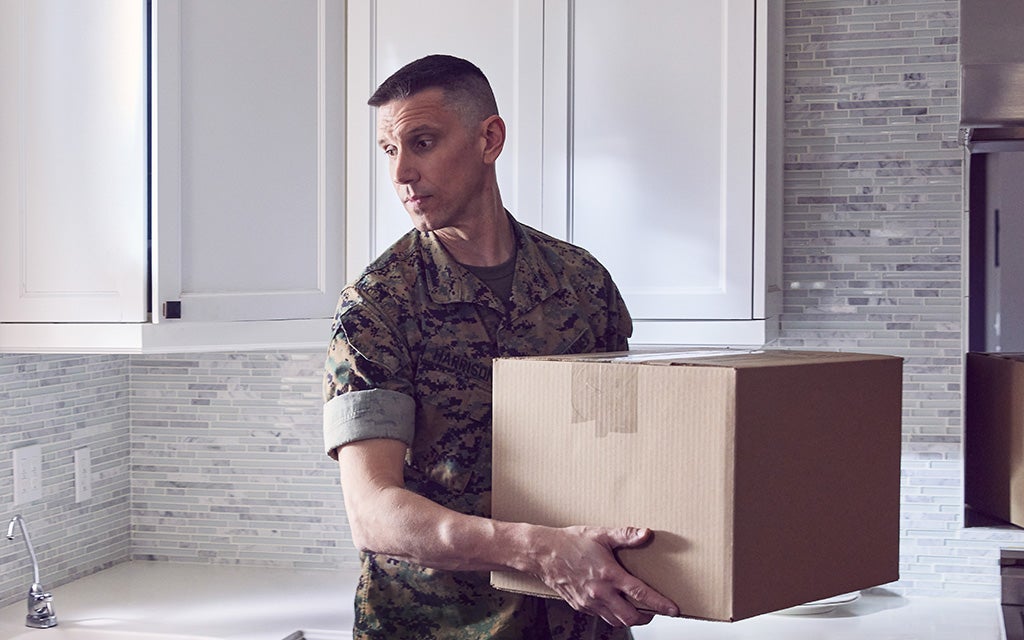 Jun 30, 2023 | 3 min. read
Learn what you should consider financially after your military PCS move. Reconnect with your financial advisor and evaluate your financial goals and needs.
Post PCS Military Move: Financial Goals and Reimbursements


Find out if you're eligible for PCS reimbursements
After a PCS, you may be entitled to PCS-related reimbursements. You'll have to submit paperwork within a certain timeframe after your move, so be sure to start the process soon after you settle in. How much will you get reimbursed for a PCS move? The answer depends on different factors.
U.S. Move Entitlements could include a dislocation allowance, advance basic pay, temporary lodging expenses and more. Be sure to save any receipts related to your move in case you need to submit them for reimbursement.
If you're PCSing overseas, there may be more expenses to consider, such as purchases you make while you wait for your items to arrive, transporting pets, buying foreign outlet adaptors for appliances, etc.
For more information on PCS reimbursements, Defense Travel is a great resource to look up per diem rates by location, dislocation allowance information, overseas housing allowance information and more.

Connect with your new Financial Advisor when you arrive at your duty station
There is a considerable amount of planning required before a PCS, but don't forget the important things to consider after your move. Be sure to connect with your new Financial Advisor to review your financial plan and run through a list of immediate to-dos. And be sure to check with the administrative personnel at your new duty station for help in determining whether you are entitled to any PCS-related reimbursements.

Adjust your financial plan to reflect changes in your circumstances or goals
After your move, you'll be assigned to a First Command Financial Advisor who is closer to your new duty station. Your previous Advisor can help connect you to your new Advisor if you need help getting in touch, or you can use the Find an Advisor feature on our website to get contact information for the local First Command office. Meet with your new Advisor to make sure your contact information is up-to-date and go over your monthly budget and goals. Has anything changed? Perhaps the cost of living is different than your previous location and this gives you a little more discretionary income to allocate upgrading your lifestyle or strengthening your financial plan. Or maybe something changed within your family, like a new addition to the household, and you'd like to learn more about college saving and investing options. Now is the perfect time to get to know your new Advisor, share your expectations, and ensure that your plan remains aligned with your circumstances and goals.

Don't forget to update your contact information
Updating your personal information with your Advisor is just the start. You'll have to update your information for many services you use. Here are a few suggestions to get you started.
Update your billing and contact information for your bank.
Officially change your address with the U.S. Postal Service (USPS) so it will automatically forward mail sent to your old address. Bills sent to your old address that remain unpaid can affect your credit scores so update your address and resolve bill payments as soon as possible.
Update your address on legal documents such as your driver's license and voter information. This can only be done after you've officially changed your address with the postal service.
If you receive important, forwarded mail, consider it a reminder to contact the sender to update your information. Your mail will only be forwarded by USPS for a year.
Update your address for your car and life insurance. Car insurance rates are based on your address so you could potentially save money. If your insurance goes up, consider shopping around to find a better rate.
If you have credit cards or other financial products outside of First Command, make sure you notify those companies as well.

Use First Command's PCS checklist to keep your financial plan on track
Founded by an Air Force veteran who saw the need for comprehensive financial planning for service members and staffed mostly by Financial Advisors with a military background, First Command is very familiar with PCSing and military life. Our PCS checklist provides specific steps to keep your financial plan in order before, during and after your move.

A PCS is a major undertaking for any military family and staying organized, doing research to maximize your reimbursements, and helping you get your financial life in order as your embark on this next chapter of your life will allow you to focus on the pursuit of your long-term goals. The first step is connecting with your First Command Financial Advisor, so if you've just PCSed or have a PCS in your future, get a head start by reaching out today.
Get Squared Away®
Let's start with your financial plan.
Answer just a few simple questions and — If we determine that you can benefit from working with us — we'll put you in touch with a First Command Advisor to create your personalized financial plan. There's no obligation, and no cost for active duty military service members and their immediate families.