Banking at Your Convenience
First Command Online Banking Services For Military Families & Veterans
Ways To Bank
24/7 banking, from the comfort of your home.
First Command offers many secure online banking services and tools that ensure you can stay on top of your finances at all times. Whether you log in to OnCommand™ or use the MobileCommand banking app on your smartphone, you can pay bills, transfer funds, check your account balances and more — no matter where you're stationed.
Convenient and easy-to-use
Your Credit Score Features
Take control. Monitor your score anywhere, anytime.
Your credit score will evolve over time, so it is important to be aware of when and how it is changing. First Command Bank clients can monitor their score for free and stay on top of changes quickly and easily through Your Credit Score, an online banking dashboard feature.
Grades your credit standing
Alerts you to credit score changes
Offers recommendations to increase your score
Provides unlimited access to your credit report
Offers 24-month trend analysis to track progress
Compares credit scores to others in your zip code
Keeps your data secure and private
Get Squared Away®
Ready to take advantage of First Command's online banking services?
Contact a First Command Advisor today.
Download the MobileCommand™ app for iPhone® or Android®, and discover the simplicity and convenience of doing your everyday banking right from your mobile device.
Check account balances
Transfer funds
Pay bills
Deposit checks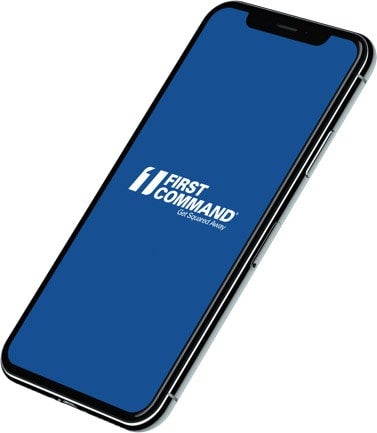 ---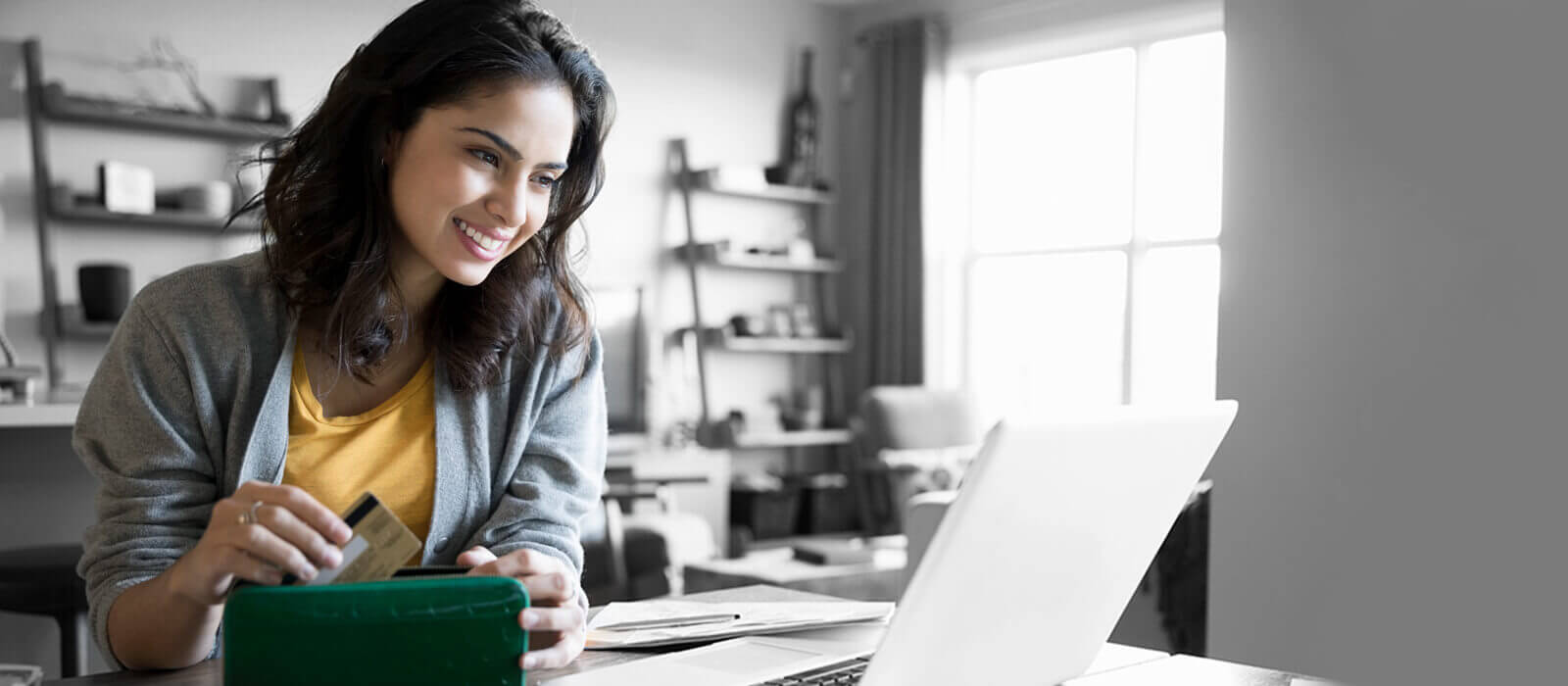 Payments
The fast and easy way to pay bills.
Use First Command's bill payment features to pay virtually anyone- from the local bakery to a Fortune 500 Company to your babysitter. You can schedule payments a few days in advance of the due date, and you'll only be charged when the payment processes. It's convenient, and more secure than mailing paper checks - and just one of the many online banking services available from First Command.
Set up automatic payments
Great for bills that stay the same each month, like your rent and car loan.
Easily add companies
Quick-Add lets you add payees by simply typing a company name and entering your account number.
Set up reminders
Use reminders to receive messages when you receive a bill, and when payments are due.
Transfer funds
Easily transfer money between your accounts, including your accounts at other financial institutions.
Estatements
Simplify your banking experience.
By signing up to receive eStatements, you can cut down on paper clutter. And because eStatements are not delivered by mail, you'll have access to them sooner.
Available in PDF format, eStatements can easily be printed or saved to your computer.
Access 24 months of eStatements at any given time through OnCommand.
eStatements are protected by the same security measures as our online banking platform.
You'll get email notifications when account statements and notices become available.
Sign-up is easy, and free for all registered OnCommand users.1
---
Quicken Integration
Compatible with your accounting software.
You can integrate your Quicken personal financial management software with OnCommand™ to manage your online banking.
Download account statements
Transfer funds between First Command accounts
Create a budget
Reconcile statements
Create reports and graphs
Get Squared Away®
Ready to take advantage of First Command's online banking services?
Contact a First Command Advisor today.
Common Questions About Our Online Banking Services
What should I do if I forget my OnCommand User ID or password?
To retrieve a password,
click here
. You will be prompted to receive a text or phone call or answer security questions. If you need additional help, call us at 888-763-7600.
What are Account Alerts and how do I receive them?
By sending timely account information to your e-mail or mobile device, Account Alerts allow you to manage your accounts more effectively, monitor for irregular activity, and may even help you to prevent fees. You can set alerts for your account's Current Balance, High Balance, Low Balance, Deposits and Withdrawals.
What is an unlinked account?
This feature is used to transfer funds to other First Command account holders.
Why am I getting an error message when I try to log in to the MobileCommand™ App?
Passwords are case sensitive. Make sure you are entering the correct User ID and Password. If the problem continues after a second attempt, contact us at 888-763-7600 to confirm your login credentials. After three invalid attempts, you will be locked out of MobileCommand™, as well as OnCommand.
How do I use the MobileCommand's™ Fingerprint (Biometric) Authentication?
To use the Fingerprint or Biometric Authentication, you must enable the biometric feature on your device. Next, log in to your First Command Bank app, tap on the three-line menu in the top right corner. Tap "Tools & Services," then "Tools," then "Update Profile Information." Next, select "Biometric Login Enrollment." On the next screen, enter your device name (e.g., Mary's phone) and login credentials, then tap the "Enroll" button. Note: feature may not be compatible with all smartphones.
Which accounts are available through MobileCommand™?
All First Command Checking, Savings, Consumer Loans and Credit Card accounts are available via MobileCommand™.
How secure is MobileCommand™?
MobileCommand™ is just as secure as our Internet–based OnCommand online banking service. Anything you do while logged on to MobileCommand™ is encrypted by industry-standard SSL encryption, preventing cell phone "scanning" or other attempts to eavesdrop. The integrated secure message system is further protected from spamming, spoofing or phishing. As a reminder, please always set the passcode on your phone.
What types of checks can I deposit using Mobile Deposits?
You can deposit most checks with Mobile Deposits; however, money orders are not accepted and some larger business checks cannot be accepted due to the MICR line on the bottom of the check. If you have a check that is not accepted, please mail it to us and we'll make the deposit for you.
How do I make a deposit using MobileCommand™?
Log in to the MobileCommand™ app on your iOS or Android device and select the "Deposit" icon.
Choose the account and your deposit amount.
Endorse the back of your check by writing "For Deposit Only" and "First Command" on the first two lines in dark ink, per this example:
For Deposit Only
First Command
Account Number
Your signature
Make sure your check is on a well–lit, flat surface with a contrasting background, then take pictures of the front and back of your check, following the prompts.
Tap the "Make Deposit" button.
Can my MobileCommand™ session time out?
Yes, your MobileCommand™ session will time out after five minutes of inactivity or if your phone screen setting is set to sleep after a specified time.
I use the MobileCommand™ app, but I've lost my phone. What should I do?
MobileCommand™ is highly secure, using industry–standard SSL encryption to prevent the interception of information. If you've lost your phone:
Log in to OnCommand online banking
Select "Tools & Services"
Select "Update Profile Information"
Choose "Change Password" and enter a new password
For assistance with changing your password, call us at 888-763-7600. Monitor your accounts and notify us immediately if you believe that unauthorized transactions have occurred. Report the loss of your phone to your wireless provider as soon as possible and ask that the lost phone be disabled.
What happens to my MobileCommand™ app once I replace my device?
If you upgrade to a new phone, simply download the MobileCommand™ app on your new device and sign in with your OnCommand Online Banking credentials.
How do I view my eStatement?
Log in to OnCommand, select "Accounts," and then click on "Statements & Documents." Next, click on "View Statements."
Do I need special software to use the eStatement service?
If a joint account holder registers for eStatements, will the primary account holder continue to receive paper statements?
No. Once any account holder registers for eStatements through OnCommand, all paper statements will be discontinued.
I'm having trouble viewing my eStatement. What should I do?
Recent changes to your operating system such as upgrades, downloads, and/or system enhancements can affect your PC's ability to connect with secure sites, including our eStatement site
Here are a few things you can try:
Uninstall and reinstall Adobe Acrobat Reader.
Ensure that you are using the latest version of your web browser. Current supported versions include: Google Chrome, Mozilla Firefox, Microsoft Internet Explorer and Safari.
Some pop-up blocker and firewall programs may prevent access to eStatements. To view your eStatements, you may need to disable certain program features.
I'm signed up for eStatements, but I've recently updated my email address. What should I do?
Desktop:
First Command Bank requires that your email address be the same for OnCommand and eStatements. You'll need to log in to OnCommand, choose "Tools & Services," then "Tools," then "Update Profile Information," then "Change Email Address" and enter your new email.
Mobile:
First Command Bank requires that your email address be the same for OnCommand and eStatements. You'll need to log in to your First Command mobile app and tap the menu at the top right corner. Choose "Tools & Services," then "Tools," then "Update Profile Information," then "Change Email Address" and enter your new email.
---
Coaching Center
Tools & Advice
---
There is no charge to use MobileCommand™ from First Command Bank, but messaging and data rates from your mobile provider still apply