Each of our Advisors has worked with us patiently and clearly have our best interests at heart.
In the Spring of 1981, my family and I had just completed our first tour of duty as an officer, having served for 3 years in Augsburg and Neu Ulm, Germany. We had returned Stateside for assignment at the Fort Gordon (Augusta), Georgia Signal Officer Advanced Course.
My wife's brother offered us some unsolicited advice. He said, "Call USPA & IRA. Make an appointment, listen to what the agent has to say, and then do it." What could I do? He was my wife's brother. So, I contacted USPA & IRA and set up the appointment.
While I can't remember the agent's name who came to see us so long ago, I do remember that we provided details about our family of four and our savings (or lack thereof) and basically gave an account for our income and the various ways that it was all spent by the end of the month. He offered to develop a financial plan for us and would be back in touch soon.
At the next meeting, he showed us the income figures we had provided that showed we basically spent all our money each month on car payments, rent, groceries, church contributions, etc. Then he showed us another column of numbers that showed the same income figures, but now, extra lines were included for getting invested into a mutual fund and for the purchase of life insurance for my wife. Curiously, the totals for the first set of figures and the expanded set of figures tallied as the same amount. It made no sense to me that I could add two new expenses to my obligations and remain within my monthly income. 
Yet, I remembered the advice my brother-in-law had given, and we had done the first three steps. All we needed to do was take the fourth step—do it!
Despite my personal misgivings, we did what the agent advised. We opened an investment account, bought some life insurance for my wife, and began a 40-year relationship with a company that has made such a difference in my life and in the lives of my family.
We would like to especially thank the agents we have worked with in Greenville, SC - Robin Jones (now retired from First Command) and Benjamin Stocum, our current agent. Each of them has worked with us patiently and they clearly have our best interests at heart.
I'm also very thankful for my brother-in-law who advised us to get started on a plan. We have had many occasions to thank him for that advice.
So, First Command, I thank you for what you have done for my family and me. And thanks, too, for the work you have done for so many of my fellow soldiers. Thank you!
– Maj. Alan Moeller, USA (Ret.)
Advisor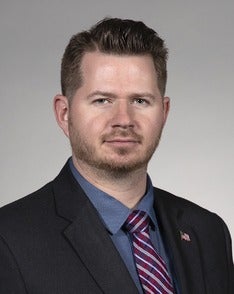 Benjamin Stocum
Financial Advisor
This material contains a testimonial from a client of First Command Financial Services, Inc. and/or its affiliated entities (together "First Command"). The testimonial was provided by the client on a strictly voluntary basis. First Command has not paid any direct or indirect compensation to the client for the testimonial and is unaware of any other material conflicts of interest. The testimonial may not be representative of the experience of other First Command clients and is no guarantee of future performance or success.
Get Squared Away
®
Let's start with your financial plan.
Answer just a few simple questions and — If we determine that you can benefit from working with us — we'll put you in touch with a First Command Advisor to create your personalized financial plan. There's no obligation, and no cost for active duty military service members and their immediate families.
GET STARTED