During all that time, Jason was a helpful, kind, compassionate man who became a dear friend.
On March 17, 2018, my husband died, leaving me with a real estate office to close. Added to that, I had to find a property manager for client rental properties as well as our personal rental properties, plus a CPA to file our 2017 taxes, and a financial advisor to help me work through the dozens of investments we had. 
After a few weeks of friends helping me sort through records and papers at my husband's office, the day arrived for my first meeting with the financial advisor my son had found for me. A friend and I arrived at the Abilene, TX. office of First Command, where we introduced ourselves to Jason Jenkins, each of us having a box of investment records in our arms. He followed us back out to the car for more boxes, which came to a total of five.
On the surface, Jason appeared unfazed by what we presented to him. I, on the other hand, was completely shell-shocked and overwhelmed. In the weeks before meeting with Jason, all the investments had been organized into individual investment companies, so he started with the First Command investments first, and spent 3 hours calling each company to see if the investment was still a viable account or if the account had been closed. Each subsequent appointment, he spent hours calling for me. After Jason finished with the First Command investments, he began calling companies that were not under the First Command umbrella, of which there were dozens. To me, this showed his care and respect for me and my situation. 
As time went on and I became less overwhelmed with all I had to do, I took over calling and filling out all the necessary paperwork to get the investments into my name so they could be consolidated into First Command. It took two years and nine-plus months to get all the investments taken care of and consolidated. When that happened, a great weight was lifted off my shoulders, and a great cause for the celebration began!
During all that time, Jason was a helpful, kind, compassionate man who became a dear friend. He always took the time to answer questions I had in a way that helped me make wise financial decisions. He made recommendations that not only helped me with my investments but also with my rental properties as well. Many times, I would have an idea about something, and he would explain it in such a way that it made sense to change my mind. Whenever I had a "deer in the headlights" look, he would explain things until he saw understanding come over my face. Jason was and is the picture of patience!
I gave Jason permission to talk to my son, who lives in California when he had questions, I couldn't answer. He was very helpful in answering any question my son had. 
It didn't occur to me until a couple of years after we plunged into the mess of my investments that Jason could have told me that he couldn't help me. I know he was overwhelmed by what I brought into him, but he never told me until it was all over. I was/am humbled that he helped me through so much stuff.
Jason is a man of integrity and great character. He was a balm to my hurting heart and brought peace to my anxious soul. From our first appointment, I knew God had led me to the person to help me as his office was a haven of peace. He has laughed with me. He has let me cry when I needed to cry, even if it made him uncomfortable.  However, I did have to teach him about having Kleenex handy for weeping women. On the first visit when I needed a Kleenex, he had none. After that, I made sure he was well stocked with boxes of tissue!
He has never been pushy or impatient with me in any way. I have felt very cared for and honored. I know he has my best interest at heart, and in more than my investments.
Jason was a godsend for me. And I ask God to bless him and First Command because I can never repay all he has done to help me navigate widowhood and helped ease my financial fears.
Thank you, Jason. I will be eternally grateful to you.
– Karen Sumner
Advisor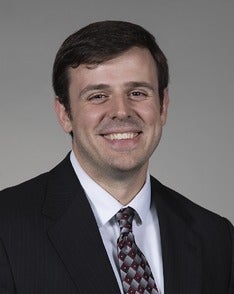 Jason Jenkins
Financial Advisor
This material contains a testimonial from a client of First Command Financial Services, Inc. and/or its affiliated entities (together "First Command"). The testimonial was provided by the client on a strictly voluntary basis. First Command has not paid any direct or indirect compensation to the client for the testimonial and is unaware of any other material conflicts of interest. The testimonial may not be representative of the experience of other First Command clients and is no guarantee of future performance or success.
Get Squared Away
®
Let's start with your financial plan.
Answer just a few simple questions and — If we determine that you can benefit from working with us — we'll put you in touch with a First Command Advisor to create your personalized financial plan. There's no obligation, and no cost for active duty military service members and their immediate families.
GET STARTED