Accounts for Everday Use
Personal Checking Accounts For Military Families & Veterans
Our Accounts
Solutions for your banking needs.
Military personnel, veterans, and their families need checking accounts that are readily accesible and easy to use. With features like unlimited check writing, a debit card and OnCommand™ online banking, First Command Bank offers all that — and more. From your teenager's first account to an interest-bearing checking account for yourself, we have a solution that's right for you.
Our personal checking accounts offer service on demand and on the go.
Command Checking
Earn interest while enjoying the convenience of a checking account that's loaded with features.
Learn More
Teen Checking
Encourage your teen to deposit their allowance or earnings from part-time jobs by setting up a Teen Checking account.
Learn More
---
Download the MobileCommand™ app for iPhone® or Android®, and discover the simplicity and convenience of doing your everyday banking right from your mobile device.
Check account balances
Transfer funds
Pay bills
Deposit checks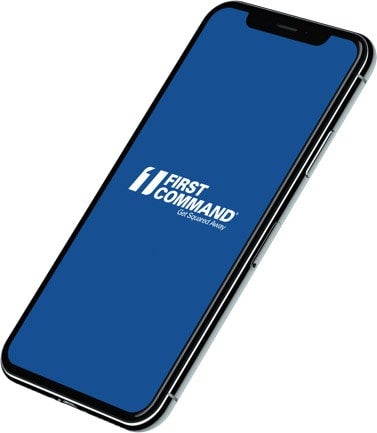 ---
Common Checking Account Questions
How do I set up direct deposit?
Provide the following information to your employer's payroll or financial service department:
Bank name: First Command Bank
Routing number: 111993695
Your Account Name
Your Account Number
How do I activate my Mastercard® Debit Card?
Please call the number on the sticker affixed to your card to activate your card. The activation process will require you to answer a security question.
How do I select a PIN for my new Mastercard® Debit Card?
To Activate your First Command Bank Mastercard® Debit Card, call 888-763-7601 or 817-569-3400. When prompted, set your four digit PIN.
My Mastercard® Debit Card expires soon. When will I receive a new one?
Your new card will be mailed to the address associated to your account several weeks before your current card expires.
What's the daily purchase limit of my First Command Mastercard® Debit Card?
You can make purchases of up to $3,500 a day using your First Command Mastercard® Debit Card if your account balance allows it. The amounts are deducted directly from your checking account, and the purchase history is detailed on your monthly bank statement and in OnCommand account transactions.
How can I raise the daily purchase limit on my First Command Mastercard® Debit Card?
You may request that your daily purchase limit be changed by contacting our Personal Bankers Monday-Friday, 7 a.m.– 6 p.m. Central Time, at 888-763-7600 or by sending a service request through OnCommand.
How much can I withdraw from an ATM using my First Command Mastercard® Debit Card?
The daily ATM withdrawal limit for your First Command Mastercard® Debit Card is $1,000.
I lost my Mastercard® Debit Card. What do I do?
To report a lost or stolen First Command Bank Mastercard® Debit Card, call 888-763-7600 within the US, 24/7.
What types of overdraft protection do you offer?
At First Command we encourage responsible financial management, but we recognize that there are times when you need some flexibility. That's why we offer two types of overdraft protection: The Overdraft Program and Coverdraft.
An overdraft occurs you don't have enough money in your account to cover a transaction, and we pay it anyway (fees apply). The Overdraft Program provides an Approved Overdraft Limit of $500. The Overdraft Program is not available on the Money Market Savings and Teen Checking account.
Coverdraft automatically transfers funds directly from another First Command Bank Deposit account when there are insufficient funds in your checking account at the time of the withdrawal/transaction.
Note: We reserve the right not to pay an overdraft if your account is not in good standing, if you aren't making regular deposits or if you have too many overdrafts. To learn more about overdraft protection, please refer to the Depository Agreement and Disclosures booklet.
Are there fees for the Overdraft Program and Coverdraft?
While there's no cost to set up overdraft protection, you'll be charged an overdraft fee per item paid. You'll have up to 30 days to pay back the amount owed by making a deposit into your account. View the Overdraft Protection Disclosure.
There is no fee for the Coverdraft transfer. You have the option to set a predetermined amount for transfers (such as $250, $100, etc.). With this option, the specified lump sum will transfer when a Coverdraft is needed, helping to reduce the number of potential transfers. If you choose not to set a predetermined amount, only the amount needed to cover the transaction will be transferred for each separate transaction.
Coverdraft transfers from a First Command Money Market Savings Account are included in the federal limit of six withdrawals/transfers per month. Withdrawals exceeding the limit will incur a fee.
How will I know if I have used the Overdraft Program?
eStatement users will receive a notification email detailing the transaction(s) and fee(s) for the items paid under the Overdraft program. If you're not an eStatement user, we'll send you a notice by mail.
How can I avoid overdrafts on my account?
Know your current balance and keep track of your spending.
Use OnCommand Account Alerts to monitor your account activity.
Review your account statements monthly with eStatements.
Schedule your bill payments in OnCommand or MobileCommand to control when funds move out of your account.
Take action quickly to deposit funds when needed. Funds can be easily transferred between your accounts using OnCommand and MobileCommand.
Deposit a physical check in minutes using the MobileCommand app on your iPhone or Android smartphone.
When will my deposit be credited to my account?
We post mail and in-person deposits until 3 p.m. Central Time Monday – Friday (except holidays). For funds availability on Mobile Deposits, please see our Funds Availability Policy in our Depository Agreement.
Coaching Center
Tools & Advice
---