Reach Your Financial Goals Faster
Savings Accounts For Military Families & Veterans
Ways To Save
We've got an account that's right for you.
Watch your money grow as it earns interest in one of our First Command Savings Accounts. Each account has its own unique features, so no matter what you're saving for, we can recommend a solution that'll help you zero in on your objectives.
---
Download the MobileCommand™ app for iPhone® or Android®, and discover the simplicity and convenience of doing your everyday banking right from your mobile device.
Check account balances
Transfer funds
Pay bills
Deposit checks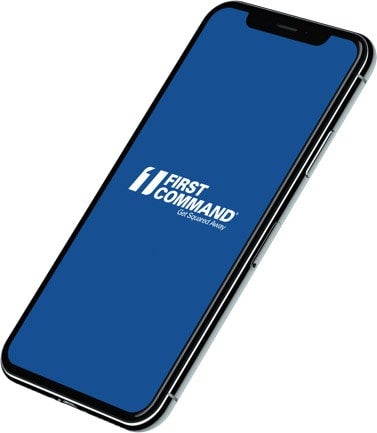 ---
Common Savings Account Questions
How do I set up direct deposit?
Provide the following information to your employer's payroll or financial service department:
Bank name: First Command Bank
Routing number: 111993695
Your Account Name
Your Account Number
How do I make a deposit by mail?
Endorse the back of your check by writing "For Deposit Only" then "First Command" on the first two lines in dark ink, per this example:
For Deposit Only
First Command
Account Number
Your signature
Drop your non-cash deposit in the mail using one of our preaddressed, postage-paid envelopes. Don't have a preaddressed envelope? Simply mail your deposit to:
First Command Bank
PO Box 901041
Fort Worth, TX 76101-2041
If you need to get your deposit to us in a hurry, send it via express mail to:
First Command Bank
1 FirstComm Plaza
Fort Worth, TX 76109-4999
How do I activate my Mastercard® Debit Card?
Please call the number on the sticker affixed to your card to activate your card. The activation process will require you to answer a security question.
How do I find the PIN for my new Mastercard® Debit Card?
You can set your PIN at any ATM. When the ATM requests your PIN, enter any four-digit number you choose. You can also enter the PIN that you'd like to use on your first in-store purchase, and this will set your PIN as well.
My Mastercard® Debit Card expires soon. When will I receive a new one?
Your new card will be mailed to the address associated to your account several weeks before your current card expires.
How much can I withdraw from an ATM using my First Command Mastercard® Debit Card?
The daily ATM withdrawal limit for your First Command Mastercard® Debit Card is $1,000.
I lost my Mastercard® Debit Card. What do I do?
To report a lost or stolen First Command Bank Mastercard® Debit Card, call 888-763-7600 within the US, 24/7.
Coaching Center
Tools & Advice
---