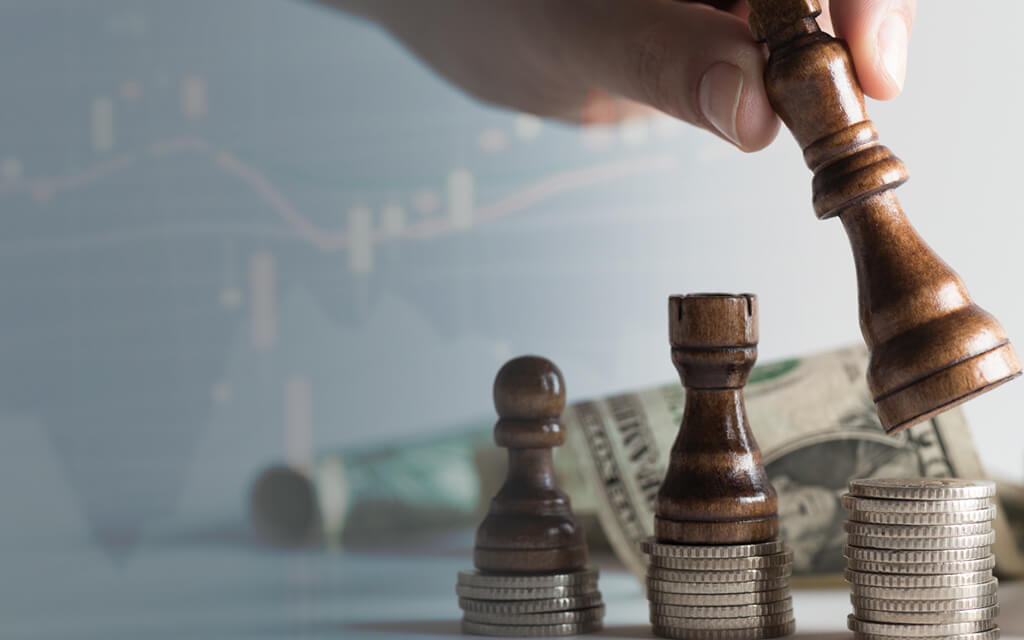 Financial Moves to Make During an Economic Crisis
Apr 17, 2020 | 6 min. read
It's normal to feel helpless during a crisis such as the current COVID-19 pandemic. But there are things you can do to feel more in control of – and even improve – your financial situation.
The global health crisis we're in is quickly giving rise to a corresponding economic crisis, with ramifications including lost wages, unemployment and investment losses impacting retirement accounts. Although you may feel overwhelmed, it's important not to panic or overreact. No matter what your unique circumstances are, there are smart financial decisions to be made now.
Boost your emergency fund.
Saving for unexpected expenses should be part of your long-term plan, and most experts agree that setting aside three to six months of income is ideal. If you haven't done this, now isn't the time to beat yourself up. But you can take positive steps to build or increase your emergency savings, such as aggressively looking for ways to cut expenses. This could even be a silver lining of sheltering at home, since there may be an opportunity to save the money you would have spent going out.
Research eligibility for public assistance.
The federal government recently passed a coronavirus response bill known as the CARES Act. Designed to alleviate financial hardship caused by the public health emergency, the legislation offers a slew of temporary measures including expanded unemployment benefits, student loan payment deferments, insurance coverage of COVID-19 medical expenses and other programs. It also calls for cash payments to many American families.
Use the new tax deadline to your advantage.
April 15 is burned in our brains as Tax Day – but not this year. The IRS has extended the deadline to July 15 to give Americans more time to file. If you expect a refund, however, go ahead and file immediately. There's no delay in processing refunds, so this could be a welcome source of cash for your family right now. If you think you'll owe money and you're cash-strapped, accept the deadline extension as a temporary reprieve and make a plan to have the funds available in July.
Take advantage of low interest rates.
If you're short on cash, you may find yourself charging more on your credit card than you typically would. And if you have multiple credit cards, this could be a good time to take advantage of a debt consolidation loan. This type of loan combines all your debt into a single loan with one monthly payment. With interest rates at historic lows, you may be able to extend your repayment schedule to free up your cash on hand. And if you're not cash-strapped, this could be an opportunity to pay off your debt faster.
Homeowners may also benefit from low interest rates by refinancing their mortgage. And if you've been considering a big purchase such as a home or car – and you're financially stable enough to take that on right now – this could be the time to do it.
Protect your family.
News coverage of widespread illness and fatalities has been a punch in the gut, and it's bound to become more personal as it spreads into our local communities. Nobody likes to consider their own mortality, but the pandemic is a not-so-gentle reminder of it. Take positive, proactive steps now to make sure those you love are cared for now and long into the future. You can feel confident you've done everything you can by ensuring your life insurance, disability insurance, will and beneficiary designations are up-to-date.
Ask for help.
Many financial institutions, including First Command, are offering relief packages for clients. Special loan programs, payment deferrals and fee waivers are just some of the available offers to help clients bridge the financial gap during this time. For more information about our relief package, visit https://www.firstcommand.com/coronavirus/bank-relief-program/.
If you're in danger of getting behind on payments with a financial provider, ask for help now. It's in everyone's best interest to work together to find a solution, and you want to avoid a black mark on your credit score that could last for years.
We're here for you.
At First Command, we've steered our clients through economic challenges such as the aftermath of 9/11, government shutdowns, the 2007-2008 Great Recession and the 1987 market collapse. We are prepared to overcome the current challenges, and we are committed to helping you through this time to continue to work toward your long-term goals.
Our Advisors are prepared to meet with you at your convenience on the phone, through video conferencing or in person in a socially-distanced compliant manner. It is our great privilege to live our mission of coaching those who serve in their pursuit of financial security.
Get Squared Away®
Let's start with your financial plan.
Answer just a few simple questions and — If we determine that you can benefit from working with us — we'll put you in touch with a First Command Advisor to create your personalized financial plan. There's no obligation, and no cost for active duty military service members and their immediate families.